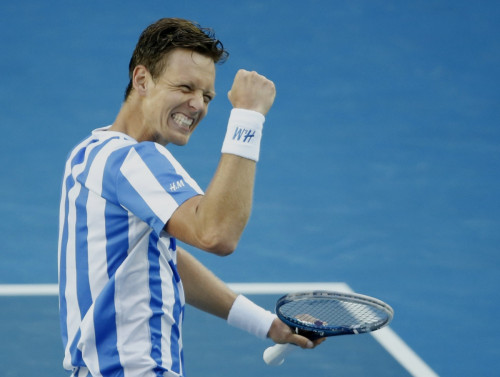 Tomas Berdych takes on David Ferrer for a space in the final four of the Australian Open in Melbourne.
Where to Watch
Berdych v Ferrer is live on Eurosport from 2:30pm (GMT). Regular updates and live scores are also available through the Australian Open's official website.
Preview
Berdych and Ferrer will meet for the 12th time when they take to the court in Wednesday's quarter-final clash at the Australian Open.
28-year-old Berdych will be making his fourth consecutive quarter-final appearance in Melbourne and will be desperate to progress to the next stage having tasted defeat in the last eight in each of his previous visits.
The Czech has enjoyed impressive opening rounds to the year's first grand slam however and is yet to drop a set following wins over Aleksandr Nedovyesov, Kenny de Schepper, Damir Dzumhur and Kevin Anderson en route to his meeting with Ferrer. The Spaniard does however hold a superior record in their previous meetings with a 7-4 advantage, although Berdych did take the victory in their last meeting at the ATP World Tour Finals last November.
Third seeded Ferrer has endured a slightly more arduous route to this stage and had to be at his best to dismiss Germany's Florian Mayer in the fourth round, eventually clinching a 6-7 (5-7), 7-5, 6-2, 6-1 victory after dropping the first set in the tie breaker in the fourth round.
What They Said
Tomas Berdych: "If I could compare right away all those four years, this year is my best so far so really I want to go one by one. There is still a lot to go ... as you said a lot of petrol left, which I'm definitely going to need in the next match, so I'm really happy for it."
If I have enough fuel in my tank ... I'm glad that I can definitely say that yes I do have so I'm definitely going to need it," he said.
"Our last two matches we played the end of last season, one I won, one I lost and really, both of them were great matches, great battles so I'm really looking forward to that."
David Ferrer: ''Today I was more quiet with my serve. When I lost the first set (to Mayer), I know I was not playing bad. In the second set I play better. I start really good. It was not easy in one side of the court because it was windy. But when I won the second set, it was close. In the third and the fourth, I moved better, I did less mistakes, and I played with power with my shots.''
'Every day I am playing better. 'Today was my best match this week. Now I am in quarter-final. I hope the next match I have the chance to play similar to today.''
Route to the Quarter Final
Tomas Berdych
First round: 6-3 6-4 6-3 v Aleksandr Nedovyesov
Second round: 6-4 6-1 6-3 v Kenny de Schepper
Third round: 6-4 6-2 6-2 v Damir Dzumhur
Fourth Round: 6-2 6-2 6-3 v Kevin Anderson
David Ferrer
First round: 6-3 6-4 6-4 v Alejandro Gonzalez
Second round: 7-6(2) 5-7 6-0 6-3 v Adrian Mannarino
Third round: 6-2 7-6 6-2 v Jeremy Chardy
Fourth round: 6-7(5) 7-5 6-2 6-1 v Florian Mayer