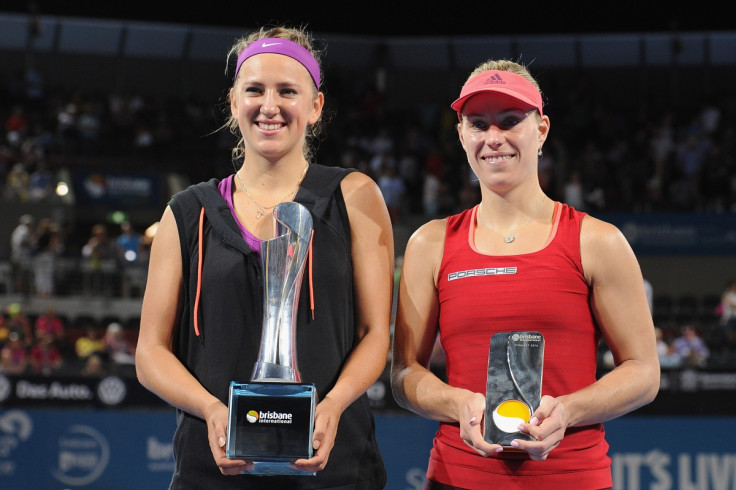 Angelique Kerber and Victoria Azarenka meet in the penultimate women's quarter-final at the Australian Open in Melbourne.
Where to watch
Kerber vs Azarenka is live on Eurosport at midnight GMT on Wednesday 27 January. Live scores and real-time internet updates are available on the Australian Open's official website.
Preview
Victoria Azarenka will seek to continue her march towards a third Australian Open title when she faces German Angelique Kerber in the penultimate women's quarter-final in Melbourne. The champion in 2012 and 2013 has not reached the last four of a grand slam in her last nine attempts, while Kerber is hoping to match her best-ever performance at a major by reaching the semi-finals.
Having curtailed her 2015 season due to a long-standing foot problem, Azarenka has been in imperious form since returning to the sport. The Belarusian has not dropped a set in nine matches this season, including on her way to winning the Brisbane International – beating Kerber in the final.
Though a two-time champion at Melbourne, Azarenka is unlikely to have the Australian crowd on her side as the favourite to progress – given the controversial manner of her route to her last title, following a much maligned timeout in her victory over Sloane Stephens. Nevertheless, Kerber will need all the support she can get.
Despite having previously reached the semi-finals at Wimbledon and the US Open, Kerber's surge into the last eight sees her in unknown territory in Melbourne in her maiden appearance in the quarter-finals. The 28-year-old endured a disrupted build-up, losing to Azarenka in Brisbane, withdrawing from the Sydney International through illness and being taken to three sets in her first round match at the Australian Open by world number 54 Misaki Doi.
With unseeded pair of Johanna Konta and Shuani Zhang lying in wait in the semi-final, both players will see the seventh meeting of their careers as a chance to put one foot in the final on 30 January. But with six straight wins and an unbeaten start to the year, it is Azarenka who holds the upper hand.
What the players say
Angelique Kerber: "You know, I had tough matches against her in the past. The last one was in Brisbane in the finals. I have never won against her, but that will be a challenge. I will looking forward when I play against her to really take my chances, take the next match.
"It's a new one, it starts from zero, and I know what's coming from her. I will try to be aggressive and try to go and win the match. She played very well from the first match here in Melbourne. Yeah, I will try to get another chance the next challenge against her, and we will see what happens then.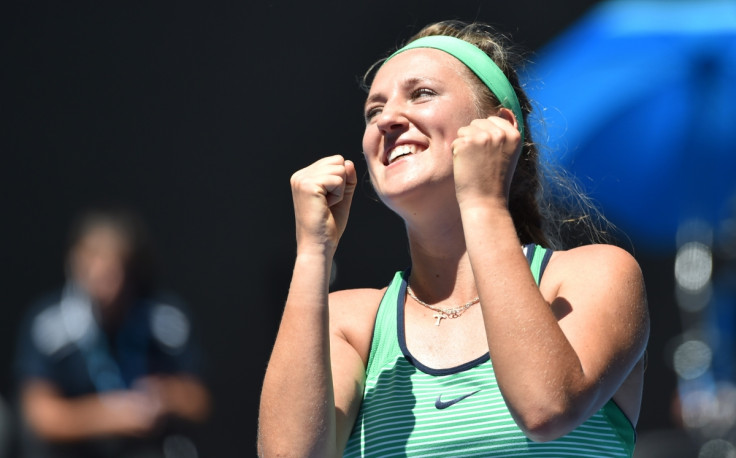 "I think I must serve better, because she's returning very well. Be more aggressive. Playing aggressive. Moving good and actually playing my game like I'm playing on practice and just focusing more on me and not on her game."
Victoria Azarenka: It's exciting. You know, I always look forward to playing against her [Kerber]. She always gives me tough matches. I prepare myself for a very tough match because she's very solid, very consistent, and an amazing fighter. I have to play my best game to beat her, for sure.
"She's just consistent. You have to really go out there and take it from her, because she's not going to give you anything [in the way of] mistakes. You have to really focus and take control. I think her fitness level was always pretty high. She's been very consistent and a great mover. She can play for as long as she wants to.
"But on the serve, I think she was a little bit more aggressive. But every match is going to be a different story. That's how I try to approach that. The result of Brisbane or whatever in the past, it doesn't really matter to me. I need to focus myself for a tough match and the quarter-finals of a grand slam. It's important for everybody.
Betting odds (source William Hill):
Angelique Kerber 7/2 vs Victoria Azarenka 1/5
Head-to-head record: Kerber 0-6 Azarenka
Last meeting: Brisbane International (hard) Azarenka bt Kerber 6-3 6-1