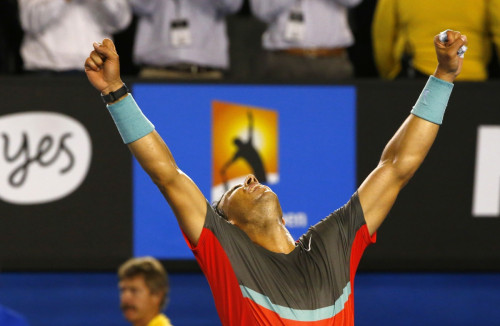 Rafael Nadal will meet Stanislas Wawrinka in the Australian Open final after confining Roger Federer to a straights sets semi-final defeat in Melbourne.
The world No. 1 powered past his old foe who he was meeting for the 33rd time as he secured a 7-6 (7-4) 6-3 6-3 victory that was enough to end hope of an all Swiss final on Sunday.
Much of the build-up was dominated by the blisters troubling Nadal's hands, but they seemed to be having little effect on his performance as the pair exchanged games in the opening set as Federer sought to maintain his remarkable record of being broken just twice this tournament.
The Spaniard threatened to break that run in the ninth game facing break point but breathed a sigh of relief as Nadal hit short before the Swiss latched on to bring it back to deuce before two more errors handed the 32-year-old a 5-4 advantage.
An absorbing 22 shot rally opened up what had been a regimented early exchange of games and it was Federer who was the first to blink as he netted a simple backhand. Into the tie break, Nadal raced into a 5-1 lead aided by an off balance Federer netting another, but an excellent volley from the Swiss followed by a sloppy backhand from his opponent saw the gap closed to 5-4. Despite the late charge, Nadal successfully served out before firing long to take the first set.
The aggressive approach that saw Federer dismiss the threat of Jo-Wilfried Tsonga and Andy Murray seemed to be waning against the athleticism of the world No 1, who needed just 45 minutes to supress his opponent. The visibly worsening blister on the Spaniard's hand had done little to impact his dominance of the baseline and a quick repair job before the second set appeared to have its desired effect.
After a repeat of the early stages of the opening set, Nadal gained a breakthrough in his second successive game to love. After falling 30-0 behind Federer looked to have hauled himself back in until a piece of magic from the Spaniard denied him as he dug out a ball from behind him before placing it just underneath Federer's racquet.
.Now a set and a break down, Nadal zoned in for the kill and despite losing another absorbing baseline rally Federer dumped a powerful forehand into the net to leave the world No.1 just a set away from a spot in the final.
Two hours into the contest Federer finally managed to find his first break point of the match to restore parity at 2-2. After a frustrated start to the fifth game of the set where he gifted Nadal two break points Federer roared back with a powerful serve. It was another short-lived reprieve however as the Swiss struggled once again to match the sheer power of Nadal who forced four errors from his opponent to once again restore parity.
A missed volley left a frustrated Federer on the brink of straight sets defeat at 5-3, but after successful challenges on the 27-year-old followed by a pair of wonderfully hit wide efforts the Swiss moved to 40-15.
A relentless Nadal punished two short balls and another error left the Spaniard on the brink of victory on match point. A powerful backhand from Federer briefly delayed the inevitable but Nadal did not blink when the chance materialised again moments later, sending a looping forehand across the line that Federer can only fire long to send him into his 12th Grand Slam final.