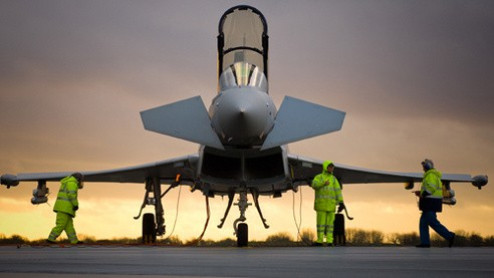 BAE Systems, the British defence giant, will supply Saudi Arabia with jets and other related support and services after signing a $3bn deal with the country, Reuters has reported.
Saudi Arabia, the world's top oil exporter, will receive 30 more Hawk jets from BAE Systems, in order to train pilots to fly the Eurofighter Typhoon jets which it has already ordered from BAE, the report said.
Representatives at BAE Systems were not immediately available for comment when contated by the IBTimes UK.
While the group is expected to announce details later today, Saudi Arabia's official news agency SPA quoted an unnamed official at the Saudi Defence Ministry saying the deal, which includes the with, would help train "the Saudi air force to be able to use the fighter jets ... efficiently". An unnamed source quoted by Reuters also said the deal includes a 30 Hawk trainer aircraft with BAE.
Last month, as part of a £224m contract, BAE revealed it is upgrading 70 state-of-the-art Digital Electronic Warfare Systems (DEWS) / Common Missile Warning Systems (CMWS) onboard F-15S fighter jets in support of the Royal Saudi Air Force.
In 2007, Saudi Arabia signed another contract with BAE worth £4.5bn with BAE to buy 72 Typhoon aircraft, 24 of which have been delivered to the Royal Saudi Air Force.
BAE Systems shares were little change at 273.8 pence as of 1145 GMT.