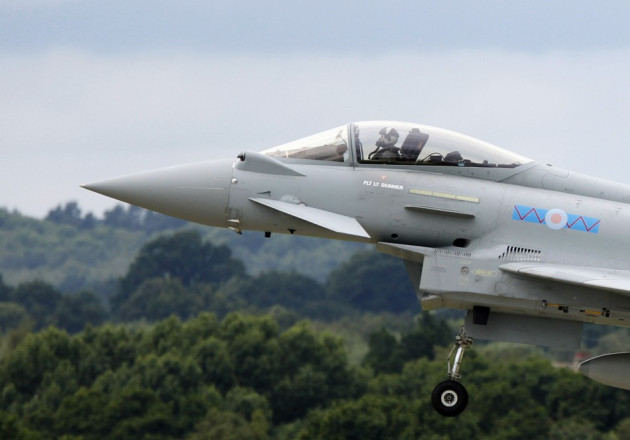 BAE Systems has formally agreed a deal to sell as many as twenty aircraft to the Gulf state of Oman in a deal worth more than £2.5bn
Europe's biggest defence firm will provide twelve of its Eurofighter Typhoon combat jets and eight of its Hawk 128 class jet trainers to Oman, the company said a statement published Friday. The aircraft will be delivered starting in 2017.
"Receiving this contract is an honour and is excellent news for both BAE Systems and the Eurofighter Typhoon consortium.," said BAE Systems managing director Guy Griffiths in the statement. "We look forward to working in partnership with Oman's Ministry of Defence, and the Royal Air Force of Oman, to ensure this is a highly successful programme that maximises the potential of both Hawk and Typhoon."
The Eurofighter Typhoo is built through a consortium of Euorpean firms that includes Finmeccanica, EADs and BAE Systems.
"The Typhoon fighter jet performed outstandingly in Libay, and so it's no surprise that Oman want to add this aircraft to their fleet," said Prime Minister David Cameron during a visit with British troops in Afghanistan. "It's testament to Britain's leading aerospace industry and the deal will safeguard thousands of British jobs across the U.K., not just at the BAE Systems factories in Lancashire and East Riding in Yorkshire, but at many more small businesses up and down the country that play a vital role in delivering these aircraft."
The deal comes just two days after BAE said delays in agreeing price terms on a 72-plane deal with Saudi Arabia - signed back in 2007 - could impact full year earnings for the group.
The controversial $4.5bn arrangement, known as the "Salam" deal, may end up hitting earnings per share by as much 3 pence if a formal agreement isn't reached by 21 February, the company said. Around a third of the Typhoon jets agreed in the Salam deal have already been delivered to the Saudi Air Force.
"Acceptable pricing terms remain the Group's driver to such an agreement, not the timing of the settlement," BAE said Wednesday.
BAE shares fell around 1 percent in early trading in London Friday to change hands at 344.7 pence each. The shares have advanced around 20 percent so far this year.