One of Britain's most senior politicians has called for the boycott of Bahrain's Formula 1 Grand Prix, which is scheduled for this weekend, evoking the 1985 boycott of South Africa's race during the apartheid era.
Lord Avebury, who has been in Parliament for over 50 years, criticised Bernie Ecclestone, who likened Bahrain's pro-democracy protesters to those taking part in anti-Thatcher demonstrations.
Avebury said the F1 boss "has forgotten about 90 deaths and 13 imprisoned activists".
The 1985 race in South Africa was boycotted by several Formula 1 teams due to growing international pressure against the country's system of apartheid. The Grand Prix returned in 1992, after apartheid ended.
The British All-Party Parliamentary Group for Democracy in Bahrain has sent a letter to Ecclestone calling for the Grand Prix top be cancelled. "We request you cancel the Grand Prix," reads the letter
"It is likely to attract as much negative publicity as last year."
"Since April 2012, many more people including children have lost their lives and the whole country exists in fear and intimidation," wrote Andy Slaughter, chairman of the Group.
"Last year's race was held under conditions of martial law. Three hundred protesters were arrested, some spending months in jail.
"I think most democratic-minded people would be appalled if you allowed the Bahrain leg of the Formula 1 championship to go ahead amidst the most atrocious human rights violations."
Tensions have heightened ahead of the controversial race in Bahrain, after authorities launched a crackdown on opposition activists with local sources reporting increased house raids and arbitrary detention of protesters.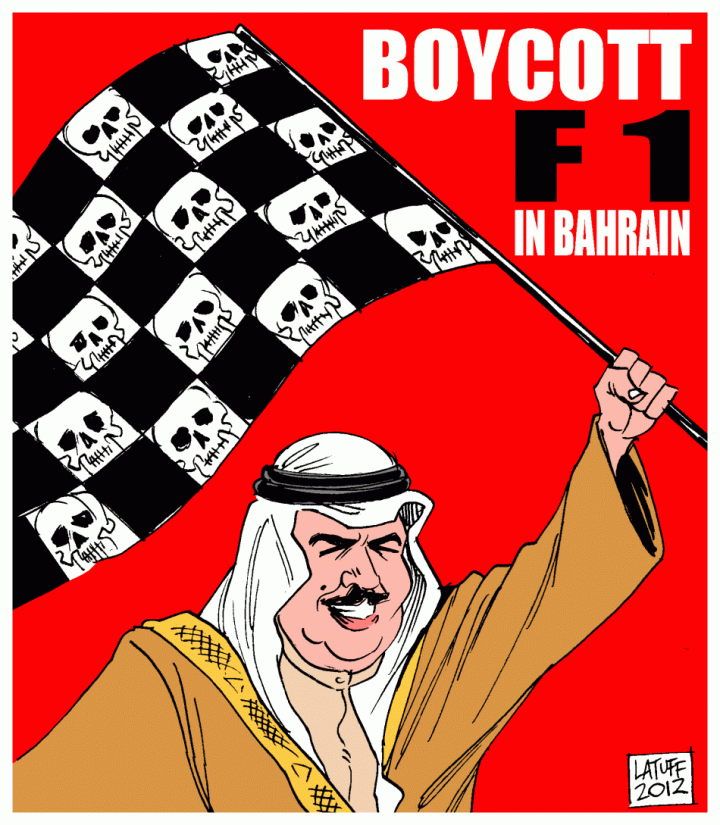 Police in the tiny Gulf Island have fired tear gas and clashed with students during a raid on Jabreya Secondary School for Boys in the capital Manama. Students had staged a protest demanding the release of 17-year-old Hassan Humidan, arrested on Monday.
Witnesses said the school "looked like a battlefield" with debris and dozens of teargas canisters scattered around.
"Around 100 students started protesting in the morning after masked civilians kidnapped Hassan Humidan in the school," Yousif Almuhafda told IBTimes UK. "The protest was to say 'we are not safe as students in the school, we are being arrested even if we are here, studying in our school."
Mohamed Jaber, a father of one of the students, says he came to pick up his son but police told him and other parents to leave, according to AP. Two students were arrested and one boy was injured in the leg by a teargas canister.
Ecclestone, who previously played down human rights concerns over the race, said that just like those who protest against Thatcher, "you will always get people that will want to make riots".
He offered to talk to protesters this year. "I have sympathy with both sides of the argument. I wish they could sort things out. If there are any problems, which there are obviously - people are not making trouble if there are no problems - then they could get it sorted out.
"Whether they have or not, I don't know, but you will always get people that will want to make riots anyway."
Anonymous has threatened to hack the websites of Formula 1 Grand Prix and the Bahraini government in support of pro-democracy protests in the Gulf kingdom.
The development came after Privacy International decided to sue the British government over the export of state-of-the-art surveillance technology to Bahrain.
The human rights group said the UK government has refused to reveal whether it was investigating UK-based Gamma international, a company that produces FinFisher software.
Privacy International argues that the export of FinFisher software, used to monitor dissidents in Bahrain, might be illegal under UK law.