Foreign Office U-Turn on British Embassy Blog Praising Bahrain's 'Human Rights Record'
Whitehall slaps down embassy blogs on Bahrain's human rights stance on World Press Freedom Day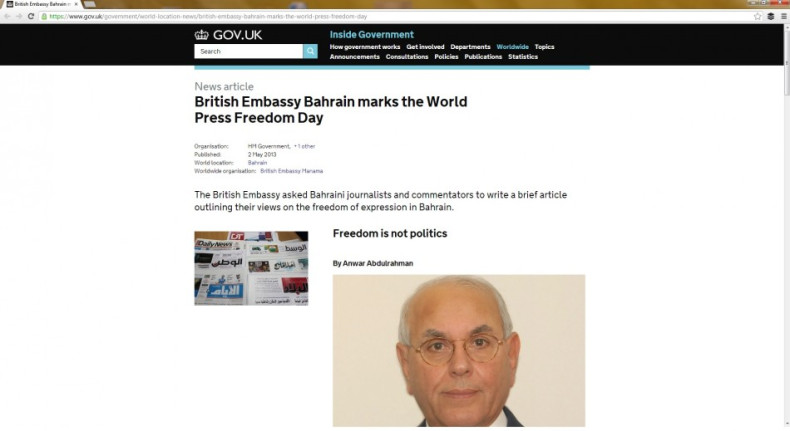 The Foreign Office has made a dramatic U-turn over two articles published on the website of the British embassy in Bahrain that boasted about the Gulf island state's human rights record on World Press Freedom Day.
In a statement on Twitter, the Foreign Office said:
All views expressed in guest blogs for #WPFD are solely those of the author & do not necessarily reflect UK Government policy.

— Foreign Office (FCO) (@foreignoffice) May 3, 2013
But the views expressed on the @ukinbahrain #WPFD guest blog today are definitely not those of the UK Government. — Foreign Office (FCO) (@foreignoffice) May 3, 2013
The articles, one written by the editor-in-chief of a Bahraini-controlled newspaper, Anwar Abdulrahman, and the other by a pro-monarchy political group, depicts Bahrain as a place where Western media and leading rights organisations have tainted the country's image and integrity and have "ripped" society apart through sectarian tension.
"So-called human rights organisations, which unfortunately are largely administered by ex-ideologists and even terrorists, today propagate their own version of the word 'freedom', solely to take it away from others," said Abdulrahman.
Citizens of Bahrain, a pro-regime NGO, states that "freedom of the press has limits". In Bahrain, "the concept of freedom of press is unfortunately abused," it adds.
Freedom House vice-president Arch Puddington has picked Bahrain as one of the 10 worst countries in the world to be a journalist. In an article for Foreign Policy, he underlines that restrictions on the press have "steadily worsened" since the pro-democracy protests that started in 2011.
"Many domestic journalists have been arrested and detained without warrants and confessions have been extracted through torture," he wrote.
Journalists in Bahrain have been "harassed, assaulted, imprisoned and allegedly tortured as a result of their work", according to the Bahrain Center for Human Rights (BCHR).
In the past year, 13 Twitter users have been arrested, detained and put on trial for their tweets. Five of them have been sentenced for "defaming the king via twitter".
Prominent blogger Ali Abdulemam, contributor to Bahrain Online forum, was sentenced in absentia for 15 years in prison by a military court in 2011 for allegedly "belonging to terrorist organisations and trying to overthrow the government".
Nabeel Rajab, president of the BCHR, was arrested at home after a court sentenced him to three months in prison over a tweet against the prime minister.