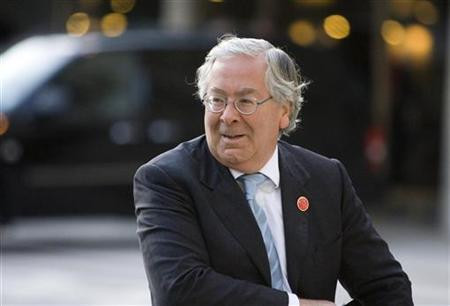 Mervyn King, Governor of the Bank of England lowered forecasts for economic growth in UK after high Inflation prospects rose. The Bank now forecasts 2.5 percent next year - down from its forecast in May of 3.4 percent growth.
ECONOMISTS WARNINGS
Economists, who are currently warning on a 'bumpy and gradual' recovery also warned that export-led growth figures in June's manufacturing and industrial output aren't likely to continue beyond Q2 suggesting this quarter's 1.1 pct increase in Gross Domestic Product is just a 'blip'.
However, King, whilst admitting that growth prospects had softened was 'dovish' on tone on the prospect of future interest rates rising:
"The Committee's central view remains that, once the effects of the price-level shocks –including the forthcoming increase in VAT – drop out of the twelve-month comparison, inflation will fall back, probably to below the target, reflecting the influence of spare capacity in the economy."
Inflation - which fell just 0.2 pct in last month's report had raised expectations for the Bank of England to show a progressive downward swing after failing to meet its target of 2 pct - however King again was cautious on taking any 'rash' action:
"During the NICE decade, we became used to inflation remaining exceptionally close to target. In contrast, over the past three years inflation has been volatile and above the target for much of the time. That does not mean that the MPC has taken its eye off the inflation ball, nor has gone soft on inflation. We have not."
"Monetary policy can do little about short-run movements in inflation and must reflect a judgement about the balance of risks to inflation in the medium term. Short-run volatility is making that balancing act more difficult." he said.
UNEMPLOYMENT CONTINUES TO RISE
Meanwhile, the news that unemployment figures rose for June shed further light on Q2 which ended with an employment rate up 0.3 pct on the quarter to 70.5 percent.
The good news, albeit two months late, is further evidence of a strong second quarter for British business as 184,000 new workers were employed.
This is - according to the ONS - the largest quarterly increase since 1989.
The quarterly increase was mainly driven by part-time work fuelling fears that businesses are not hiring for the future, however is unlikely to be impacted downwardly if confidence in the economy can be sustained through Q3.
"The latest UK labour market report has a generally positive tone. Employment in the three months to June rose by a whopping 184,000, with full-time employment accounting for a decent proportion of that. And although the number of people looking for jobs also rose sharply, unemployment still fell by 49,000.
"However, the relatively small fall in the timelier claimant count measure of unemployment of just 3,800 in July is a slight cause for concern. June's drop was also revised from 20,800 to a smaller 16,000. This might be a sign that the slowdown in the wider economic recovery is already spreading to the labour market. And with sharp public sector job cuts looming, we still think that renewed rises in unemployment lie ahead. What's more, the high level of unemployment continues to dampen pay growth." said Vicky Redwood, Capital Economics.
The FTSE 100 was down 88 points following the news and is currently 5,288.38 at 11:00 GMT+1.