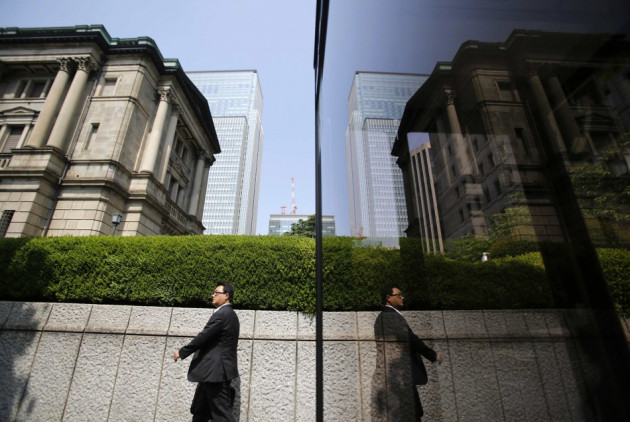 Japan's central bank has kept its monetary policy unchanged, assessing that the economy has emerged from turmoil despite the recent market turbulence.
In line with market expectations, the Bank of Japan (BOJ) voted unanimously to maintain its pledge of increasing monetary base, or cash and deposits at the central bank, at an annual pace of 60 to 70tn yen ($600-$700bn).
The bank has also maintained its asset buyback policies, and will continue to buy Japanese government bonds worth about 50bn yen per year. It will also buy exchange-traded funds and Japan real estate investment trust shares worth 1tn yen and 30bn yen per year, respectively.
As for commercial papers and corporate bonds, the bank will continue purchases until their amounts outstanding reach 2.2tn yen and 3.2tn yen, respectively by end-2013.
The bank noted that Japan's industrial production is picking up with better demand both at home and abroad. Exports have started picking up and fixed investment continued to show resilience in the non-manufacturing sector. Public investment and housing investment have improved and private consumption was resilient.
"Japan's economy is expected to return to a moderate recovery path, mainly against the background that domestic demand increases its resilience due to the effects of monetary easing as well as various economic measures, and that growth rates of overseas economies gradually pick up, albeit moderately," the BOJ said in a statement.
The bank also expects the year-on-year rate of change in the consumer price index to gradually turn positive. The country has been mired in deflation for almost 15 years.
It will continue with its quantitative and qualitative monetary easing, aiming to achieve the price stability target of 2%.
In April, the BOJ unleashed its aggressive monetary easing programme in order to boost economic growth. Following the measures, the stock markets surged to a record level and the yen crossed the symbolic 100-mark against the US dollar. On the other hand, yields on bonds surged as a result of the measures, resulting in high borrowing costs in the country.
At its latest policy meeting, the bank did not take any measures to ease volatility in the bond market.