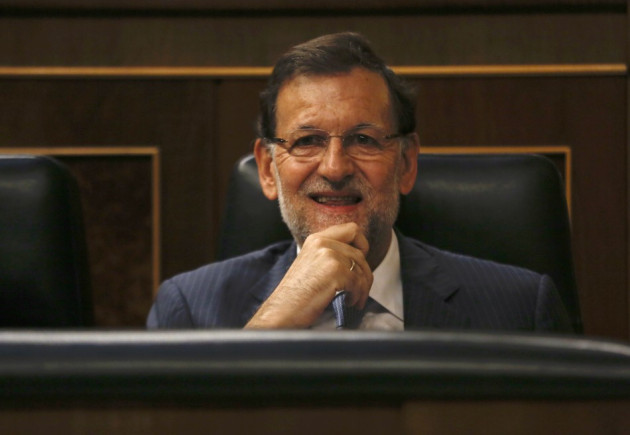 Certain banks have become unfortunate emblems of the financial crisis: Lehman Brothers in the US or Royal Bank of Scotland in the UK. In Spain this falls to the largest of the state bail-outs, Bankia.
The troubled Spanish lender became a metaphor for the crash in Spain's economy that followed a housing bubble, fuelled by easy credit.
However, Bankia has posted a better-than-expected netprofit, which optimists could see as evidence that the country's economy has turned a corner.
The state-backed bank said its net profit hit €362m (£308.6m, $500m) during the nine months to the end of September, having posted a painful €19.2bn loss the year before off the back of Spain's collapsed real estate market.
Furthermore, the country exited a two year recession in the third quarter after it scraped 0.1% GDP growth.
So is Spain's banking sector finally getting its house in order?
Most of Spain is still dealing with the fallout from the country's unsustainable property boom.
In September, Spain's public debt hit a new high of 92.2% of GDP at €942.8bn. Its unemployment rate remains stubbornly high at 26.9%.
In addition, Bankia's results are not completely healthy.
Bankia reported a fall in net interest income of 29% to €1.73bn during the nine months to the end of September. This represents loan earnings after the deduction of costs.
Overrated Progress?
Credit conditions remain tight for Spanish business and consumers, who have been hit by sluggish output growth and high unemployment. Low interest rates have also eroded banks' margins.
Spain's lenders suffered badly from the 2008 property asset collapse, having been tied up in the financing of the real estate boom beforehand.
In August 2012, Spanish banks borrowed €411bn from the European Central Bank (ECB) to maintain liquidity. The country's banks have reduced their borrowing from the ECB for 12 consecutive months, drawing down just €249bn in August.
While the International Monetary Fund (IMF) has hailed the "strong progress" of Spain's economic reforms through fiscal tightening, the relaxing of labour market laws, and cleaning up the banking system.
"Strong reform progress is helping stabilise the economy and external and fiscal imbalances are correcting rapidly. But unemployment remains unacceptably high and the outlook difficult. This calls for urgent action to generate growth and jobs, both by Spain and Europe," said the IMF's concluding statement after its visit to Madrid.
Reforming Europe's Banks
The battle waged in Spain against high public debt and fixing its fragile financial system are the ones being waged in Europe and the world as a whole.
Benoit Cœuré, who is a member of the ECB's executive board, gave a speech in Beijing where he said the eurozone is at the crossroads.
"We have, so to speak, come to a crossroads in Europe," he said.
"The authorities can either choose between swiftly auditing and repairing the banking sector, which will help restoring credit flows, or they can allow forbearance, which will harm the long term prospects of our economy," he added.
In October 2013, as part of the IMF's annual meeting in Washington DC, the IMF's director of communications Gerry Rice said that banking reforms will only be completed if regulators from different countries band together better to outline new rules.
"The global economy is going through transitions on a number of fronts. One of them is the financial sector which five years after the Lehman's crisis, we all know that is where it began, and again progress on the financial sector but a lot more to be done," said Rice.
"The spill over effects, as we say, from one country's policy to another is increasingly obvious."
What might worry Spanish banks is the upcoming quarterly asset review of European banks to be undertaken by the European Banking Authority and ECB from next year.
The European Central Bank unveiled how it plans to diagnose the health of banks as it moves into a position to supervise the continent's financial system.
These details are part of the eurozone's ongoing mission to find ways it can repair Europe's fragile financial system and return it to a path of economic growth.
ECB officials have made it clear that they want to know about any vulnerabilities in the financial system before they assume the supervisory role, which will see the central bank's powers greatly expanded.
Two previous stress tests conducted by the ECB failed to be useful at detecting weaknesses on many banks' balance sheets.
Significantly, Spanish and Irish banks that underwent these stress tests were spectacularly exposed in the eurozone's sovereign debt crisis that erupted in 2010.
The eurozone's stress test exercise is known as the asset quality review and its first phase will take place in the first half of 2014.
European policymakers will hope to spot any weaknesses in Spanish banks this time around.
Therefore any Spanish bankers that are sitting on bad portfolio's might wish to declare them sooner rather than later.