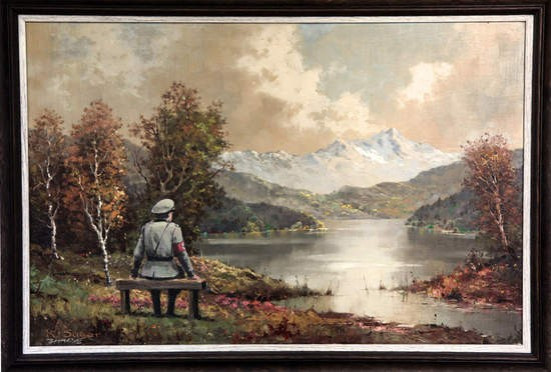 A new artwork by Banksy which features Nazi imagery is set to go under the hammer in a sale which could raise hundreds of thousands of dollars for AIDS victims.
The latest stunt by the British artist currently doing a New York residency is another piece of artistic vandalism - but this time on a landscape painting, not a wall.
A Nazi officer was painted in to the unremarkable picture purchased from a junk shop, before being handed back with a new title; "The banality of the banality of evil" - and its value many times increased.
The title is a pun on a phrase coined after the Nuremberg trials of Nazi party members for describing how mass murder was committed by unremarkable individuals often working as bureaucrats.
In the doctored painting, an ordinary looking man looks out on a rather blandly depicted landscape - which is not so dissimilar from those produced by Adolf Hitler when he was trying and failing to enter Vienna art academy.
All the frisson in the scene comes from his vivid red armband.
The doctored image could sell for a huge sum given how much interest there is in Banksy's sojourn in New York, with some predicting $1m.
'The Banality...' currently hangs in the Housing Works shop, which is a thrift shop and also a advocacy centre for homeless people and those with HIV/AIDS. The only difference is that the rest of the shop's stock is not protected by guards.
An auction was announced to sell the piece with the reserve price of £76,000. All proceeds from a sale will go to helping people with the chronic condition, said a spokesman.
"This is one of the coolest things that has happened to us in a long time," Housing Works spokeswoman Rebecca Edmondson told The New York Post.
"It's such a great gesture, what he did today is really special. He may be controversial, but there is no controversy in the fact that it goes to something good."
Follow the auction by clicking here.