Ex-Barclays boss Bob Diamond faces Treasury select committee grilling
Barclays defends the bank's wider culture and its funding practices during the credit crisis
Barclays memo unveils phone conversation between deputy governor Paul Tucker and Bob Diamond
Barclays issues correction and says it does not have

a recording of the Tucker / Diamond call

Tucker requests an audience with the TSC to explain his conversation with Diamond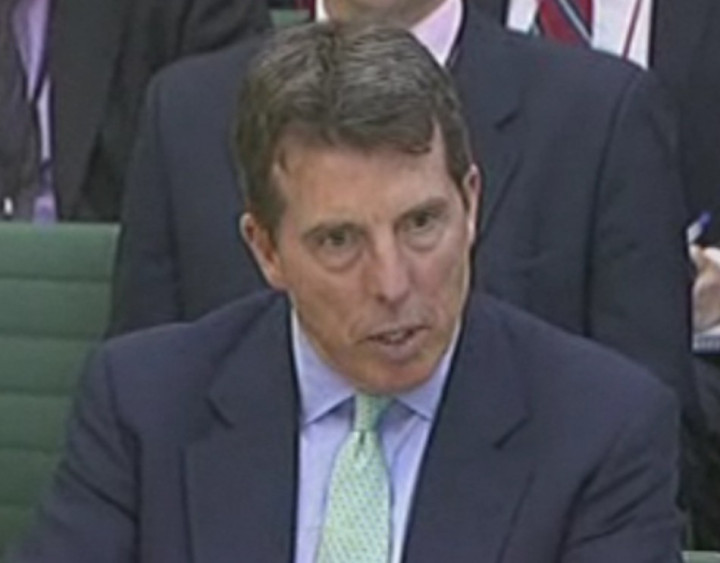 1707 BST MPs finish grilling Diamond and he leaves the committee chamber. Thanks for reading and we will have a wrap-up posted shortly.
1650 BST: Diamond tries to tell MP Stewart Hosie that conversations with regulators about Libor was to do with "Barclays' relative positioning next to other banks" and was not about being instructed to lower rates to make money.
1647 BST: Wider markets haven't let Thurso's remarks go unheard:

1640 BST: MP John Thurso, interestingly, tries to tie the interest rate swap mis-selling scandal with the Libor fixing scam.
Interesting attempt - but Thurso does show a misunderstanding of Libor and the impact it has on the IRS products sold to retail customers.
Diamond tries to educate him by explaining how, essentially, the financial markets work.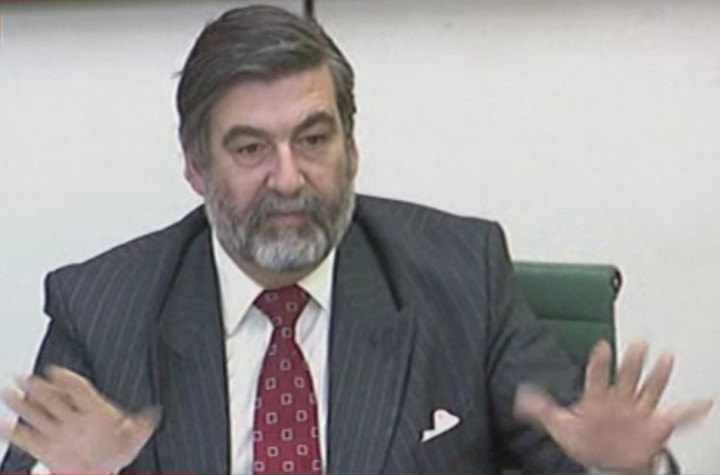 1636 BST: Elsewhere, the "George Osborne: Labour figures 'clearly involved' in Libor scandal"
"George Osborne has claimed members of Gordon Brown's circle were "clearly involved" in pressurising banks to manipulate the Libor rate they were paying at the height of the financial crisis of 2008.

In an interview with the Spectator magazine to be published on Thursday, Osborne dismissed suggestions by the former Barclays chief executiveBob Diamond that the Bank of England had urged the bank to lower the Libor rate, and instead raised the political temperature by pointing the finger of blame on members of the former Labour government, mentioning Ed Balls by name as one of those who had "questions to answer".
1634 BST: MP John Mann spends about five minutes talking about bonuses and pay and getting quite verbally aggressive with Diamond.
He mentions how "rotten" Diamond and the bank is.
Diamond responds: "Was there a question in that?"
1629 BST: MP John Mann calls Diamond "grossly incompetent" and "complicit and negligent" and asks him if he is going to forfeit his Barclays shares. Diamond dodges the questions.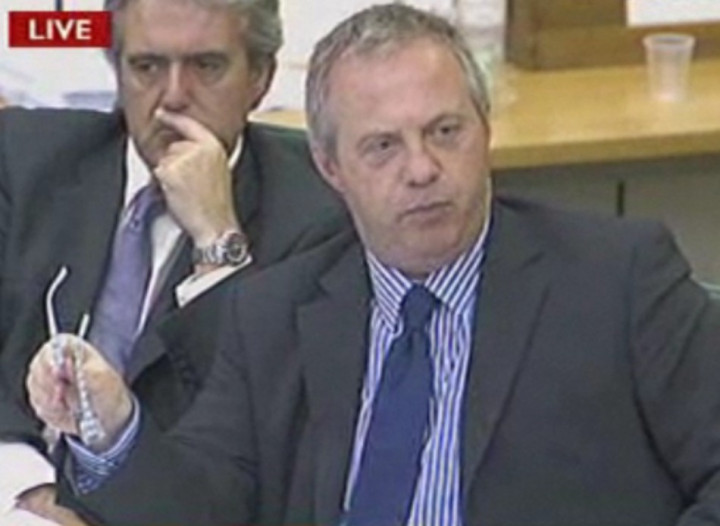 1625 BST: Looks like Diamond is really getting under the TSC's skin. Oh and that the interrogators are tweeting in between the grilling.
1624 BST: Diamond: "I behaved with honesty, integrity and plain dealing for my entire career"
1620 BST: Dimon and Diamond's testimonies become more similar and Twitter is noticing:

Would be interesting to see, after the testimony, how many times Diamond says "I love Barclays"
1617 BST: Diamond almost turns a response on the Barclays track record into an advert for PingIt.
1613 BST: Despite declaring not long ago during the TSC hearing that the risk management systems and controls "were not strong enough", Diamond now says that "we have a strong track record in risk management".
1609 BST: MPs cut Diamond short as he tries to go into another "heartfelt" speech about how he "loves Barclays".
From the hardline of questioning, Diamond seems to respond to most difficult questions about the extent of his knowledge of the scandal, by repeatedly declaring his "love" for the bank and for the employees.
1608 BST: Diamond: "Banks need to be better citizens."
1606 BST: Diamond says it cost £100m for internal investigation
1605 BST: Diamond admits that certain conversations between other officials were not recorded.
1601 BST: MP Teresa Pearce highlights Barclays 2011 annual report, released in March 2012 that mentions "risk" 1733 times.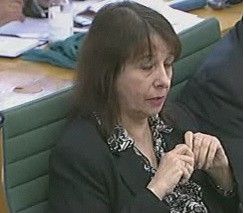 1557 BST: Diamond echoes JPM's Dimon on blaming poor risk management systems and controls for the Libor scandal.
"One of the lessons learned that our systems and controls are not strong enough. But we do now. We didn't want until the end of the investigation to resolve this."
Interesting because like most banks, Barclays have always waxed lyrical about strong risk management functions.
1555 BST: Why was Libor setting ceiling so flawed?
Garnier says that Diamond never installed training for Libor submitters and or "getting this culture right"
1553 BST: MP Mark Garnier needles Diamond on how was it possible that Libor submissions were never knocked back at a higher level as no documents show this.
1551 BST: Barclays' shares erases recent gains on the FTSE 100

1546 BST: Diamond seems to dodge any hard answers on risk management and compliance by highlighting how much he loves Barclays and that "it was not part of the culture."
Diamond: "compliance was taken very seriously. I was building and growing risk management function. WI mean it when I was finally given report the weekend before this was public, it took me a while to get them all downloaded and getting frustrated it took ages to download. I got physically ill."
"The culture is completely the opposite to anything we want."
1545 BST: Not too surprising to hear that Diamond "had not been an avid reader of the press over the last week."
1541 BST: Comparisons being made on Twitter between JP Morgan's CEO Jamie Dimon and Diamond's language used in front of committee hearings:
1538 BST: Diamond: "I think that there is a lot of regulation and has heightened tremendously through the crisis and what I worry about is balancing competitiveness, [getting out of a recession] and I feel the level of regulation and level of scrutiny is much higher. There needs to be a balance."
1536 BST: Diamond: " Compensation of the traders [convicted of Libor rate rigging] was not just based on their own books."
1533 BST: Diamond admits that after years of traders rigging Libor rates "without senior management knowing" that this has led to internal investigations into other parts of the bank's divisions, in case there are other examples of corruption and fraud.
1530 BST: IBTimes UK @shanecroucher uncovers something interesting from the Barclays' Annual Report.
Bob Diamond claims to have not known about Libor falsification until this month.
However Barclays 2011 annual report, released in March 2012 and signed by Bob himself, has this paragraph noting the ongoing investigations by reglators into allegations of Libor rate-fixing:
"The FSA, the US Commodity Futures Trading Commission, the SEC, the US Department of Justice Fraud Section of the Criminal Division and Antitrust Division and the European Commission are amongst various authorities conducting investigations into submissions made by Barclays and other panel members to the bodies that set various interbank offered rates. Barclays is co-operating in the relevant investigations and is keeping regulators informed.
In addition, Barclays has been named as a defendant in a number of class action lawsuits filed in US federal courts involving claims by purported classes of purchasers and sellers of LIBOR-based derivative products or Eurodollar futures or options contracts between 2006 and 2009.
The complaints are substantially similar and allege, amongst other things, that Barclays and other banks individually and collectively violated US antitrust and commodities laws and state common law by suppressing LIBOR rates during the relevant period.
Barclays has been informed by certain of the authorities investigating these matters that proceedings against Barclays may be recommended with respect to some aspects of the matters under investigation, and Barclays is engaged in discussions with those authorities about potential resolution of those aspects. It is not currently possible to predict the ultimate resolution of the issues covered by the various investigations and lawsuits, including the timing and the scale of the potential impact on the Group of any resolution."
1527 BST: Diamond defends compliance officers on the trading room floor that did not see or here the behaviour over Libor rigging.
1524 BST: Twitter hits back at Diamond's claims that he "didn't know about lowballing Libor rates until this month"
1520 BST: Barclays shares RISE (via Google Finance)

1510 BST: Diamond gives a rather heartfelt response on his "love for Barclays" as he responds to questions on whether he thinks that whether, personally, "should UK regulation include a more punitive regime for wrongdoers and those who act recklessly or deliberately in the financial markets."
Diamond firstly says "that is a decision for the regulators " but the TSC hits back rather aggressively asking the same question again.
Diamond responded:
"I think people who do things that are not meant to do should be dealt harshly and we have been through a process that has dealt harshly with people. When I got the results of the investigation and when I read the emails from the traders, it make me ill. Actions to investigate were taken immediately and we didn't wait to deal with them as soon as evidence of wrongdoing became clear. But I want to assure you that Barclays found this behaviour reprehensible and I am sad, disappointed and angry over the behaviour exhibited and types of emails that were written."
"I stand by the fact that all other employees at Barclays see this is wrong and I am not happy about it but we put all the resources we could to investigate and deal internally and with regulators on this issue."
"This does not represent the Barclays I know and love. I love Barclays and for almost 25 years, I have developed great relationshiops and loved my time here and a great place to work."
1506 BST: Diamond: "I was not aware that Jerry [Del Missier] took my note with Tucker as an instruction."
1504 BST: Diamond: "My main focus on the Tucker note was the issue with Whitehall."
1503 BST: Diamond says that he was only aware that this month (July) that traders were "low-balling" of Libor submissions
1502 BST: Who is Who on TSC Grilling Diamond?
This is a handy list by the Guardian, on each and every interrogator.
1459 BST: Diamond defends the lack of awareness that there were false Libor submissions because due to market conditions at the time, "if someone was a little bit off, then it was less noticeable."
1454 BST: Diamond defends Jerry Del Missier on not taking instruction from regulator calls over Libor rates.
1451 BST: MP of Sevenoaks Michael Fallon and Independent Non-executive Director at Tullet Prebon brings the conversation back to the Tucker call.
Fallon: Does "Whitehall" mean senior officials or senior members of government? Bob won't speculate.Then says [John] Varley had more contact
1450 BST: Focus shifts onto Shriti Vadera. Here's some background (via @guidofawkes)
"As for Ms Vadera, she was a very important adviser, this was a time when there were huge worries about the state of Barclays and other banks following the collapse of Lehmann Brothers and RBS. But she said that she has no recollection of any conversation about the Libor rate and the things reported in the Diamond memo and I hear and take what she said."
1445 BST: Diamond consistently highlighting that they were the only UK bank that managed to avoid being nationalised, unlike the £62bn loan given to Lloyd's and HBOS merger and that they didn't have funding problems.
1444 BST: Diamond: "Single best decision we ever made [during the crisis] was to arrange equity privately"
1437 BST: Diamond says that the chart showing 3 month Sterling Libor plummetting after the Tucker phone call is not accurate in showing Barclays' Libor position, relative to all the other banks that submit their rates.
1436 BST: Diamond hits back at this chart:
Diamond says that "this is a relative rating"
1433 BST: Diamond hits back at critics that "Barclays was lowering Libor rates for reputation" by saying "100% of the days in October 2008, we were the highest or next to highest."
1431 BST: Diamond on October 29th 2008 memo: "I was worried that if the government thought that our Libor was set too high then it would then think we had inadequate funding."
"We questioned whether the other banks could actually gain funding at the levels they were posting."
1430 BST: Diamond on October 29th 2008 memo:
Diamond: "Whitehall refers to officials in government"
1428 BST: Diamond: "I had fairly frequent with regulators during this period but with people below the Hector [Sants] level as I was not CEO at the time."
1423 BST: SKY NEWS: Barclays issues correction saying it does not have recording of 2008 phone call between Bob Diamond and Paul Tucker
1420 BST: Diamond: "Fundamentally my decision is to resign [is because] my leadership and questions of my leadership was called into question and I thought the best way to bridge Barclays out of this situation and to prevent damage of reputation is to step down. I love Barclays."
1416 BST: Diamond answers to the TSC: "Clearly there was mistakes and behaviour was reprehensible."
"I love Barclays because of the people. Its been 16 years of just tremendous of enjoyment because of the incredible 140,000 people round the world that work for the bank."
"Chairman, as you said, the focus has been on Barclays because we were first to come out of this [Libor rigging] event."
"I am worried that the world is viewing the group of traders [involved in the scandal] is reflective of the wider Barclays culture"
"Clearly there was mistakes and behaviour as reprehensible."
"As soon as this [Libor issues] was discovered, we had three years of intense internal investigations, alongside regulators and we were applauded by the regulators [with tour efforts and investigations] looking at million of files."
"We always said, let's identify problem and take action."
1413 BST: Live streams of Bob Diamond testifying in front of TSC
1409 BST: Barclays reveals it has the, now infamous, recording of the telephone conversation between Diamond and BoE's Tucker, that was cited in memo released on its website last night.
Barclays says it will not release it into the public domain
1406 BST: Bob Diamond is set to appear before the Treasury Select Committee very shortly
1307 BST: Interesting point on Paul Tucker, deputy governor at the Bank of England who is now asking the TSC for an audience, following the Barclays memo that revealed that he and Bob Diamond conversed on the phone about Libor.
via @Simon_Nixon
Paul Tucker evidence may turn out to be more revelatory than Bob Diamond as Diamond still gagged by terms of FSA settlement order. #libor
1300 BST: Public protests / complaints mount
Pictures on Twitter show local Barclays' branches being covered in protest notes. (via @CapitalCityIFR)
1250 BST: Bank of England Deputy governor requests an audience with TSC.
Tucker says he wants to clarify the phone call with Bob Diamond on 29 October, 2008 - mentioned in the Barclays' memo from yesterday.
I bet he does ....
1244 BST: US commentators weigh in
While the UK is bracing itself for Diamond taking centrestage at the TSC, US commentators are drumming it home, such as @moorehn that:
"One British bank and one international interest rate may have had a strong effect on average consumers here in the U.S."
"The handy explainer below should explain who to be mad at, and why."
1230 BST: David Cameron and Ed Milliband argue over the amount of regulation over the last few years.
Interesting because ....
Today - Miliband: "Problem of the past decade is too much regulation. Tories are bankrolled by the banks."
However, on 28 March 2008, DC said: "Yhe problem of the past decade is too much regulation".
1226 BST: David Cameron pledges to put severe bank industry restrictions on severance packages.
1225 BST: David Cameron: "It is completely inexplicable to the public to see senior bank executives leave with big severance packages."
1220 BST: David Cameron keeps pushing for a parliamentary-led inquiry.
"We should allow all investigative authorities to carry out investigations to where it leads them and this is talking about the FSA and Serious Fraud Office and we will make sure they have the resources available to them. However, in the meantime, it's easier and quicker to hold a parliamentary inquiry than wait."
1214 BST: Mis-selling derivatives being discussed at House of Commons.
DC defends government plans to ring-fence retail and investment banks in order to prevent the mis-selling of complex derivatives in the future.
1212 BST: David Cameron: "Banking scandal outrageous and swift inquiry and swift legislation needed."
Leader of the opposition, Ed Milliband (EM): "We should have a two-part judge-led inquiry into banking scandal."
1207 BST: UK Prime Minister David Cameron (DC) speaks in House of Commons
"Speed and transparency; That's why I favour a public parliamentary inquiry."
"Parliamentary inquiry will look into the culture of banking."
DC also cites Sir Richard Lambert, ex-director general at the CBI on no need for drawn out banks inquiry.
1200 BST: List of MPs in the Treasury Select Committee that will question Bob Diamond today:
Andrew Tyrie (Conservative)
Michael Fallon (Conservative)
Mark Garnier (Conservative)
Stewart Hosie (Scottish National Party)
Andrea Leadsom (Conservative)
Rt Hon Pat McFadden (Labour)
Andy Love (Labour Co-Operative)
John Mann (Labour)
George Mudie (Labour)
Jesse Norman (Conservative)
Teresa Pearce (Labour)
David Ruffley (Conservative)
John Thurso (Liberal Democrat)
1142 BST: Is a UK criminal prosecution necessary?
Without wanting to troll the wider public that is baying for Bob Diamond's blood, following the Libor rigging scandal and the mis-selling of derivatives to retail customers: is a criminal investigation even necessary?
Over the last few days, I have spoken with lawyers about this very subject who should actually be the ones providing more in-depth comments on the legalities of bringing a criminal prosecution in an event like this forward.
Owen Watkins, corporate barrister at Lewis Silkin, who used to work at the FSA and before that the Securities and Investments Board made some astute points:
"We should perhaps not be too hung up over whether people are being prosecuted under civil or criminal charges because other than the understandable desire from the public and politicians to see some form of punishment applied, such as seeing handcuffs put onto people, it is the result that matters.
With civil proceedings, there is the prospect of the regulators imposing an unlimited fine and banning individuals from the industry. This is potentially a very severe penalty and removes the possibility of that person offending again, which is a desirable regulatory outcome. What you have to also realise is that if criminal proceedings do take place there are still exceptional hurdles such as a higher standard of proof required - beyond reasonable doubt - to bring a successful prosecution."
He also is quick to highlight the actual difficulty in bringing a case like this to criminal court.
"Despite the findings from the Financial Services Authority [FSA] and others, it is still very difficult to mount a successful criminal prosecution. The authorities already know who they are and if the SFO [Serious Fraud Office] did want to bring about criminal charges, it would be the traders at the coalface that would most likely be the targets. The Serious Fraud Office would need to consider whether the evidence would support a charge of fraud and/or conspiracy to defraud.
However, what people have to remember is that the authorities would have considered the prospects of a successful criminal prosecution during the time of their lengthy investigation into the Libor affair and after 18 months, they obviously had decided not to proceed down this route - either because there was no evidence of criminality or because they took the view that the evidence available was insufficient to support a successful criminal prosecution.
In a criminal case, the prosecution has to satisfy a higher burden of proof - beyond reasonable doubt. People may think this is easier with the addition of civil proceedings but this is not the case."
For the full story, click here.
1130 BST: What if Barclays didn't rig Libor? Would it have been nationalised?
It's not a question about innocence.
It is a question of whether Barclays would have had to mop up UK taxpayers' money if they didn't rig the key interest rate.
In a new editorial by @hugodixon says:
"What if Barclays hadn't lowered Libor submissions? The bank certainly reduced its vulnerability by submitting lower rates in the midst of the crisis. But what would honesty have cost? Would Barclays have secured funds from Middle East investors, avoided nationalisation and protected its bosses' bonuses? No one knows, but the timeline is suggestive."
1120 BST: Barclay's memo and chart of proof?
As you may have seen, one of the most senior policy makers at the Bank of England, Paul Tucker, was dramatically implicated in the Libor-rigging scandal after Barclays officials unveiled an internal memo sent by outgoing CEO Bob Diamond to his predecessor John Varley.
The memo, dated 29 October, 2008, reads:
"Further to our last call, Mr Tucker reiterated that he had received calls from a number of senior figures within Whitehall to question why Barclays was always towards the top end of the Libor pricing. Mr Tucker stated the levels of calls he was receiving from Whitehall were senior and that, while he was certain that we did not need advice, that it did not always need to be the case that we appeared as high as we have recently."
Barclays originally posted it here, but of course, took it down overnight when journalists started publishing its contents.
On Twitter, an interesting chart surfaced, published by @guidofawkes .
Here he shows 3-month sterling Libor dropping off a cliff, the day Tucker and Diamond spoke.
1057 BST: Markets on tenterhooks, UK banks' shares down
Newly resigned Barclays CEO Bob Diamond may not face the Treasury select committee at 1400 BST but social media websites like Twitter are awash with anticipation.
UK bank stocks are all in negative territory - albeit a small amount, compared to the rest of this weeks' losses.
Barclays: -0.30 percent
RBS: -1.48 percent
HSBC: -1.30 percent
Lloyds: -1.60 percent
1055 BST: Welcome to the Live Blog
Good morning and welcome to a special live Barclays in Crisis blog.
Lianna Brinded, senior business reporter at IBTimes UK, will be blogging in the run-up to the UK's Treasury select committee grilling Bob Diamond over the Libor fixing scandal.