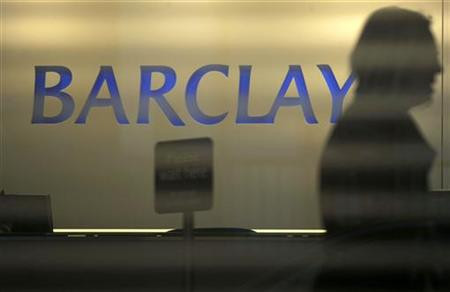 Shares in Barclays were down in morning trading on the FTSE 100 despite the group reporting a rise in pre-tax profit of 44 per cent to £3.9 billion in the half year ended 30 June.
The group said that its income increased eight per cent in the period to £16.5 billion, while impairment charges fell 32 per cent to £3.1 billion.
Barclays said that its retail arm made a pre-tax profit of £901 million, up from £845 million in the previous year. Barclays Capital saw its profits more than treble from last year to £3.4 billion, while Barclays Corporate made a loss of £377 million after a profit of £152 million last year.
The group said that it had given £18 billion of gross lending to households and businesses.
Barclays said it would be paying an interim dividend of 1.0 pence per share, making for 2.0 pence per share for the half year.
John Varley, Chief Executive of Barclays, said, "Against the backdrop of subdued economic and market activity and the sovereign debt storm of the second quarter, we have delivered good growth in income and profits during the first half of the year, and, at the same time as lending a further £18bn to UK households and businesses, we have kept the regulatory balance sheet under tight control. The twin benefits of a broadly based set of banking activities - both by geography and business line - and sound risk management lie behind these results.
"We recognise our wider social responsibility as an enabler of economic growth and prosperity, and our actions are - and will continue to be - informed by this duty. The period ahead will be one of great importance to the future of the industry as the final shape of the reform agenda starts to solidify. We will engage fully in that dialogue, whilst keeping our eyes firmly on the needs and interests of our customers and clients."
Richard Hunter, Head of UK Equities at Hargreaves Lansdown Stockbrokers, commented, "After a 31% rise over the last month, the shares have succumbed in early trade to some profit taking.
"The numbers themselves are generally above expectations, boosted largely as with Lloyds yesterday by a vastly improved loan impairment position, despite some challenges in Spain in particular. The bank's ability to have stayed outside of government intervention, albeit through the sale of some key assets, has maintained its strategic independence, leaving it well placed to weather any further economic weaknesses. The reliance on the investment banking operation, where progress has slowed, continues to cast something of a shadow over the shares. Nonetheless, Barclays has stated its intention to reduce this percentage as it invests heavily in other parts of the overall business.
"In all, this is a robust performance given a difficult first half of the year. Management guidance is cautious given the uncertain regulatory and economic outlook, but there are clearly signs that Barclays merits its status as one of the preferred plays in the sector. The general market view remains that the shares are a buy."
By 08:35 shares in Barclays were down 2.62 per cent to 330.95 pence per share.