Barnes & Noble Joins Tablet Battle As Nook HD and HD+ Launch in UK
American bookseller Barnes & Noble has joined the hotly-contested 7in and 9in tablet markets, with the Nook HD and Nook HD+ tablets going on sale in the UK.
Available online and from a range of electrical retailers, the tablets go on sale in the UK on 22 November, priced at £159 and £229 respectively and will compete against tablets from Amazon, Google, Samsung and of course Apple.
The 7in tablet market has exploded in recent months with the launch of a number of high profile tablets, inlcuding Google's Nexus 7, Amazon's Kindle Fire HD and Apple's iPad mini. The smaller Nook HD will aim to steal some market share from these more established players hoping its combination of low price and high resolution screen will tempt Christmas shoppers.
The larger Nook HD+ will be going up against the iPad, which dominates the 10in tablet market with smaller players like Samsung picking up the scraps.
As with Amazon's Kindle Fire tablets, the Nook tablets run a heavily customised version of the Android operating system meaning there is no access to Google Play. Instead, Barnes & Noble is providing its own app store, which only has around 10,000 apps at the moment.
You will also be able to purchase magazines and of course books through Barnes & Noble's own online stores. Video will be available from Nook Video from early December, but unlike Google and Aamzon, Barnes & Noble don't have their own online music store.
Companies like Google and Barnes & Noble have followed Amazon's lead of selling their own hardware at near cost price to attract a large user base, and then recoup the money through content purchased on the devices.
A feature of the Nook tablets that will prove popular with families is the ability to create up to six profiles on one tablet. This means that each member of a family can have their own password-protected section of the device to store their books, magazines and other media.
Nook HD
With a resolution of 1440 x 900, the Nook HD's 7in screen is one of the best on the market, and at £159 it's the same price as the Amazon Kindle Fire HD, Google Nexus 7 and Kobo Arc, while the slightly larger iPad mini starts at £269.
The Nook HD comes with a dual-core 1.3GHz Texas Instruments processor and 1GB of RAM. It will come in versions with 8GB or 16GB of storage, and is expandable by up to another 64GB via a microSD card slot.
Jamie Iannone, president of Nook Media, said: "Our new tablets offer the best quality reading and entertainment experiences, at the best price.
"With the highest resolution 7-inch display available in the UK, every book read, every movie watched, every game played is rendered in a digital quality unmatched by other tablets."
Nook HD+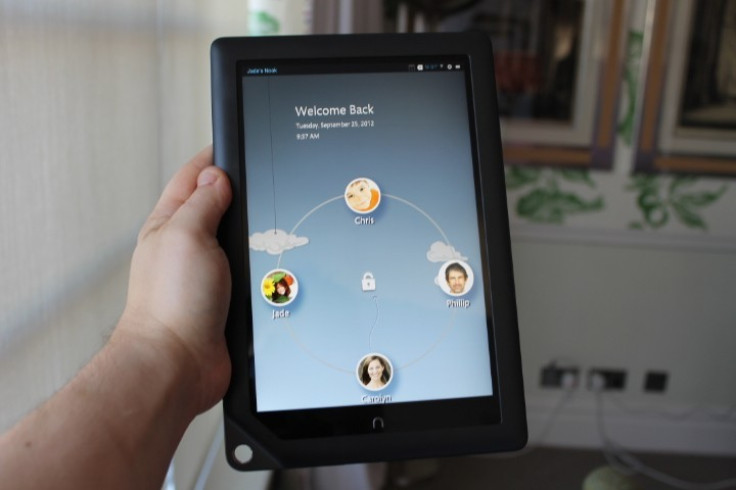 The 9in Nook HD+ has a screen resolution of 1920 x 1280 and a pixel density of 256 per inch, just short of the new iPad's 264ppi, and the tablet is powered by a 1.5GHz Texas Instruments chip with 1GB of RAM and 16GB of storage, which can be increased with a microSD card.
The tablet is considerably lighter than the iPad, though doesn't use the same premium materials as Apple's product, with the bezel and rear finished in a soft-touch plastic, rather than glass and aluminium.
While Android tablets may not have the tight ecosystem of the iPad and iPad mini, they have value on their side, with most 7in tablets priced £100 less than the entry-level iPad mini and the Nook HD+, at £229 (£269 for 32GB), is almost half the price of the 16GB iPad.
The 7in Nook HD and 9in Nook HD+ are on sale at nook.co.uk and from a range of UK retailers now.
© Copyright IBTimes 2023. All rights reserved.