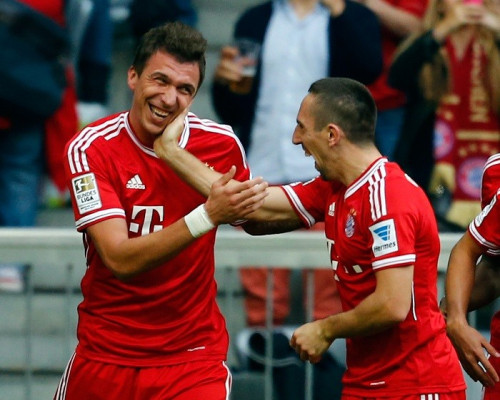 Bayern Munich chairman Karl-Heinz Rummenigge has confirmed that Mario Mandzukic will be going nowhere this January or in the summer in spite of reports of Arsenal vehemently scouting the Croatian.
Arsene Wenger had earmarked the 27-year-old as the man to lead the Gunners attack as they scour the market for a striker to play back up to Olivier Giroud.
The Bavarians have recently signed Robert Lewandowski from Borussia Dortmund, who will join them in the summer, which will restrict Mandzukic's appearances in the first team.
The striker has made 12 starts this season in the league, scoring a staggering 10 goals and would be a major coup for the Gunners should he be made available.
However, the Bayern management says that the Croatian is still a big part of their plans and will play a major role in the upcoming season in spite of Lewandowski's involvement.
The German club already have among the best players in Europe, including FIFA Player of the Year winner Frank Ribery and their latest acquisition is likely to make the Bundesliga a one horse race with Dortmund seriously diminished after letting go of Mario Gotze and Lewandowski in consecutive years. Rummenigge does not want to hand over his advantage and insists that his star striker from this season will still be in their plans.
"We're very happy with Mario. He made a major contribution to us winning so many titles last year. He's a fantastic player who has come on leaps and bounds with Bayern. We have absolutely no intention of selling Mario. His contract runs until 2016 and I told his advisor that we would we be willing to talk about an extension," the Bayern Chairman said.
He also dismissed rumour about a swoop for Chelsea defender David Luiz and insisted that he is waiting for Holger Badstuber to return from injury.
"There's always lots of speculation and it's extreme in England, but I can say for certain that he is not an issue for us. I personally hope that Holger Badstuber comes back from injury. That would be a new arrival who would do Bayern a lot of good," he concluded.