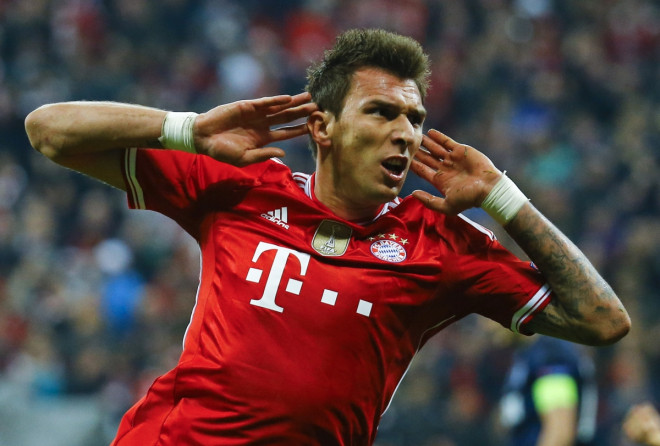 Bayern Munich have warned Arsenal and Chelsea not to bother making an offer for Mario Mandzukic this summer.
The imminent arrival of Robert Lewandowski from Borussia Dortmund has seen the future of the Croatian international fall in doubt, despite his healthy return of 17 Bundesliga goals in 28 appearances this term.
Mandzukic's possibly availability has alerted Arsenal and Chelsea who will both be in the market for an established striker this summer but Bayern have made it abundantly clear that they will not be listening to offers for the 27-year-old.
"Nobody even has to bother making an approach for Mandzukic," Bayern sporting director Mathias Sammer told Sky90.
"He is incredibly important to Bayern. I always affectionately say that he plays like an animal. It is simply amazing how much work he does for the team and how much running he does during a game.
"They always try to provoke him because he really hurts his opponents with his work rate."
Mandzukic gave Premier League sides a telling reminder of the threat he poses in his side's Champions League clashes with Manchester United.
The former Wolfsburg striker came off the bench to help set up Bastian Schweinsteiger's goal at Old Trafford before he nodded in a crucial equaliser as Bayern sealed a 3-1 in the second leg.
Bayern have also moved to dismiss speculation surrounding their future of one of their other stars. Manchester United remain linked with an ambitious move for Toni Kroos after he rejected an offer on a contract extension in January.
The 24-year-old will decide his future after Germanys' World Cup campaign but his manager Pep Guardiola and the club's CEO Karl-Heinz Rummenigge have dismissed suggestions he will leave this summer, sentiments echoed by Kroos' former manager Jupp Heynckes.
"I spoke with Toni. If he takes my words serious, he will stay. A team like Bayern are not currently available in Europe," Heynckes told Die Welt.
"He would be well advised to extend. At present he has a good offer from Bayern. Toni knows also. I hope that his advisor also knows."