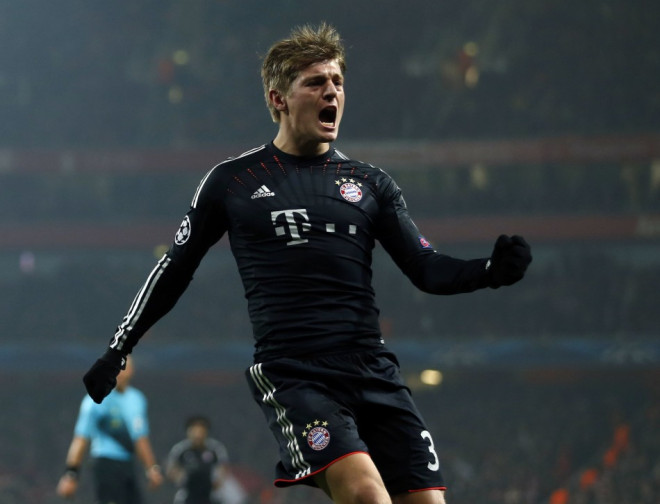 Bayern Munich have warned Arsenal and Manchester United that none of their players will entertain the idea of leaving the Allianz Arena this summer.
The Gunners, who take on the Bundesliga champions in their Champions League last 16 clash on Wednesday evening, have reportedly sounded out the idea of signing striker Mario Mandzukic with Borussia Dortmund striker Robert Lewandowski largely expected to displace the Croatian upon his arrival at the club this summer.
Pep Guardiola's side are also in the middle of contract impasse with midfielder Toni Kroos who has already turned down one offer of a new deal. This development has caught the interest of United, who will look to tempt Bayern into doing business rather than risk losing the 24-year-old on a free in the summer of 2015.
But Bayern CEO Karl-Heinz Rummenigge has laughed off the suggestions first team players would even consider leaving the Allianz Arena given the current success of the club.
"No player will leave FC Bayern against the club's will, no matter in what direction," Rummenigge was quoted as saying by ESPN. "We have a wonderful club, a wonderful team, an attractive city and on top of that a coach, who is not only respected, but also nearly loved by everyone.
"You don't just leave that behind."
The Bayern CEO was also quick to address reports suggesting his club are now in pole position to sign Schalke midfielder Julian Draxler. The Germany international was the subject of intense interest from Arsenal during the January transfer window and the Gunners are likely to continue their pursuit of his signature in the summer.
Reports in the German press however have suggested Bayern have already been in contact with Draxler's agent regarding a possible move to the Bavarian giants in the summer as a replacement for Kroos, should his contract standoff persist.
"I sometimes don't even know how those rumours get started or how people think of it," Rummenigge told Muenchener Merkur when asked of the Draxler rumours.
"Those folks must sleep bad at night and have bad dreams."