Business Confidence Bounces on UK Economy 'Green Shoots'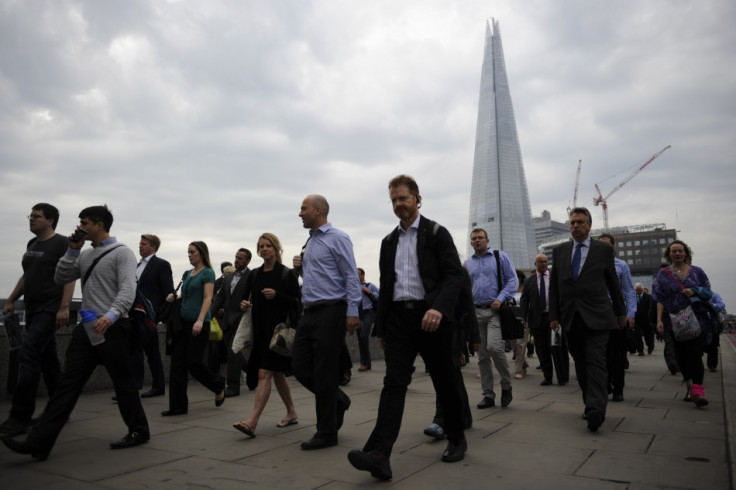 British business confidence is surging after a wave of improved economic data in the second quarter has resulted in firms describing themselves as "forging ahead."
Researcher BDRC Continental said 21% of the 500 British firms surveyed in its monthly Business Horizons study - which asks businesses to categorise themselves as forging ahead, progressing steadily, coping cautiously, or hard hit - reported that they were "forging ahead" in June, up from just 13% in May.
Growth in the struggling British economy looks to have accelerated in the three months to June, as private industry data beat expectations, most notably in the service sector.
"This new research reveals how businesses are feeling about their performance and the economy in general," said Shiona Davies, director at BDRC Continental.
"Our results are in line with other reports of 'green shoots' and increased optimism. While this survey only covers the recent period of March through June, there are clear signs of an improved business mood and confidence, especially among younger businesses with a digital presence and an international outlook."
The rate of businesses saying they are hard hit rose by 1% in June to 11%, though this is down from the original March reading of 15%.
UK Growth Prospects Improve
Economists at the International Monetary Fund (IMF) raised their UK growth forecast for the first time in over a year. The IMF says the UK economy will expand by 0.9% in 2013, up from its previous estimate of 0.6%.
A monthly GDP estimate from the National Institute for Economic and Social Research (NIESR) showed the UK economy grew by 0.6% in the three months to June, following a 0.3% expansion in the first quarter.
Its report said the increased momentum was "largely due to the performance of the private service sector."
Data compiled by research firm Markit from surveys of purchasing managers in the private sector across manufacturing, construction and services showed rising output in June.
Growth in the UK service sector, which represents three quarters of GDP, soared to its highest level in over two years.
Manufacturing activity also expanded at the fastest pace in more than two years in June. The troubled construction sector expanded for the second month in a row during June, and at its fastest pace in over a year.
"Surging growth in the service sector accompanied a resurgent manufacturing sector and modest growth in construction in June for an increasingly broad-based economic upturn," said Chris Williamson, chief economist at Markit.
"Growth in services and manufacturing is the strongest for just over two years, while the construction sector is enjoying the fastest pace of expansion for over a year."
Markit said that, taken in combination, its survey data suggests 0.5% growth in the second quarter.
A survey of chief financial officers (CFOs) at FTSE 100 and FTSE 250 firms, conducted by consultancy giant Deloitte, found that 45% of respondents think it is time to take more risk on their company's balance sheets.
The survey shows that risk appetite among CFOs is now at the highest level in six years.
"Expansion is back on the agenda for many businesses with expectations for hiring and investment back to levels not seen since early 2011 when the world seemed set for recovery," said Ian Stewart, chief economist at Deloitte.
It is not just business that is seeing sentiment improve. UK consumers are also becoming less pessimistic about the economy.
GfK NOP's consumer confidence index rose by 1 point to a balance of -21 in June, the highest reading since May 2011.
© Copyright IBTimes 2023. All rights reserved.