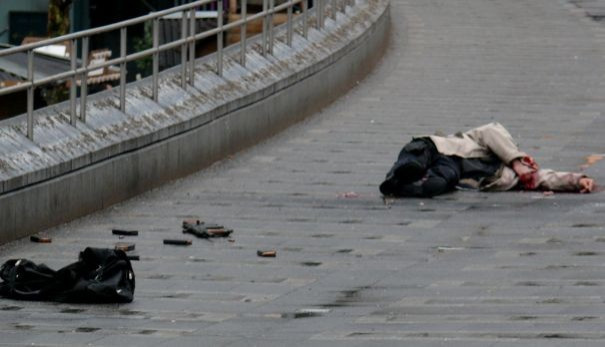 A Christmas market in Liege, Belgium, was turned into a bloody war zone when a lone gunman opened fire with grenades and a machine gun killing three and wounding dozens
Famillies fled for their lives when Nordine Amrani, 33, went on the rampage killing two teenagers, aged 15 and 17, and a 65-year-old woman and injuring 75 before killing himself in the shock attack at noon on Tuesday. A two year old is said to be among the critically injured.
Amrani, who was known to the authorities as a drug trafficker with a history of drug and weapons charges, was due to appear for a routine police interview at the Palace of Justice in St Lambert Square.
Instead he arrived at the area, where a crowded Christmas market was underway, armed with a bag full of weapons, and opened fire from a rooftop, throwing at least three grenades.
Amrani had apparently shown no signs of mental instability in the lead-up to the attack and is thought to have no known links to any extreme or terrorist groups.
One witness told the BBC that the attacks caused utter chaos as people fled the explosions and bullets.
"Two seconds after the second boom I saw all of the glass breaking. I saw people running and screaming and I dived into my car," he said.
"I saw all of the people lying down and bleeding in the glass. I stopped my car to see if I could help people."
People were told to stay inside by police while pedestrians dashed off the streets.
"It was total chaos. I saw smoke and heard gunshots and a white sheet with someone dead underneath it," he added.
Another witness said that he just "ran without looking back" when the shots were fired. He added that people behind him were hit by gunfire.
Explosive experts are combing the area following a number of suspicious objects being discovered, which are thought to be unexploded grenades.
Nicolas Gimenne, a journalist at local paper La Meuse, had been reporting on proceedings in the court that day.
He saw Marani open fire and said he "couldn't believe what was happening."
"I passed within 4-5 metres of the attacker. I saw death close up," he said.