The tablet market has grown so much over the past 12 months that a separate sector has started to develop - the 7in tablet.
Previously a size reserved for ereaders, the 7in screen is now finding itself front-and-centre in one of the quickest-growing sectors in tech, with products from Apple, Samsung, Amazon and others all fighting for your attention.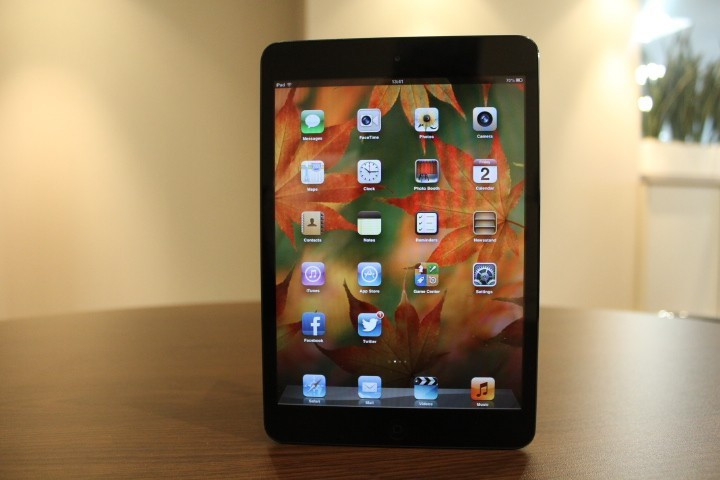 The iPad mini was the worst-kept secret in tech, endlessly cropping up on Japanese forums and Chinese news sites. Excitement for the mini was huge - so much so that Apple's share of the tablet market dropped 15 percent as savvy consumers chose to wait over buying the full-size version.
Arriving with the usual Apple fanfare on 2 November, the iPad mini brought with it an aluminium chassis, glass screen, the same internals as the iPad 2, and with prices starting at £269 for the 16GB Wi-Fi model.
Having seen Google succeed in the 7in tablet space with the Nexus 7, Apple has smartly reacted by making the tablet a more practical size and shape. Yes, widescreen films have huge black boxes when viewed on the 4:3 screen, but this compromise over the Nexus is made up for by the size and quality of the App Store.
We'd like to have awarded first place to both the iPad mini and the Google Nexus 7. Both are the flagships of their respective operating systems, but both have their compromises; the iPad is expensive, and Android still has a poor selection of applications optimised for tablet screens.
Iron out these creases and we can expect a dead heat when the second generation of these tablets arrive sometime next year.
Read our full review of the iPad mini here.
2 - Google Nexus 7 (from £159)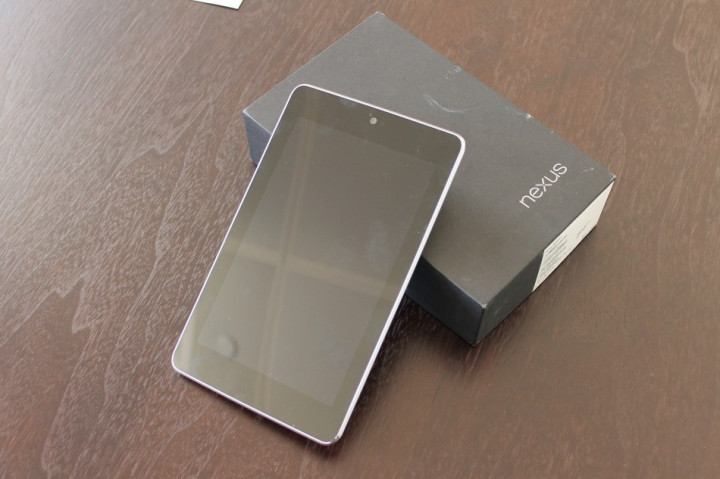 Before the iPad mini came along, it was the Google Nexus 7 that held the crown (in our eyes, at least) as the most complete 7in tablet. Produced by Asus, the Nexus 7 was the first device to come with Android 4.1 Jelly Bean out of the box
With a 1.3GHz quad-core processor, 1GB of RAM and either 16GB or 32GB of storage, the Nexus 7 is significantly cheaper than the iPad mini, at £159 for the 16GB version. The 32GB model is £199 with Wi-Fi and £239 with Wi-Fi and 3G - that's £210 cheaper than the equivalent iPad mini.
Google has a fine product on its hands here, and now developers need to realise this and create more applications that take advantage of the larger screen - so far, most apps are simply larger versions of those made for smartphones. They may well fit the 7in screen, but don't offer anything more than they do on a phone.
With Google Music now out in the UK, along with two more additions to the Nexus family - the Nexus 4 smartphone and Nexus 10 tablet - we think 2013 will be another successful year for Google and its hardware.
Read our full review of the Google Nexus 7 here.
3 - Barnes & Noble Nook HD+ (from £159)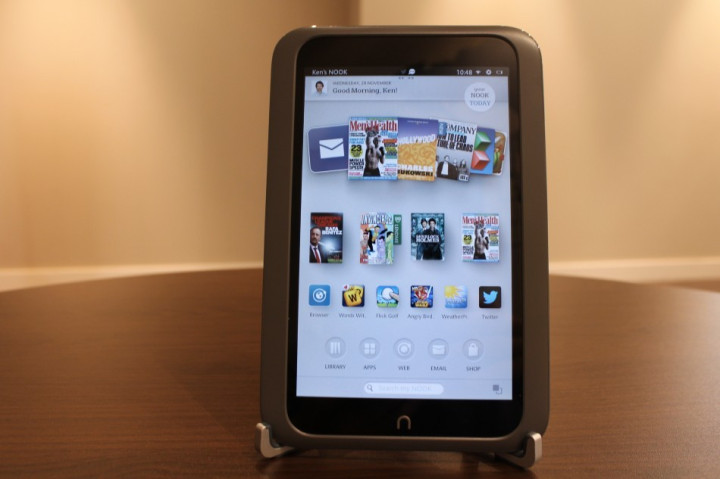 We've given third place to the Nook HD by Barnes & Noble. The American bookseller may not be a household name in the UK, but its new 7in tablet is one of the very best on the market.
It's 1440 x 800 screen has the highest resolution of any small tablet (including the slightly larger iPad mini) and some smart features like multiple user accounts make the Nook HD a great product.
Using a heavily customised version of Android 4.0 (Ice Cream Sandwich), the Nook is powered by a dual-core 1.3GHz processor with 1GB of RAM.
Sadly, there is just 8GB of internal storage, of which a pitiful 5GB is available to the user, so you'll want to make use of the microSD card slot to expand that; with 32GB microSD cards costing around £15, giving the Nook HD plenty of storage won't cost much.
You can then fill your Nook with books, newspapers, magazines, music, video and apps - although Barnes & Noble's video store won't be open in the UK until the end of the year and there is no access to Google Play, instead, B&N has its own store with around 10,000 tablet-optimised apps to download.
Without Google Play, the Nook HD doesn't have access to as much content as the iPad or Nexus 7, but everything else is right up there with the best of them; and with its friendly, rounded appearance, soft plastics and multiple user accounts, the Nook is perhaps the perfect family tablet.
Read our full review of the Barnes & Noble Nook HD here.
4 - Amazon Kindle Fire HD (from £159)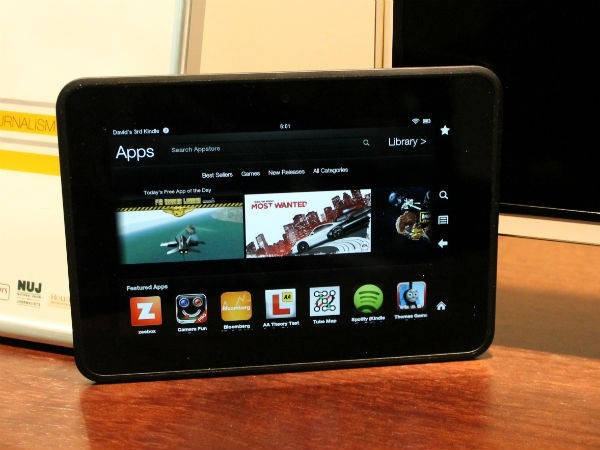 The Kindle Fire brand made its UK debut this year, after testing the waters in America for 12 months, and brings with it a 7in HD screen, dual-core processor, and access to Amazon's enormous content catalogue through a bespoke, Android-based operating system.
As Barnes & Noble has done with the Nook HD, Amazon has built its own software on top of Android 4.0 Ice Cream Sandwich, and as with the Nook, Amazon has removed access to Google Play - instead, all content and apps are provided by the retail giant itself.
This means a comparative lack of apps and games compared to the Nexus 7 and other 'proper' Android tablets, but the Kindle offers an unrivalled catalogue of books, magazines and newspapers, all downloaded from Amazon and synced across every device you have the Kindle app installed on.
Being able to start a book on your Kindle Fire HD, pick up exactly where you left off on your PC or Mac, then finish off the chapter on your iOS or Android smartphone is a huge benefit of the Kindle ecosystem.
Films and TV programmes can be streamed from LoveFilm, but sadly they cannot be downloaded and stored on the Kindle, so watching video is only possible when you're connected to a Wi-Fi network. Amazon doesn't help with loading your own films onto the device either, as it doesn't support the popular .avi and .mov video file formats.
Despite this, the Kindle still deserves a place in the top five, thanks to that fantastic ebook catalogue and effortless syncing between devices.
Read our full review of the Amazon Kindle Fire HD here.
5 - Samsung Galaxy Tab 2 7.0 (from £158)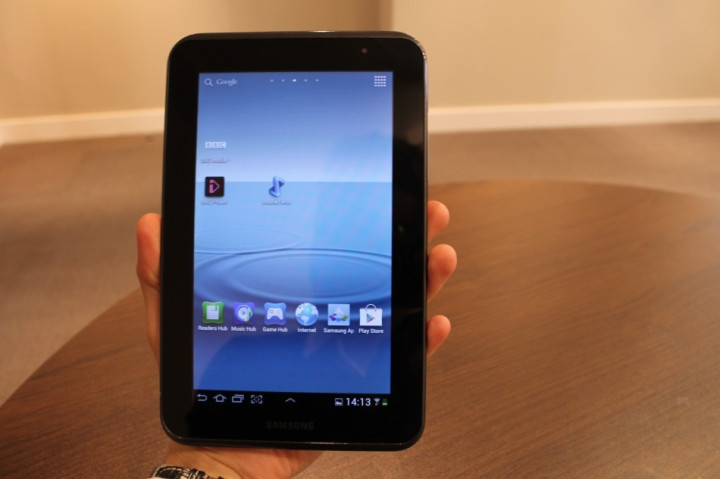 Lastly, we have the Samsung Galaxy Tab 2 7.0. The oldest of the bunch, the Galaxy Tab runs Android 4.0 Ice Cream Sandwich (with an update to 4.1 Jelly Bean coming soon) on a 1GHz dual-core processor with 1GB of RAM.
More in line with the Nexus 7 than the bespoke operating systems of the Nook and Kindle, the Galaxy Tab 2 7.0 has Samsung's TouchWhiz interface draped over Android, bringing with it a range of mini apps.
These can be opened as small windows over the top of anything you're currently doing, and several can be onscreen at once; they include a calculator, email client and music player.
Otherwise, it's all familiar Android, with access to Google Play for music, film, TV, books and apps.
As well as Google Play, Samsung's own Readers, Music and Game Hubs offer extra content, including newspaper and magazine subscriptions, games from the likes of EA, and music from 7 Digital.
Although discounts can be found (see price link), the Samsung is generally more expensive than the Nexus and Nook, but offers good build quality and a name that will be more familiar to many consumers - than Barnes & Noble, at least. Anyone who uses a Galaxy smartphone will feel right at home with the Galaxy Tab.
Must Read:
Best Budget Tablet Guide - Part I
Best Budget Tablet Guide - Part II