The tablet market has grown 50 percent since this time last year, so it's no surprise to hear that the choice for consumers is larger than ever.
What might come as a surprise though, is how diverse the market has become, as manufacturers invest in different screen sizes and a whole new operating system as they fight for the number one spot on everyone's Christmas list.
The likes of Asus, Samsung and tablet newcomer Microsoft have all be scrambling over each other to put a dent in the iPad's market share - and it's worked, with the Apple tablet now responsible for a little over half of tablet sales, down from 65 percent.
Without further ado, let's look at our top five 10in tablets of 2012 - the number one spot might not be a surprise, but this year it was harder than ever to decide the running order, thanks to some excellent entries from the Android and new Windows 8 platforms.
1 - The new iPad (from £399)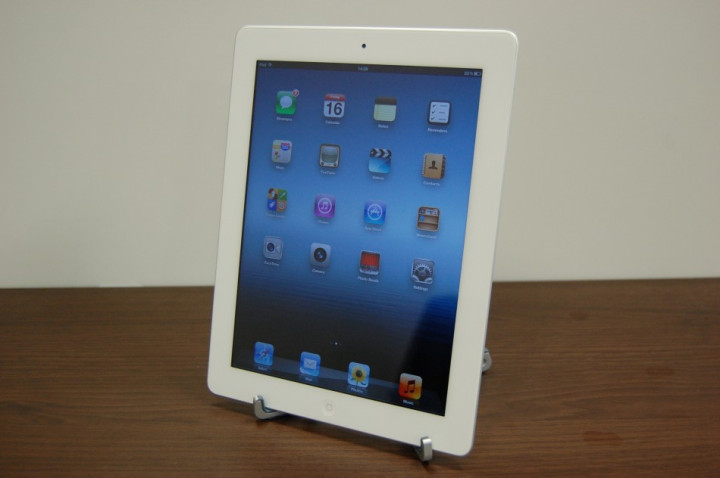 Not to be mistaken with the new iPad from the start of 2012, this is the new, new one, or in plain English, the fourth generation iPad.
It's hard to believe we're now on the fourth generation of iPads and this latest tablet surprised us all by appearing in October, just seven months after the last model.
Sporting the same Retina display, aluminium back and iOS 6 operating system, the newest iPad gets an A6X processor - up a whole generation from the A5X in the last model - and Apple's new Lightning connection, which has rolled out across the entire iOS and iPod product lines, replaces the decade-old 30-pin dock connector.
The iPad gets the top spot for seamlessly mating industry-leading design and build quality with an intuitive operating system and world-class ecosystem. Watch out though, because iOS could do with a major update soon if it's to stay ahead of Android and Windows. With the competition we've seen this year, 2013 could well be the year Apple drops to second place.
Read our full review of the 3rd generation iPad with Retina display here.
2 - Asus Transformer Pad Infinity (from £550)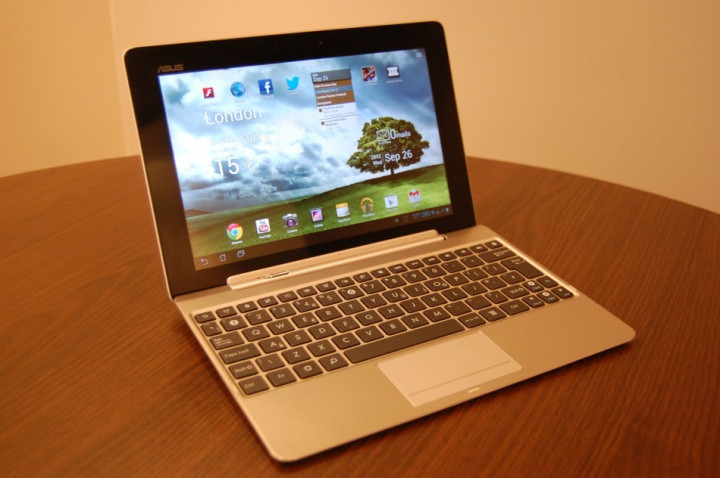 When we reviewed the not-so-snappily-named Asus Transformer Pad Infinity back in September we went so far as to call it the best Android tablet on the market, and a couple of months later we still rate it very highly.
Not just for being a great tablet - although the 1920 x 1200 full HD screen certainly helps - but for including a keyboard that turns the device into a (almost) fully-functioning laptop, significantly increases battery life, and adds extra ports.
More than just a tablet with an attachable keyboard, the Transformer Pad Infinity, with its premium metal finish and quad-core processor, is very close to being a true replacement for both your laptop and tablet.
But with Windows 8 and RT out now, and manufacturers coming up with various ways of incorporating a touch screen with a laptop, 2013 looks set to deliver even more hybrid devices to the market.
Read our full review of the Asus Transformer Pad Infinity here.
3 - Microsoft Surface RT (from £399)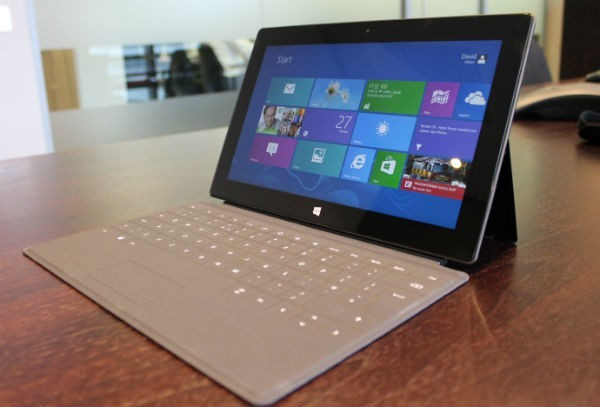 We were pleasantly surprised by the Microsoft Surface RT. It has excellent, iPad-rivalling build quality and the innovative Touch Cover really has to be seen to be believed.
This is a resurgent Microsoft with a new operating system and a tablet that could ruffle some feathers over at Apple HQ.
Sitting somewhere between an iPad-sized tablet and a MacBook Air-sized laptop, the Microsoft Surface has a 10.1in screen, quad-core Nvidia Tegra 3 processor, magnesium construction, and the Touch Cover acts as a keyboard and screen cover.
Flick out the rear kickstand, unfold the screen cover and the MS Surface looks every bit the laptop replacement. With Windows RT offering a tiled interface with apps for tablet use, and a tradition desktop mode with Office 2013, Paint and Notepad for when you need to work, the Surface has you covered.
We really like the Surface and think it represents an impressive first attempt by Microsoft. For those who need the full Windows 8 experience, Microsoft recently announced that the Surface Pro with Windows 8 will go on sale in January, but with a starting price north of £500 without the Touch Cover (an extra £100), it's starting to look more Ultrabook than tablet.
Read our full review of the Microsoft Surface RT here.
4 - Samsung Galaxy Note 10.1 (from £318)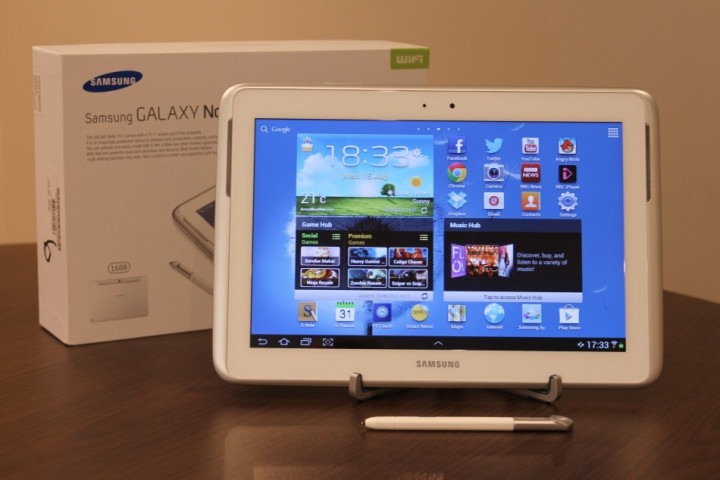 Looking very similar to the Galaxy Tab 10.1 that went before it, the Note has a 10.1in screen and runs Android 4.0 with Samsung's TouchWiz skin draped over it.
But what makes the Note 10.1 different, is its S-Pen stylus, which can be pulled out of a slot in the tablet's side and used to interact with optimised apps.
S-Note lets you jot down notes, reminders and to-do lists the moment you remove the stylus and point it at the screen.
We've never liked Samsung's use of glossy white plastics in its Galaxy products, and this, along with the 1280 x 800 screen resolution, is why the Note 10.1 missing out on a place in the top three.
Otherwise, the tablet offers true multitasking with two opens apps on the screen at once, and using the stylus is very intuitive - if only developers would come up with more apps to make use of it.
At around £320 it's £80 cheaper than the iPad, but what the Galaxy Note misses out on with screen resolution and apps, it makes up for with expandable storage via microSD card, and of course the stylus.
Read our full review of the Samsung Galaxy Note 10.1 here.
5 - Samsung Ativ Tab (from £530)
Announced at the IFA tech show back in August, we've been hands-on with Samsung Ativ Tab a couple of times and found that it is to the Galaxy Tab 10.1, as the Ativ S smartphone is to the Galaxy S3 - put simply, it's very similar to the Android-running Galaxy Tab, with the main differences being on the inside.
The 32GB Tab runs Windows RT, which has recognisable tiled start screen but is also optimised for touch inputs, and while it has a traditional Windows desktop, only Office 2013, Notepad and Paint can run on it.
Despite the apparent limitations of Windows RT, the tiled start screen lends itself well to the tablet form factor, but Office 2013 and a traditional desktop is always there in the background if you need to get on with some work.
Read our preview of the Samsung Ativ Tab here.
We haven't yet got our hands on the Nexus 10, but when we do we think it has a good chance of replacing any of the above - and as for the iPad's dominance, the small update from generation 3 to 4 has given its Android and Windows rivals the perfect opportunity to come up with someone better.