Beyonce broke an Instagram record when she announced her pregnancy on 1 February with a snap of her kneeling in front of a display of flowers cradling her burgeoning twin bump.
Alongside the image, which now has more than eight million likes, she wrote: "We would like to share our love and happiness. We have been blessed two times over. We are incredibly grateful that our family will be growing by two, and we thank you for your well-wishes. – The Carters."
Not satisfied with sending the internet into a frenzy, spawning hilarious memes and briefly distracting America from the epic fallout from Donald Trump's immigration bill, she shared more images from her pregnancy shoot on her website, where she proudly declared: "I have three heartbeats."
There is no denying that her unique take on pregnancy photography, which includes nods to classic art and Egyptian queen Nefertiti, is visually stunning but what else was she saying?
Body language expert and psychologist Judi James offers IBTimes UK her insight on the messages Queen Bey was hoping to convey with her photo shoot.
50s style glamour
The daybed screams "goddess" and the whole pose looks rather dreamy and classical. But then there is the very modern bra that steals the show without fitting into the overall Greek goddess lounge-wear theme.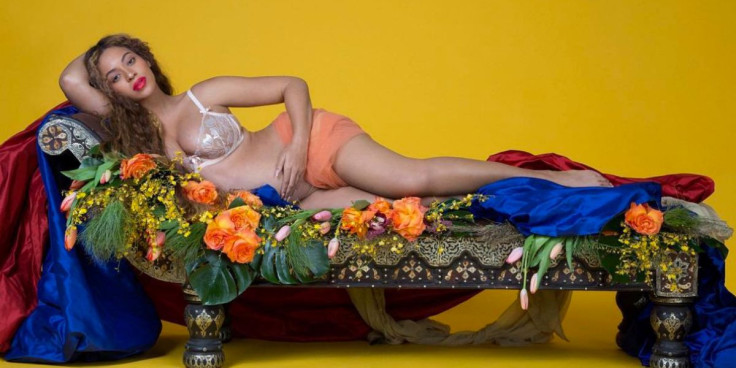 Goddess
This is clearly the mother-as-a-goddess pose with Beyonce standing with long, wind-blown rippling hair like the classical pose of Venus rising from the waves but with a bust of the Egyptian queen Nefertiti thrown in for good measure. Nefertiti was known as Egypt's most beautiful queen so the messages of love and adored beauty are emphatic enough for us all to get it. (Nefertiti was thought to have given birth to six girls, so maybe Blue Ivy has sisters on the way!) Beyonce seems to be telling us that she feels at her most beautiful in this pregnant state.
Life
Possibly the most complex and unfathomable photo in terms of visual cues and signals, there is something bridal about the large veil that Beyonce is wearing, creating a traditional symbol of virginity that is in contrast to the obvious signs of fertility from the bump. The mismatched bra and pants look a bit like an afterthought but they are so stylish they dominate the attention, bestowing the pose with the look of an underwear shoot. Then there are the flowers stacked up behind her in a way that suggests a funeral parlour. Is this pose supposed to be symbolic of every stage of the life process from birth to marriage to death?
Freedom
The artiest pose with possibly the most clarity symbolises birth and motherhood. The star is seen swimming happily with some natural-looking embryo-coloured coverage suggesting a water spirit embracing freedom and celebration, plus some suggestions of all the fluid-based moments of the pregnancy and birthing process. It's as though Bey has been set free by her pregnancy here. Dreams of swimming are often linked to thoughts of sex so the entire process seems to be idealised and celebrated in this theme.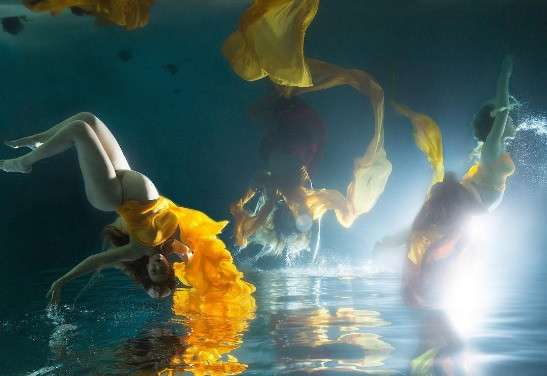 Black and white
This shot is more in keeping with the normal bump portraits that other celebrities have starred in, although Beyonce's body language makes her seem least at home with this traditional look. There is a very self-conscious desire to cover up here, with the cascade of hair covering one breast and a rather awkward-looking hand cradling her bump in a way that suggests the star found the whole nudity thing not really to her taste.