Vigilantes who burned to death a man wrongly accused of being a paedophile have pleaded guilty to murder.
Disabled gardener Bijan Ebrahimi, 44, was attacked after taking pictures of hooligans vandalising his hanging baskets at his home in Brislington, Bristol.
The images were to be handed over to police as evidence of anti-social behaviour by him. However police were contacted by somebody else on the council estate, who accused him of taking inappropriate pictures of children.
Officers then came to arrest Ebrahimi who was led away from his home in front of a baying mob chanting "paedo, paedo" at him, in July. Bungling officers were forced to release Ebrahimi when the reason for the images became clear.
As a result, Ebrahimi was wrongly tarred as a paedophile by rumours which spread in the local community. That led to him being beaten unconscious and then set alight, two days later.
Lee James, 24, and Stephen Norley, 24, pleaded guilty at Bristol Crown Court to murder and will be sentenced next month.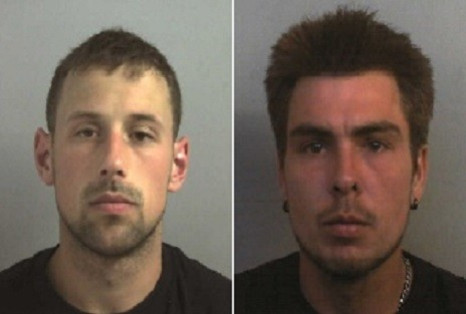 The conduct of police in the case is under investigation by the Independent Police Complaints Commission.
Ebrahimi's relations released a statement paying tribute to a "loving and unselfish man".
"Bijan was a quiet, disabled man whose only joys in life came from his horticultural interests and his cat.
"Bijan was a caring, loving and unselfish man. He was an excellent uncle and a warm, supportive brother," it said.
Speaking after James and Norley admitted their guilt, Avon and Somerset Police spokesman Martin Dunscombe said Bijan had been completely innocent of child sex crimes.
He said: "Mr Ebrahimi was arrested on suspicion of a public order offence - breach of the peace - and after being interviewed he was released with no further action taken.
"We can categorically state he had not taken any indecent images and that nothing of concern had been found on his computer."
An IPPC spokesman said six police officers have been interviewed and six call handlers were in line for questioning for a mix of criminal and professional misconduct.
IPCC Deputy Chair Rachel Cerfontyne said: "This is a tragic case and my sympathies go to Mr Ebrahimi's family and friends for their loss."