Bitcoin Black Friday deals encourage users to actually use their bitcoins like a real currency with over 150 retailers offering deals.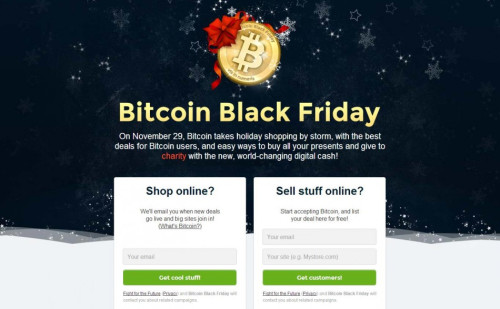 The biggest bitcoin stories tend to focus on the crypto-currency's value and how it has made some early investors incredibly rich - but now is the time to actually start using the coins according to those behind Bitcoin Black Friday.
Now in its second year, Bitcoin Black Friday has enjoyed a significant boost in retailer participation this year, as the currency continues to gain widespread media attention and its value edges ever closer to the $1,000 (£617) milestone, having started the year at less than $20 per coin.
Companies taking part in the one-day event, where discounts and special offers will be made available to customers purchasing with bitcoin, include unlocked phone retailer GSM Nation, travel agent Cheapair.com, and dating site OKCupid.
Charity
Shoppers will also be able to exchange the decentralised crypto-currency for Amazon, Target and Marriott hotels gift vouchers at the Gyft website, or donate to a wide number of charities, raising money for everything from the people of Sri Lanka, to the protection of honey bees.
For US customers, Black Friday signals the first day of the Christmas shopping season, but in the UK it remains a relatively unknown date in the calendar - US retailers like Apple and Amazon offer Black Friday deals through their UK websites, but high street shops are yet to embrace the phenomenon.
So far, 150 merchants are signed up to offer deals through Bitcoin Black Friday, but its co-founder Jon Holmquist believes more than 500 will take part on the day itself, 29 November.
Speaking to CNN, Holmquist said: "I think we're big enough to take on Black Friday," and also pointed out that retailers can offer better deals when using bitcoin, because the transaction fees are considerably less than with credit cards; he suggests prices could be between 3% and 5% cheaper than through regular merchants.
Media frenzy
The media frenzy surrounding bitcoin has also increased the number of customers expected to take part in Bitcoin Black Friday - Holmquist's website has had more than 2,500 people sign up to access the discounts, up from less than 500 last year.
Holmes Wilson of human rights campaign group Fight for the Future, which is to accept bitcoin donations on Black Friday, said: "Good companies that really get technology and the potential of bitcoin are joining...we wanted to show bitcoin is going mainstream."
Perhaps the biggest indication so far of bitcoin going mainstream is its acceptance by Sir Richard Branson's Virgin Galactic, which offers suborbital space flights in return for $240,000 worth of bitcoins.
It is this wider acceptance of bitcoins - away from illegal online drug stores like Silk Road - that will see the currency's value rise even further. Economic theorist Konrad S. Graf explains: "The more people begin using or expanding their use of a particular medium of exchange - the more its actual utility rises - the more valuable it actually is in this function from the point of view of its users."
Read More: