The price of bitcoin has risen to its highest level of 2015, surging $50 (£32, €45) over the past 24 hours amid speculation of a "second bitcoin bubble". The cryptocurrency's price peaked at $377.36 on 3 November, representing a 75% increase in price since August.
Analysts have attributed the rise to various factors, ranging from positive news surrounding bitcoin, to the tightening of capital controls in China. Bitcoin exchanges in China have been leading the price rise, sometimes trading at $10/bitcoin higher than other exchanges around the world.
Observing this trend, some analysts have suggested traders in China have driven up the price in their efforts to get around capital controls. Individuals cannot send the equivalent of more than $50,000 out of the country, according to Chinese law, leading to individuals looking for creative ways to bypass such controls.
A recent blogpost on Zero Hedge by the pseudonymous Tyler Durden speculated: "If a few hundred million Chinese decide that the time has come to use bitcoin as the capital controls bypassing currency of choice, and decide to invest even a tiny fraction of the $22tn in Chinese deposits in bitcoin (whose total market cap at last check was just over $3bn), sit back and watch as we witness the second coming of the bitcoin bubble, one which could make the previous all time highs in the digital currency seem like a low point."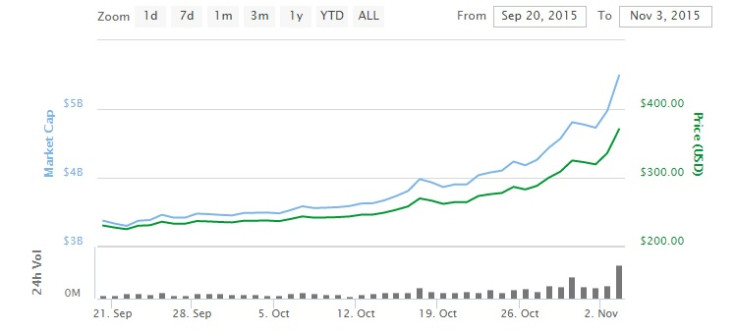 Capital controls were also attributed to another bull run experienced by bitcoin in the summer of 2015, following the crisis in Greece that saw them strictly implemented. However, despite the correlation, some have claimed capital controls have had little influence on the price of bitcoin.
The CEOs of the three largest bitcoin exchanges in China – BTCC, OKCoin and Huobi – have all put the most recent price surge down to perception and speculation. Meanwhile, 18 months of relatively damaging news for bitcoin – including MtGox collapsing, Silk Road auctions and bitcoin's uncertain regulatory status – caused selling pressure driven by bitcoin miners keen to liquidate their bitcoin due to the price uncertainty.