Bitcoin has had it tough in 2014 so far.
A ban by banks in China on using the cryptocurrency saw its price drop from a high of over $1,200 (£721) at the beginning of December 2013, to under $600 a couple of weeks later.
The price recovered somewhat when it was clear the ban was not going to have as big an impact as it was first thought.
However the collapse of MtGox has had a further negative impact, and last week reports emerged from China that have sent the price of the world's most popular cryptocurrency spiralling once again.
On Thursday Chinese news agency Caixin reported that the Chinese government was planning on introducing new laws which would penalise any bank transacting with bitcoin exchanges after 15 April.
While these reports were initially dismissed, it appears there is some truth in them, and as a result the bitcoin price on a number of exchanges began to plummet.
As of Monday at 9am (GMT) the price of bitcoin was $452.56 on CoinDesk's price index, having fallen as low as $442.89 earlier on Monday.
This is the lowest the price of bitcoin has been since the beginning of November when the cryptocurrency was in the middle of the biggest price rise in its history.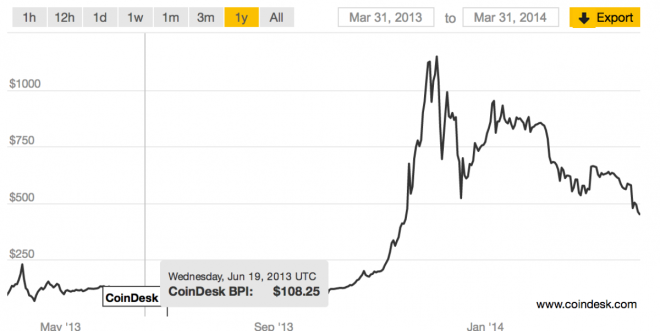 Reaction
In China, exchanges are reacting very differently to the reports of government legislation.
BTC-e has announced it has begun trading in Chinese 'offshore yuan' becoming the first international bitcoin exchange to offer both US dollar and yuan trading.
Elsewhere, BTer announced that it will halt deposits from banks as a result of a notice it received from Chinese authorities:
"Bter just received notice regarding official regulations that makes it impossible to avoid the temporary suspension of deposits."
BTer's apparent confirmation of imminent new regulations being imposed by the Chinese government relating to bitcoin could spark a further price drop.