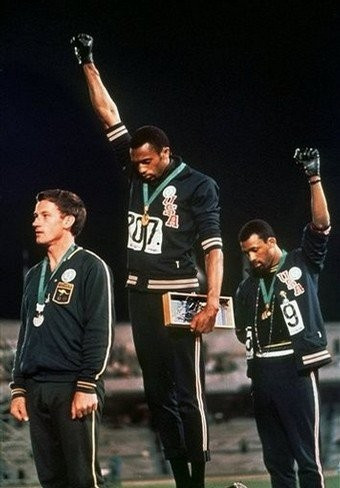 The premiere of Black Salute, the story of a remarkable human protest against racial discrimination at the Olympics, was held in the Regent Street Cinema at the University of Westminster. The premiere was attended by legendary runner Tommie Smith, who at 24 ran the 200m in 19.83 seconds.
The film talks about the 1968 Olympics in Mexico City where two black Americans gave a "black salute" to the 2,000-odd crowd, protesting against discrimination of black people. Tommie Smith and John Carlos, winners of the men's 200 metres at the Olympics, raised a clenched fist clad in a black glove in what became a historic stand for human rights, liberation and solidarity.
The movie is directed by Matt Norman, nephew of Pete Norman. He was all praise for his uncle who wore a human rights badge on the podium in support of Smith and Carlos, in spite of being a "white Australian". Even though Australia had a "no vote" policy for aboriginals at that time, Norman stood up for the rights of black Americans.
"I just wanted people to know what Peter Norman really stood for, what sort of person I know him to be that others don't, and what injustice was done to him while he was still alive," Matt Norman said on the website of the movie. Pete Norman died in 2006 just before the movie was brought to the United States.
"I really enjoyed the film and it was great to see so many young people turn out to watch what happened all those years ago in Mexico City at the 1968 Olympics. We did what we did because we felt it was something important to do for the good of humanity. We suffered a lot in the years afterwards for protesting on that stage but we did it because we believed it would help the black cause at the time - and I don't regret it at all. It is wonderful to now to see what the three of us did celebrated in this film," Smith told Insidethegames.
According to the movie website, the film is all about how three men from across the oceans built a friendship that lasted a lifetime. It shows what three courageous men did to sacrifice their rightful place as athletes for a greater cause. The film shows there were three men on the dais that day not just two - two black and one white. It shows that history needs to rethink the power of this image once again.
The trio was never selected to run for their countries after the protest.
To watch the video, scroll down: