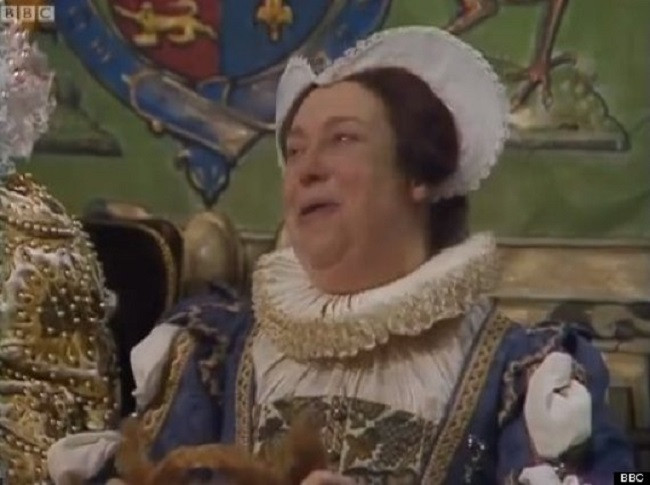 Blackadder actress Patsy Byrne has died aged 80.
She died on Tuesday at Denville Hall, a retirement home for actors, in Hillingdon, north-west London.
The actress, best known for her role as dim-witted "nursie" in Blackadder, died just a week after Rik Mayall, who appeared alongside her in series two as Lord Flashheart.
The most memorable scene is when she howls with laughter after he approaches her and says: "Am I pleased to see you or did I just put a canoe in my pocket?"
Blackadder producer John Lloyd paid tribute to Byrne, saying she and Miranda Richardson, who played Queen Elizabeth I, were a "fantastic double act".
"It's ironic that she will be remembered for that lovable, slightly idiotic person with that ludicrous drawl, but she was a 'proper' actress: with the RSC, she played Chekhov opposite Rex Harrison, was incredibly well spoken, but she would put up with our little ways," he told BBC Radio 5 live.
She appeared in other TV shows as Betty Hackforth in Miracles, as Marjorie Stoneway in Watching and once again starred alongside Tony Robinson, who played Baldrick in Blackadder, in a Series 3 episode of Maid Marian and her Merry Men.
Choosing her for the part, Robinson said: "I was so fond of her as a person and so in awe of her capabilities that when I decided I wanted to introduce a mother to Maid Marion, my first choice was Patsy."
Her last TV appearance was in BBC's hospital drama Holby City in 2006.
Born in Ashford, Kent, she joined the Royal Shakespeare Company after drama school and went on to play parts such as Maria in Twelfth Night and Gruscha in The Caucasian Chalk Circle at the Aldwych Theatre in the early 1960s.
She was married to Patrick Seccombe for 33 years. He died in 2000.
Here are a couple of her best Blackadder moments.