RIM's UK and Ireland chief beleives the BlackBerry brand has a lot of momentum which will help the launch of BlackBerry 10 next year, but it faces stiff competition if it's to regain its former glory.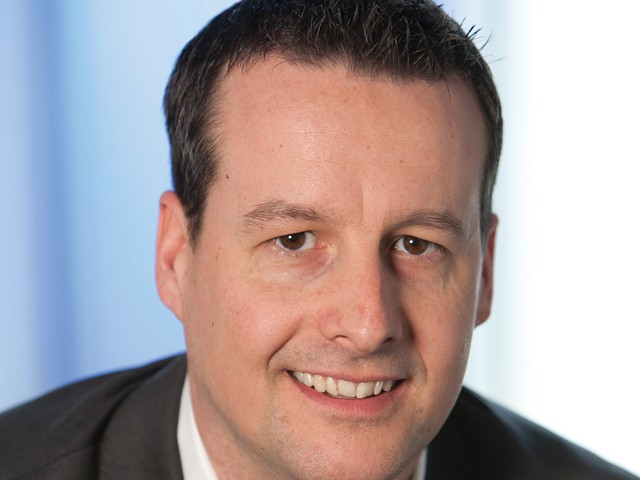 RIM has just announced its latest quarterly financial results and for the third quarter running has announced a loss - with at least one more predicted for the current quarter.
Yes, the loss was less-than-expected, revenue was higher-than-expected and the BlackBerry subscriber base grew by two million users, but to say that RIM will enter 2013 and the launch of BlackBerry 10 with a lot of "momentum" in the smartphone market would be somewhat mis-leading.
Yet that is the word used over-and-over by RIM's managing director for the UK and Ireland, Rob Orr when we sat down with him this week in London.
"I think we surprised a few people on the 27th," Orr said referring to the latest set of results, saying this was just the "start of the journey."
"We are going through this amazing transformation. We are changing the culture of RIM, we are changing the way RIM approaches the market," Orr says, as if preaching from a pulpit.
It is difficult not to get caught up in Orr's evangelical fanaticism about RIM, about BlackBerry 10 and about the future for the company. But then you remember the facts and figures.
Facts and figures
In January 2008, RIM's share price peaked at just shy of $145. Today, the Canadian company's shares are valued at just $8. It has been a spectacular fall from grace for RIM, and one which has been making lots of headlines for the past 18 months - none of them good.
According to the latest Gartner figures, RIM has just 1.9 percent of the global mobile phone market, down from a peak of over 20 percent back in 2008.
From worldwide service outages and negative press over the use of BlackBerry Messenger (BBM) during the London riots, to the launch of a tablet without the most basic app support, RIM has struggled in a market which is growing exponentially.
Orr has been with RIM for seven years and is therefore perfectly placed to see how far the company has fallen, but for all the negativity, he remains remarkably upbeat. In order remain so positive about RIM's future, Orr separates what is happening in the US from what is happening on this side of the Atlantic.
"A lot of that negative cloud sits over there, west of the Atlantic. There is some reality here. We have a plan and are very focused on delivering it.
"A lot of the negative sentiment does come from the US into other markets. [But] there are lots of positives, lots of challenges. We are making lots of changes to get things right that we might have got wrong in the past."
The subscriber base in the US has all but disappeared. At the beginning of 2008, RIM enjoyed a 43 percent share of the US smartphones market, today that has been whittled away to just 3 percent. Orr blames the company not getting on the 4G bandwagon sooner.
Mistakes
He admits RIM has made mistakes in the past, but with new CEO Thorsten Heins now at the helm, the company is looking to rectify these mistakes.
According to Orr, Heins is trying to make RIM a better company to partner with. "[We are] not trying to do everything ourselves, making sure that we enable others that innovate in their respective fields to be successful on our platform."
"Perhaps in past we tried to build everything ourselves, tried to take on too much. We didn't leverage the developers. We missed some of the momentum that happened in that [apps] ecosystem, because we didn't provide the tools [to the developers]."
This was never clearer than during the launch of the BlackBerry PlayBook tablet in 2011. The tablet launched without native email or contact applications, and despite huge price cuts, RIM has shipped less than 1.75 million of the 7in tablets to date.
However, despite "listening intently" to developers and giving them what they want, it is smartphones users who Orr and his colleagues need to convince to become a BlackBerry convert.
While there is no doubt that BlackBerry 10 has some truly innovative and unique features, it may not be enough at this stage to recapture the significant slice of the smartphone market it has lost since 2008.
When asked about how the company plans to persuade customers to choose BlackBerry 10 over Android, Apple or Windows Phone, Orr talks in terms of "changing the experience" and wanting to "tell people our story."
So far there seems to be little in the way of concrete details about which features will actually entice people onto the platform. Orr called features like the unique browser and app catalogue "table stakes," on top of which the company will put it "uniqueness" in order to attract customers.
Ethereal
It is the abstract and rather ethereal terms in which Orr speaks of BlackBerry 10 which make it sound more like a dream than a reality. Orr continues, calling the change from BlackBerry 7 to BlackBerry 10 a "cultural shift. It is just a different attitude, it is difficult to put into words."
And therein lies the challenge for RIM - to find the words which will sell this revolution to customers currently using iOS, Android or Windows Phone.
The platform has been delayed several times, initially set for launch in the autumn of this year, but now not arriving until sometime in "Q1 2013." This means Windows Phone 8 will get a headstart and research released this week suggests Microsoft's mobile operating system is challenging BlackBerry for third spot behind iOS and Android in Europe.
Missing the lucrative Christmas market may seem like a big loss for RIM, but Heins said he didn't want to launch an incomplete product so delayed the launch until next year. Orr and Johnathan Young, head of the retail and distribution for the UK and Ireland, also don't see the delay as a major problem.
Almost in unison and with the certainty of people who know their market, Orr and Young chime in: "Christmas is about prepay not contract" - no doubt a mantra being repeated over and over again at RIM offices around the world since Heins announced the delay in the launch of BlackBerry 10.
Worryingly vague
As well as remaining worryingly vague about the launch, it has decided to not reveal any details about the hardware it will be launching on which BlackBerry 10 will run.
There have been a number of rumours and leaks online and RIM is likely to launch a full touchscreen model along with a more traditional model with a full physical QWERTY keyboard.
When asked if RIM would match Apple and the high-end Android smartphones purely in terms of hardware, Orr said it would be "competitive" but said competing on hardware simply meant you had nothing else to offer:
"When two vendors are competing on a platform where differentiation is difficult, the fall-back position is feeds-and-speeds. With BlackBerry 10 we focused on BlackBerry 10 and we haven't got into a feeds-and-speeds debate."
"We will be competitive I can assure you of that, but this is about the experience of BlackBerry 10, and that's what standing out, that's what different."
One of the most crucial aspects for any smartphone launching in 2013 will be the ability for it to support the new 4G networks - and Orr agrees: "I applaud Ofcom and the decision to bring forward 4G in the UK. 4G technology is super-important for the UK, super-important for us in the global market place, to drive innovation."
However, when we asked whether or not the first wave of BlackBerry 10 devices would be supporting one or more of the 4G networks in the UK next year, Orr wouldn't comment, cryptically adding: "You'll see more of the story evolving over time."
Enterprise
The enterprise sector has been an area where RIM has dominated but in recent years, with the advent of Bring-Your-Own-Device (BYOD), employees are looking to user their iPhones, or Android smartphones at work, rather than the BlackBerrys traditionally given out at work.
The BlackBerry brand is likely to continue to dominate in terms of security. In comparison to iOS, Android and Windows Phone, BlackBerry OS is far-and-away more secure and BB10 is set to continue this security tradition.
A new feature, called BlackBerry Balance, will allow users to create two profiles on a single device, creating a software and hardware partition within the new phones. It will let IT departments set up which applications can access sensitive corporate information as well as letting users have their personal profiles with access to the entire app catalogue.
RIM executives have been travelling the world telling this story in the past few weeks, according to Orr meeting with carriers and partners in over 40 countries. If they are anything like Orr, they will have been evangelical in their praise for BlackBerry 10 and will have painted a picture of a company on the way up, with a lot of momentum behind it.
Momentum
Sadly for RIM, this is not the case. There is no momentum and even if it has grown its subscriber base consistently, its share of the smartphone market has plummeted. While Apple and Android have been dominating, it has been at the expense of BlackBerry.
With Windows Phone 8 launching at the end of this month and BlackBerry 10 launching somewhere in next six months, Orr and his colleagues will need all the belief and enthusiasm Heins seems to have injected in his executives if their dream is to come true.