Introduction
BlackBerry is pinning the future of the company - and that of its 16,000 employees - on BlackBerry 10, a completely re-imagined operating system built from the ground up to try and compete with Android and iOS.
The platform was launched last week along with two smartphones which will run the new OS, as well as a purported 70,000 apps in the BlackBerry World store. BlackBerry sees this as a new start for the company, and there is no doubting BlackBerry 10 is a world away from anything the company has done before, but is it enough?
Gestures
The whole UI is controlled using a small number gestures or swipes, the most impiortant of which is a swipe up from the bottom of the screen. Carrying out this gesture anywhere in the system will bring you back to the home screen.
It's a gesture which has becomes second nature very quickly, indeed, picking up an Android smartphone after using BB10 for a few days I found I was trying to use the same gesture to navigate back to the home screen on that phone too.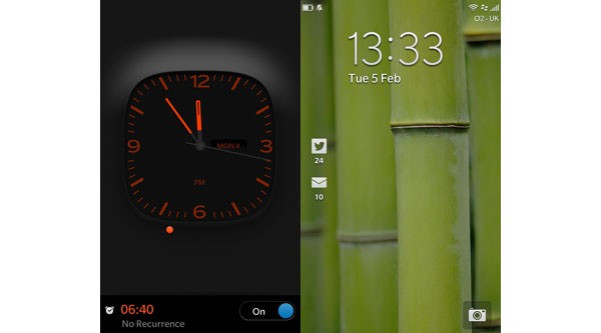 BlackBerry has integrated the swipes and gestures so much that even unlocking the home screen can be done using a swipe up from the bottom of the screen.
Other gestures include what BlackBerry calls Peek, where a swipe up and to the right will show you the Hub, which is where all your emails, messages, tweets etc are collected in a single place. This action allows you a glimpse at your accounts to see if the email that just came through is important or not. If it is, you can complete the action by swiping all the way right, or if not you can return your finger to the centre of the screen and continue what you were doing.
A swipe down from the top of the screen will bring up a context menu depending on which part of the OS you are in or which app you have open. Normally it gives you access to an app's settings or if you are on one of the home screens, it gives you access to the likes of Wi-Fi, Bluetooth and notification settings.
Layout
The OS is split into three main sections. At the centre is the home screen which shows up to eight of your most recent apps, which are running in the background. It's BB10's way of handling multitasking and app switching, and works as it is meant to but doesn't look all that appealing.
Apps can be easily killed by tapping a small 'X' in the bottom right hand corner of each pane.
Swipe to the left of this and you will see a very familiar sight, rows and columns of app icons, similar to Android and iOS.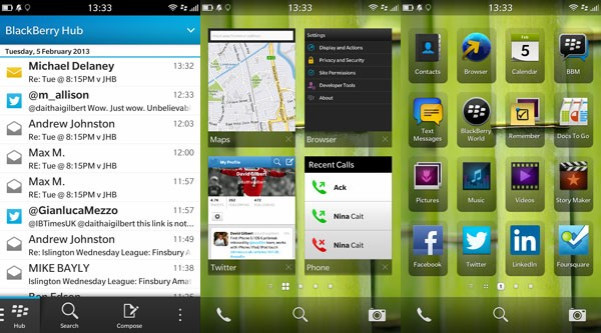 There's nothing new here, but the apps are laid out neatly and can be grouped into folders just like Android and iOS.
A constant throughout these two sections of the OS is a menu bar along the bottom of the screen giving you direct access to the phone app, search, and the camera. These shortcuts are not customisable.
Swiping right from the home screen and you will be brought into the Hub, with a further swipe right letting you easily filter what you see in the Hub.
The overall look of BlackBerry 10 is fine, but it's not going to win any design awards and seems to have taken a lot of influence from both Android and iOS.
Hub
The Hub is one of BlackBerry 10's big selling points - according to the company at least. It is the one stop shop for all your messaging services - email, text messages, BBM, Twitter, Facebook, notifications and phone calls.
Initially I found the volume of information to be overwhelming. I couldn't tell which email was coming from which of my accounts. It's all a bit of a muddle to start with, but after a few hours with the system I could see how it could save me checking five different apps by collecting everything in one place.
For example, it makes checking updates straight after a meeting or first thing in the morning a lot quicker.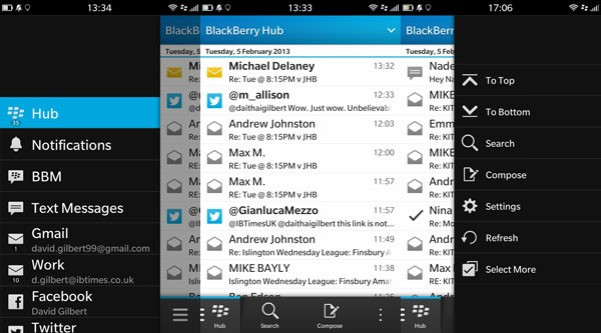 Tapping on the Hub icon in the bottom-left-hand corner or simply swiping right will bring up a list of all the accounts synced with Hub, letting you look at the feed from just one of these, if that's what you want.
Hub also allows you to respond to messages directly from within the Hub - a very handy feature, especially if you have multiple messages to respond to across different services.
There are some issues however. Selecting multiple emails or messages is not straight-forward and takes a number of steps, whereas on Android and iOS this is much simpler.
Another problem with the system is one of syncing. Having opened my emails on my work PC, hours later the same emails were showing up as unread on Hub, leading to a lot of re-reading.
It's unclear if this is an issue with BlackBerry 10 or the way specific apps have been written for the platform - but it is an issue BlackBerry needs to address.
Finally, the Hub also displays meetings and appointments from your calendar, appearing at the top of the feed, revealed by swiping down. Tapping on them will give you information about who you are meeting and where, again without having to leave the Hub.
It should be noted however that support for Google Calendar is currently not supported, which is disappointing.
Keyboard
Ask people for a single word they associate with BlackBerry and a large proportion will say: keyboards. The iconic physical QWERTY keyboard has for a long time been an industry leader, though with the advent of all touchscreen devices around 2007, they have come to be seen as something of an anachronism.
BlackBerry is sticking with the physical keyboard with the Q10 device but with BlackBerry 10 it is attempting to transfer its keyboard expertise to the touchscreen. And it's got very close.
Keeping with the gestures theme, BlackBerry has integrated a number of swipes into the keyboard to make typing a much easier proposition. As you begin to type, you will notice words appearing above various letters, which is the system trying to guess what you want to say.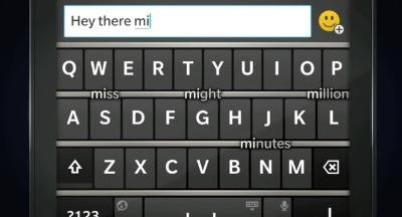 For example, begin typing the letter 'h' and above the letter 'e' you will see 'Hey' while above 'o' you will see 'How'. To choose either of these words, simply flick them upwards into the text box. You can easily write a whole sentence based on these guesses, and BlackBerry 10 is designed to learn, meaning the experience should get better the more you type.
CEO Thorsten Heins called the experience "writing without typing" and at times this is exactly what it feels like. Other gestures include swiping from right to left in order to delete a word, and swiping down from the top of the keyboard to bring up the alternate icons and symbols.
Getting the keyboard right was a key element in making BlackBerry 10 an attractive proposition and the developers have got it spot on, making it the best onscreen keyboard I've ever used.
BlackBerry World
BlackBerry World is the platform's multimedia hub with games, music and videos now available along with apps.
The layout is pretty standard, with promoted content appearing along the top of BlackBerry World with the top apps, movies and albums listed below these. You can also search for something in particular or browse various categories - though for some reason this doesn't include movies or TV shows.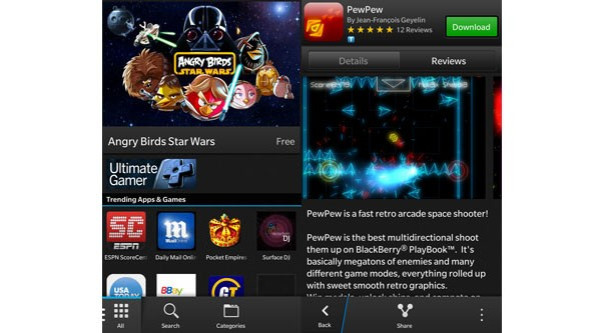 While BlackBerry were keen to play up the fact it was launching a next operating system with 70,000 apps, compared to just 2,000 on Windows Phone, it also made a number of claims about apps which are simply not available.
BlackBerry talked about having the top 1,000 apps, but a quick search shows that just one of the top 25 paid apps on iOS is present and big names like Skype and WhatsApp are also absent, despite BlackBerry saying they were on board.
I am assured they are coming very soon, but if you really want to attract users to a new platform, you're baseline needs to be the core apps everyone uses on a daily basis and build from there.
The performance of apps is another issue
The biggest issue I found was with Twitter. The app initially appeared to be very similar to the Android and iOS versions in terms of looks and features, but a closer inspection revealed some major issues. The first saw Twitter avatars getting mixed up, leading to some very confused tweets. There are also several features missing including the ability to view your Lists or send/receive a DM directly within the app.
A modern smartphone platform lives or dies on the number and quality of apps available to users, and at the moment BlackBerry World is simply not an appealing proposition.
Core Apps
Moving away from the optional apps, let's have a look at the core BlackBerry 10 apps which you will be using on a daily basis.
Maps - Becoming an increasing important cog in the smartphone eco-system, having a decent Maps app is hugely important. Google and Windows Phone have them, Apple doesn't ?(unless you use the Google Maps app of course) and BlackBerry is not much better.
The Maps app on BB10 is severely limited. It's slow, lacks detail and is missing even the most basic features like the ability to show directions from one place to another. There is a limited navigation feature but it is slow and cumbersome. Using it is not a good experience.
Browser - Better news from the stock browser. It's fast, supports multiple tabs and has a simple, intuitive interface. The Browser also supports Flash, though by default this is switched off, which is a good thing.
By far its best feature in my eyes however is the Reader mode, accessed by tapping the ellipsis on the bottom right. This strips away everything except the text from a website making it much easier to consume - especially as the browser does a poor job of resizing text in a regular website.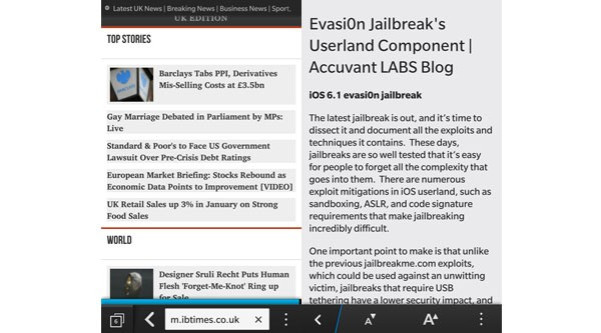 The URL bar along the bottom doubles as a search box, serving up search results from Bing by default, and there's no way of changing this it seems, which is a shame.
BBM - Long seen as one of the main attractions of BlackBerrys, it has now been superseded by cross platform apps like WhatsApp and Viber. However BlackBerry is looking to give it a boost with new features in BB10.
BBM now comes with video chat support and while it's not a unique or ground-breaking feature, it is a good addition. You will only be able to video chat with other BB10 users, with voice chats available with everyone else.
BlackBerry has also included a screen-sharing feature which won't be of much use to regular users, but for business or corporate users it could be good for collaboration or troubleshooting.
Others - less-frequently-used apps like the calculator and compass are nicely implemented and designed (a result of BlackBerry's purchase of The Astonishing Tribe in 2010) but won't be attracting new customers on their own.
Reliability and Performance
Having used BlackBerry 10 for a week now, I've seen some serious performance and reliability issues with the software and the Z10 phone it is running on.
The phone has on several occasions shut itself off and rebooted for no logical reason. It also became unresponsive with apps freezing and the phone refusing to unlock on several occasions.
I have also had calls and text messages come through hours late or not at all, leading to missed meetings and an angry girlfriend. With the BlackBerry positioned as a business device, this is simply unacceptable.
I canvassed other BlackBerry 10 users too, and they also reported issues with receiving phone calls and texts.
Another performance issue I noted was the amount of time the system took to recognise when it was in landscape mode and when it was in portrait mode, making it necessary to flick the phone up and down several times to get it to re-orientate.
It should be noted that the overall performance of the phone in terms of handling multi-tasking, playing games and decoding HD video was decent, but nothing Apple and Android smartphone makers haven't been doing for years.
Verdict
It's early days for the platform. The app eco-system is going to grow and most of the big names have committed themselves. More diverse hardware will come online and BlackBerry 10's unique Hub and Balance features will appeal to many.
But - and it's a very big but I'm afraid - it simply does not offer enough to make it stand out again Apple or Android for the vast majority of consumers. Add to that the performance issues and it's going to be a struggle for BlackBerry to grow beyond its current 80 million user base and retaining them could be an problem.
A vast improvement over what came before, the quirky but severely flawed BlackBerry 10 platform faces a struggle to establish itself in the smartphone big leagues.