This week's BlackBerry Live developer conference was a good place to assess the reinvention of the brand.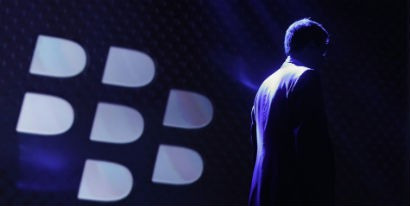 BlackBerry was arguably the first smartphone to go on sale, way back in 2003. Since then the brand has entered our vocabulary and became a by-word for mobile business communication.
Even today with the brand's power waning, it is more recognisable than the world's most popular mobile operating system - Android - a brand which most people don't know by name because it is fragmented and doesn't have the iconic status of BlackBerry.
However people knowing what BlackBerry is and what it stands for hasn't of late translated into sales and the company has been left standing by Apple and Android in the past five years as the smartphone revolution exploded.
This week in Orlando the company's BlackBerry Live conference saw thousands of developers, customers, executives and media gather to talk about the company's future.
While it did launch a new smartphone and announced BBM would be moving to iOS and Android the most striking aspect of the conference was the confidence which the company spoke about its future.
Anathema
It was over two years ago when the company realised it needed to change. That was when the company took the decision to radically change it platform, and it began to develop BlackBerry 10.
However it wasn't until Thorsten Heins, a likeable German who had been with the company for five years took over as CEO from co-founders and co-CEOs Jim Balsillie and Mike Lazaridis that things really began to change within the company.
The idea of having joint CEOs is anathema to most technology companies and it led to a fractured and broken company which had no clear vision.
Heins this week spoke about how he was told that his address at the convention in May, 2012 was going to be his first and last as CEO, with many believing the company was not going to be around in 12 months time.
Defying those doubters, this week he spoke with the zeal of a man who was happy to have proved them wrong, and with a passion for his vision of where BlackBerry's future lay that has been absent from the company's communications in recent years.
Focus and excellence
Rob Orr, who is the head of BlackBerry in the UK and Ireland, told IBTimes UK that the company is "almost unrecognisable" from what it was a couple of years ago. The big change may not sound all that interesting or revolutionary but from BlackBerry's point of view was vital if it was to begin its reinvention as a smartphone leader.
"What Thorsten and the leadership have brought is focus and excellence in terms of our operational execution. So when we say we are going to do something we are going to do it," Orr says.
In the years prior to Heins taking over, BlackBerry was floundering, with delayed launches, poorly thought out marketing campaigns and a naming convention with baffled even the product managers with the company.
This approach taken by Heins was the reason the launch of BlackBerry 10 was delayed. Heins knew the company would not be able to meet the November 2012 deadline so rather than launch a half-finished product, he pushed it back to January of this year.
Relentless focus
Since then, the company has done everything it said it would in terms of launches and release dates. Orr says there is now a "relentless focus on getting it right" and everyone in the company "understands what we are doing and why we are doing it."
That focus comes not only from Heins but from his leadership team too. Frank Boulben, the chief marketing officer spoke during the keynote about the "broken" and "fragmented" company he inherited when he took over the marketing side of the business this time last year - a position which had been vacant for 12 months at that stage.
One of the first things Boulben did was look to use that iconic BlackBerry brand. He changed the company's name from the unwieldy Research in Motion (RIM) to simply BlackBerry, harnessing the high-level of brand recognition and loyalty to help drive the company forward.
He has also streamlined the marketing campaigns and agencies which represent the brand and brought a lot of that back in-house to better control the message the company presents.
Mobile computing
Heins this week didn't speak about taking on Apple or Android. It is not something he is interesting in talking about. What he wants to talk about is the future of BlackBerry and how BlackBerry 10 is the future of "mobile computing."
BlackBerry knows it has a unique offering. By controlling the hardware, software, network and security the company can offer something unique. While it may not be for everyone, Heins says there is room in the market for more than one successful smartphone platform.
Speaking to developers, customers and executives in Orlando this week, it is clear that BlackBerry has changed radically even since this time last year. People are more energised and excited about the potential the company now has.
BlackBerry is never going to be a company which dominates the smartphone landscape. It is never going to challenge Android or Apple in terms of market share. But that doesn't seem to be worrying the company any more. It is very confident in what it is offering its customers and in now in a position to adapt to the changing smartphone landscape.