Bluetooth speaker group test: Jawbone, Denon, B&O and Cambridge Audio go head-to-head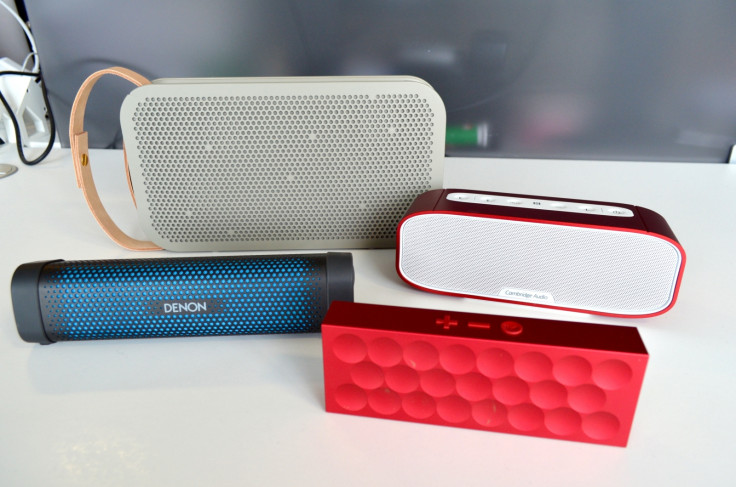 With summer fast approaching, so too is the lure of parks, disposable barbecues, burnt sausages and that perfect technology side - the Bluetooth speaker.
They come in all shapes and sizes, and with prices to suit every budget. Here we've selected three which all cost around £100, plus one costing £300 to see if you really do get what you pay for, or if a smaller, cheaper model is the way to go.
Design
The Jawbone Jambox Mini is by far the most portable of the group. It slips easily into a back pocket and disappears into any bag you choose. The metal finish is a premium touch and the design - especially with the red finish of my review unit - is interesting enough to stand out from a crowded market. It also feels like it'd survive a drop or two. The volume, power, and Bluetooth sync buttons are clearly located and simple to understand thanks to their oversize plus and minus icons.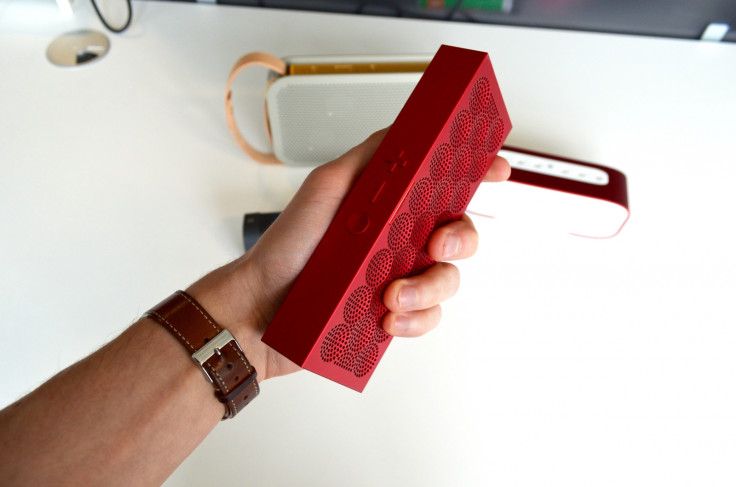 Equally attractive, but heavier and larger, is the G2 Mini by Cambridge Audio. Again, the metallic red of my review sample looks great, with the extra weight and rubber foot giving it a sturdiness lacking in the Jambox. A row of buttons along its top provide control over volume, power and syncing.
The Denon Envaya Mini is just as portable as the other two, but doesn't share the same premium design. It's mostly metal, but the sides are a fairly cheap-feeling black plastic and the blue fabric behind the grill makes my eyes hurt. It's well made though, and the covered rubber buttons are the perfect interface for greasy barbecue fingers.
Finally, the B&O BeoPlay A2 is by far the largest of the bunch. Immediately separating it from the others is its tan leather carry handle, which is a nice detail. Unlike the Jawbone and the Denon, sound comes out of both sides of the B&O, so you're going to need a bit of space to get the most out of it; this also means laying it down on its side will hamper sound quality.
Visually, the Cambridge Audio is my favourite, followed by the quirky looks of the Jawbone and the compact toughness of the Denon. The B&O, especially in the dull grey/brown of my review until, simply doesn't do it for me - and doesn't do justice to its £300 price tag.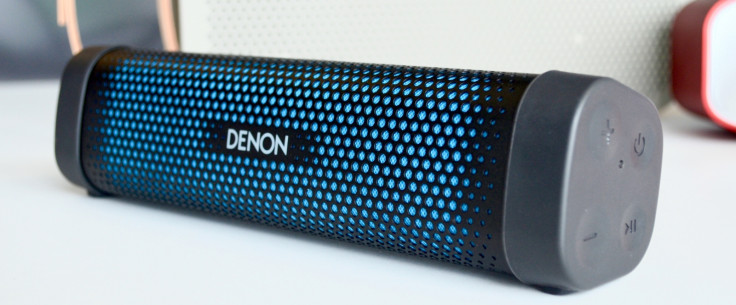 Features and battery life
Both the BeoPlay A2 and G2 Mini have full-size USB ports to charge your phone while listening to music, a feature missing from the Denon and Jawbone. However, it's a case of giving with one hand and taking away with the other, as where the Denon and Jawbone can be charged with a microUSB cable, the B&O and G2 Mini rely on a mains plug.
In its favour, the Jawbone is the only speaker in this group to offer spoken instructions. It tells you when it's looking to pair to your phone (and when a connection has been made), and a press of a button tells you, out loud, how much battery life is remaining. The three smaller speakers all have play/pause buttons which control your phone (the B&O does not), but there's no way to skip tracks or request a different song.
Battery life of all four is better than you'd expect, considering their size. The Denon, Cambridge Audio and Jawbone all claim to last for 10 hours, while the larger BeoPlay can play music for a full 24 hours at a moderate volume. Crank them up to 11 and stamina will fall across the board.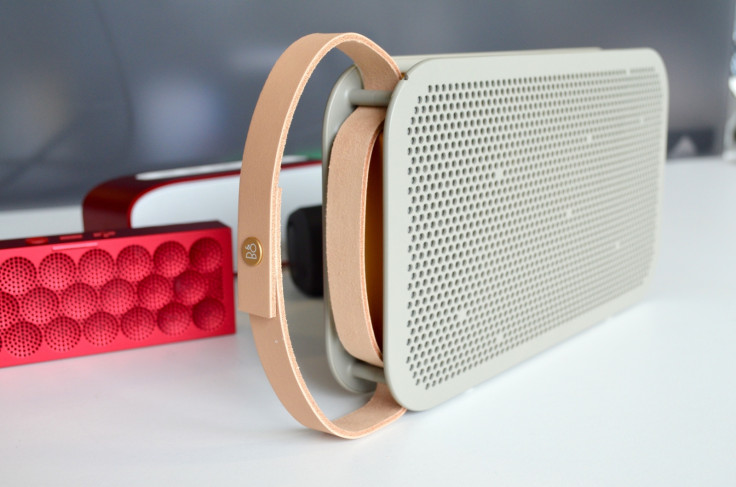 Sound
Design, features and battery life are all undeniably important when choosing a Bluetooth speaker, but sound is always going to trump them. Here, I was in for a couple of surprises.
Firstly, the Jawbone is much quieter than I was anticipating. I know it's the smallest, but a recommended retail price at launch of £150 made me expect good things. Unfortunately, it's perhaps no surprise that this has now tumbled to around £75.
Sound quality is still decent at low volumes - much better than a smartphone playing at full whack - but this really isn't a speaker to fill a room or travel far in the garden. The Jambox is well suited for playing on a balcony without disturbing the neighbours a few feet away, but with this company it can't compete.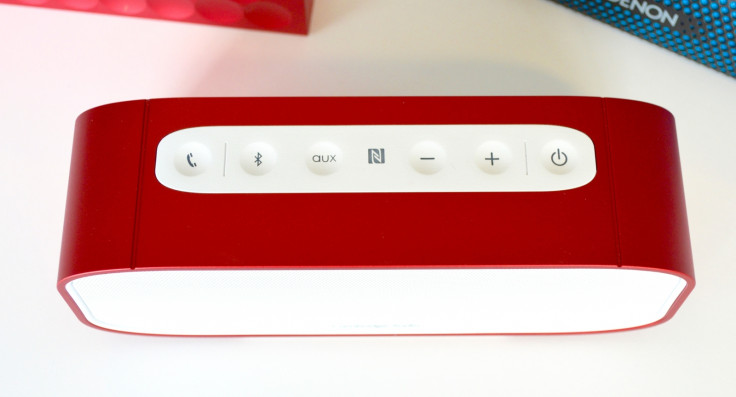 Things improve when switching to the Cambridge Audio G2 Mini, which is noticeably louder than the Jawbone without suffering a lack of quality sound. All speakers seem happiest at around 70-80% of full volume and it's the same case here with the G2 Mini. Beyond this, and the sound starts to lose clarity.
Then we come to the Denon - and why the BeoPlay, at three times the price, was included in this group test. For £100 I was staggered at both the volume and quality of the Envaya Mini. It may not be much of a looker, but it is acoustically incredible.
Between low volumes and around 70%, there is very little to separate it from the £300 BeoPlay A2; only when turned up high does the B&O kick into another gear and pull away. At a volume where the neighbours still consider you welcome on their Christmas card list, there is little to tell them apart. The BeoPlay offers a slightly fuller, more complex sound (and twice the battery life), but telling them apart is genuinely difficult.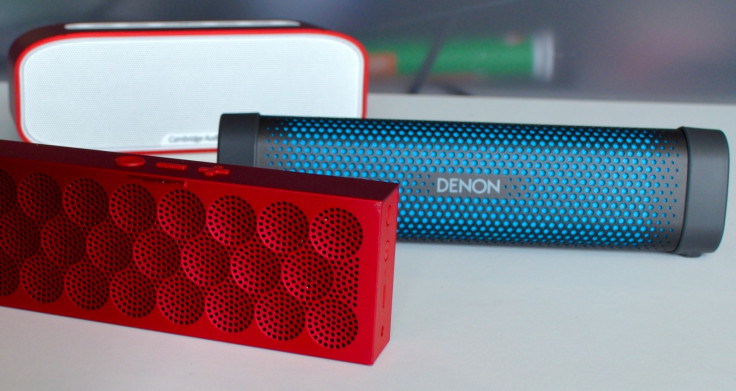 Add in the Denon's diminutive size and USB charging, and it's hard to think of much else I'd rather spend £100 on. The Denon produces a surprising amount of bass for its compact size, and although this causes it to shake a fair bit, its rubber feet keep it firmly in place.
The Verdict
I was immediately drawn to the compact design of the Jambox and the stylish good looks of the G2 Mini, but both ultimately failed to impress enough when it came to their sound. If you can find the Jambox Mini for under £70, then that would be worth your investment, but it really isn't loud enough for most settings. The G2 Mini looks great, but I urge you not to put £100 in Cambridge Audio's pocket when the Denon is so impressive.
The BeoPlay A2 proves that you can always spend more in the pursuit for perfect audio. £300 is an awful lot for a Bluetooth speaker, and where audiophiles will no doubt sing the B&O's praises, most people I blind-tested with the Denon and A2 failed to tell the difference until the volume was cranked right up. They certainly sound different - and if push came to shove, it's the B&O that offers a richer, fuller soundtrack - but they shouldn't be separated by £200.
The Denon wins because it blends a compact design and affordable price with great sound quality and loudness into a single package.
© Copyright IBTimes 2023. All rights reserved.