BMW i3 review: All-electric fun comes at a price
We drive the BMW i3 electric city car.
Where the £100,000 BMW i8 shows how environmentally-friendly hybrid technology can make sports cars greener, the i3 is for the rest of us.
BMW i3 key features
All-electric car with four seats and four doors
Range of between 80 and 90 miles
Recharges at a rate of around 20 miles per hour
170bhp / 180lb ft
0-60mph in 7.2 seconds
Price: From £25,980 (includes £5,000 government grant)
This is a four-door city car is purely electric and costs £25,000 after a government grant. It has the unenviable task of introducing car-makers stuck in their century-old ways to an unfamiliar and uncertain future.
With the dark cloud of range anxiety hanging over it, can an all-electric car prove itself over a weekend in London?
BMW i3: Design and interior
If the i8 looks like it's from a different planet, then the i3 is of an entirely different galaxy. I spent a solid week trying to resist calling it ugly and, in the face of widespread approval that this is the only possible word to use, I'm sticking to my guns.
This car is not ugly, it's just very, very different to anything that has gone before. So different, I'm having a hard time comparing it to anything else on the road - and anyway, from some angles it actually looks quite smart. Striking, bold and 'modern' is probably how the catalogue of a West London kitchen fitter would describe it.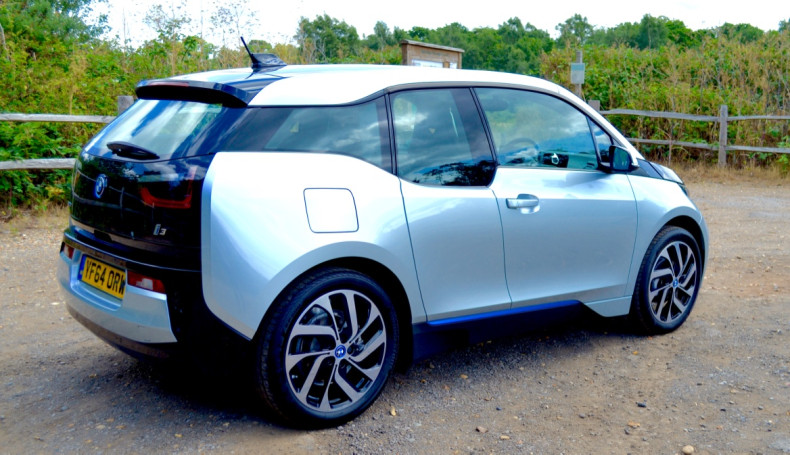 What it is, is an efficient use of space (sorry, I'm reading from the kitchen catalogue again). The cabin is tall, well-lit and airy, with excellent visibility all round and space for four adults with luggage - and charging cables.
From the driver's seat it's clear to see the i3 is as wacky on the inside as it is on the outside. The dashboard is covered in slabs of pale wood, the doors are capped with recycled plastic. There isn't a single conventional dial - instead two computer screens make up the car's interface.
Storage is much better than in the i8. There are large door bins, a decent glove box, and four cup holders, one for each seat. The seats themselves are comfy enough, although personally I found them to lack lumbar support. The driving position is good, with reach and rake adjustments built into the steering column to suit drivers of every height.
BMW's familiar iDrive system sits between the two front seats and controls the main screen. Turn the dial to scroll, draw letters onto it to search, and speak to quickly enter a destination address or make a call through your Bluetooth-connected phone.
BMW i3: Electric motor, charging and range extender
Here is where the i3 departs from BMW's back catalogue and enters a space entirely unexplored by the Bavarian motorworks. The fully electric i3 I tested had a range of between 80 and 90 miles (128 and 145 kilometres) on a full charge, which takes four hours from a public charger, or all night if you plug into a socket at home.
The screen behind the steering wheel shows how much power you are using while accelerating and how much you are harvesting back into the battery when you coast and brake. Keeping the dial in the recharging side as much as possible becomes a game; be gentle with the accelerator, coast wherever possible, and watch how occasionally the estimated range will increase by a mile or two.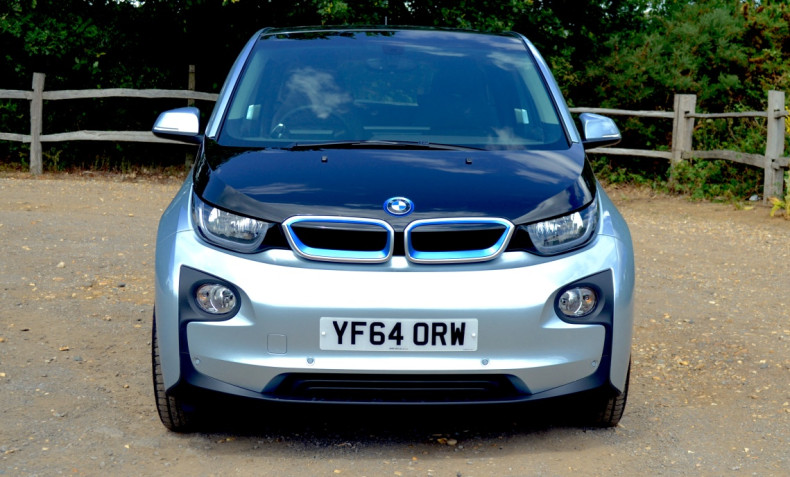 For an extra £3,150 you can opt for the Range Extender model. This adds a 640cc, two cylinder engine which produces 34 horsepower and channels this straight into the battery pack.
It does not drive the wheels, but instead extends the i3's electric range by 100 miles, giving you a very usable 180 - and if you run out you can simply go to a petrol station instead of hunting down an electric charger.
There are three driving modes to pick from: Comfort offers maximum power and lets you operate the car to its fullest potential; Eco Pro adjusts the characteristics of the accelerator to prevent you using full power unless you floor it; Eco Pro+ switches off the climate control and limits the car to 56mph.
Brake regeneration - and how you don't really need the brake pedal
Lifting off the accelerator causes the car to slow as if you were gently braking, such is the effect of the car's regenerative braking system. Also used by the Tesla Model S, this turns the motor into a generator, feeding energy created by the turning wheels back into the battery.
It's a very strange sensation at first and takes a lot of getting used to (and its strength cannot be adjusted, as it can in the Tesla). But once you get the hang of it you will find you never really need to use the brake pedal at all. Even exiting a motorway and coming to a complete stop can be done with brake regeneration alone.
The key to mastering brake regen is to think of the right pedal as a way of adjusting the rate of acceleration as well as the rate of deceleration; lift the pedal fully to brake firmly, lift it half way to brake more gently.
We have taken more detailed look at charging options available in the UK, how they work, and the problems faced while using the i3.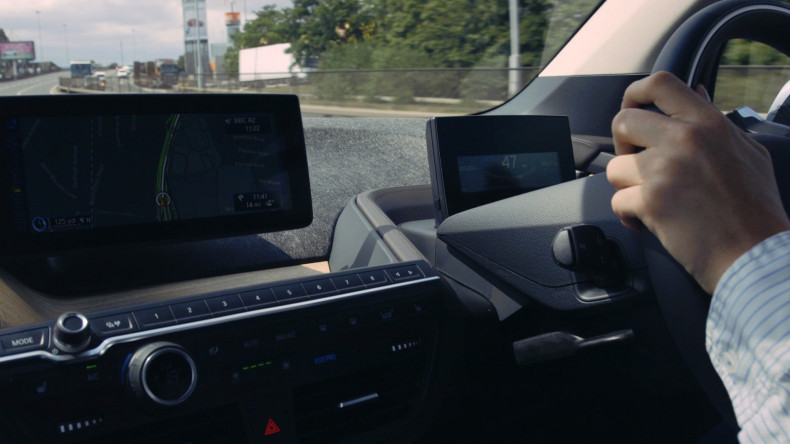 BMW i3: Performance and handling
Adding 170bhp to a car which weighs just 1,200kg means the i3 is surprisingly quick off the line. 60mph takes just over seven seconds, but at lower speeds the i3 feels properly quick, thanks to the electric motor offering up 180lb.ft of torque from zero revs.
It can sprint to 30mph more quickly than a BMW M3 - a car with a 4-litre V8 - and when nipping in and out of town-centre traffic the i3 is huge fun. Its electric motor whine seems louder than in the Tesla, adding to the fun factor of what feels like a golf cart on steroids.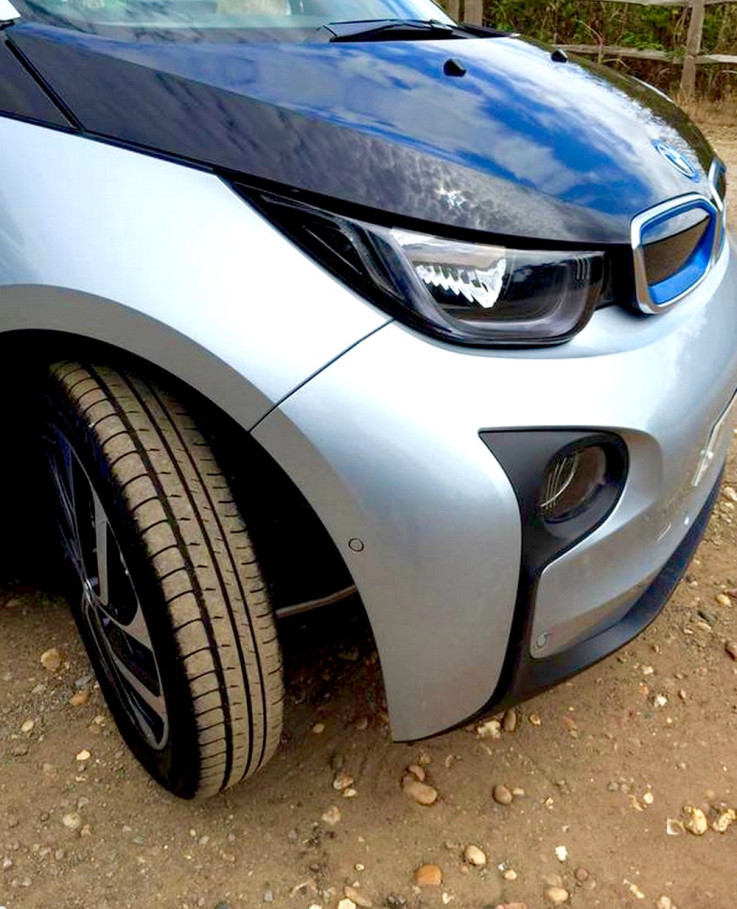 Skinny tyres are good for reducing drag and rolling resistance, improving range.
IBTimes UK
It may be challenging in the looks department, its top speed is only 93mph (150kph), and range will still be an issue for many, but put your foot down to sprint past a bus and the i3 will put the biggest smile on your face.
And that smile sticks around even when the i3 is thrown at a twisty road - a genuine surprise, given the comically thin 155mm tyres (for context, a Ford Focus's are 225mm).
Developed by Michelin specifically for the i3, they grip well and communicate with the driver in a way BMW owners will find satisfyingly familiar. The sharp handling is also courtesy of stiff and light carbon fibre-reinforced plastic, used to form the i3's frame - the exotic material's debut at this price range.
I thought driving an all-electric city car like this would be a fairly dull experience, but I couldn't have been more impressed.
It doesn't have the drama, atmosphere and sense of occasion to match the i8, of course, but it still has bags of character all of its own.
BMW i3: Verdict
The i3 looks and feels like a car from the future, there is no denying that. Its looks won't be for everyone, but there is no denying the car's ability to transport four adults in comfort and silence for a distance longer than almost everyone's daily commute. And when they've been dropped off, the driver is rewarded with a surprisingly fun driving experience.
There are still major issues surrounding the UK's electric car charging network, but if you get a fast charger installed at home the i3 could well be all the car you need for town and city driving.
Just don't expect to admire its reflection in shop windows.
BMW i3 review scores
Looks: 6/10 - A lot of people will call the i3 ugly. It's bold, futuristic and daring for sure, but ultimately this isn't a pretty car.
Performance: 8/10 - Quicker than you'd think with decent road-holding and communicative steering. Skinny tyres have their limits, but at low speeds it is genuinely fun.
Comfort: 7/10 - Quite a firm ride, but then long journeys aren't what the i3 is for.
Equipment: 8/10 - Climate control, heated seats, sat-nav and iDrive mean it's well-equipped before you raid the expensive options list.
Overall: 7/10 - Ignore the looks and the i3 is a fun and fairly practical urban runaround - but the charging network still needs major expansion.
The Good:
Surprisingly quick at town speed.
Very easy to drive.
Zero emissions/road tax/congestion charge/fuel cost.
The Bad:
All-electric model has 80-mile range.
Range extender is additional £3,150.
Design isn't for everyone.