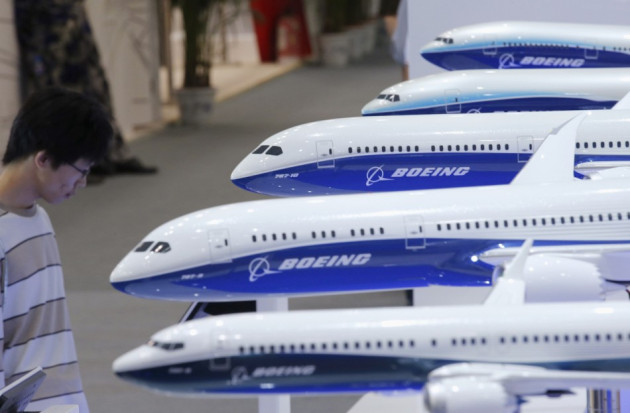 US aircraft manufacturer Boeing has secured commitments from a number of Chinese airlines for about 200 short-haul aircraft worth billions of dollars, as the company looks to alleviate pains of a significant contract loss in Japan.
Reuters, citing two people familiar with the deals, said multiple Chinese customers committed to buy around 200 737 Max aircraft, worth a combined $20.7bn (£12.7bn, €15bn) at list prices.
The deals are still to be approved by the Chinese government, according to the sources. The commitments come from a range of customers including state-owned airlines and leasing firms associated with the country's banks.
Reuters said these are first Chinese commitments for the 737 Max aircraft, which is the upgraded variant of Boeing's best-selling short-haul planes. Airlines including Air China, China Eastern Airlines and China Southern Airlines are currently operating the 737 in the country.
Growing Chinese Demand
Boeing and its European rival Airbus are anticipating higher demand from China's fastest growing airline market due to increased traffic in domestic routes. China is set to overtake the US as the world's largest airline market over the next 20 years.
Boeing said in August that it has orders for 700 single-aisle aircraft from China, which will fly on domestic and regional routes of up to five hours. The company also forecasts to deliver 3,900 single-aisle aircraft over the next 20 years.
Meanwhile, Airbus looks to compete the 737 Max with its upgraded A320neo. In September, the company said it has 100 Chinese commitments for the A320neo.
Both Airbus and Boeing face stiff competition from the Commercial Aircraft Corp of China, which is developing its own single-aisle narrow-body aircraft.
Paring Japanese Loss
Airbus and JAL announced on 7 October that the Japanese carrier will buy 31 Airbus A350s, comprising 18 A350-900s and 13 A350-1000s. Airbus 350s will replace JAL's Boeing 777 fleet.
Japanese airlines, such as All Nippon Airways (ANA) and JAL, had relied heavily on US-based Boeing for their aircraft needs. Boeings constitute 78% of JAL's 214 planes and 84% of ANA's fleet of 238 planes.
In October JAL announced a defection to Airbus in the form of a deal worth $9bn, effectively ending Boeing decades-old monopoly in the Japanese commercial aeroplane market. Japanese airlines have been the biggest clients for the 787 Dreamliners. ANA was the first airline to order the aircraft, which was grounded earlier this year because of technical problems.
Following the loss, Boeing restructured its marketing and design strategy.
On 24 October, the company said Korean Air finalised an order for 12 twin-aisle aircraft, including five 747-8 Intercontinentals and six 777-300ER extended range jetliners. The combined order is valued at $3.9bn at current list prices.
The orders are expected to strengthen the company's results for the ongoing fiscal year
On 23 October, Boeing raised its earnings forecast for 2013, expecting core earnings per share between $6.50 and $6.65.