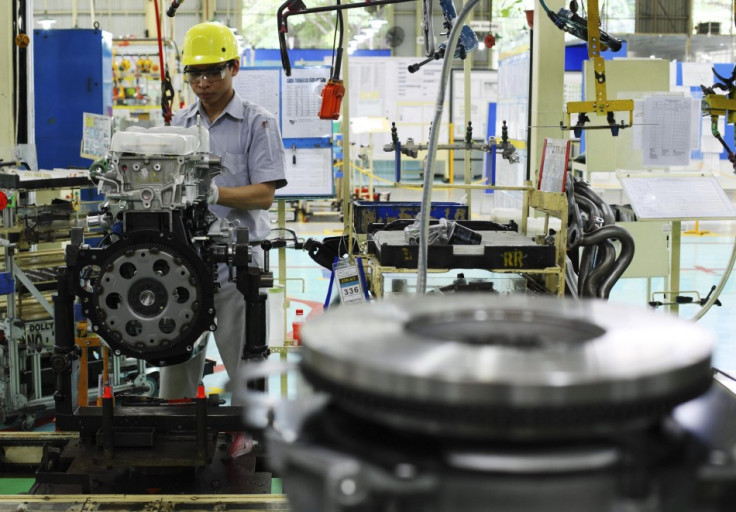 Business sentiment among Japanese manufacturers turned positive in the second quarter, hitting the highest level in more than two years, according a closely watched central bank survey.
The Bank of Japan's (BOJ) "tankan" survey for the three months through June shows that the headline index for big manufacturers rose to 4 from minus 8 in the previous quarter. Analysts expected an improvement to 3 in the quarter.
This was the second straight quarter of improvement and the first positive reading in the index since September 2011. A positive reading indicates that the number of optimists is more than that of pessimists in the survey.
Signalling a positive mood for business expansion, large manufacturers also plan to boost their capital spending by 5.5% in the current financial year, according to the survey.
Japan's economy had been suffering from a slowdown amid more than a decade-long deflation in the country. Following his appointment, Prime Minister Shinzo Abe has undertaken policies including aggressive monetary stimulus and fiscal spending to recover the economy. The policies dubbed "Abenomics" resulting in a slump in the value of the yen have helped the country to post a 4.1% growth in the first quarter.
The weakness in the yen was one of the major factors in boosting manufacturers' sentiment, especially that of the exporters, according to analysts.
"The improvement in big firms' sentiment was largely driven by yen weakness, which supported exports, and the recovering economy overall," Reuters quoted Taro Saito, senior economist at NLI Research Institute in Tokyo, as saying.
The weaker yen that makes the exporters' goods more affordable overseas has inflated the earnings of Japanese companies, boosting their stocks. Japan's main stock index gained by 55% since mid-November, although market confidence has recently been hurt after Abe disappointed investors with his "third arrow". Critics say that the final strategy of "Abenomics" lacked detail and implementation.
The tankan survey also shows improved sentiment in the service sector, with the index for large non-manufacturing companies rising 6 points to 12. However, large non-manufacturers' expectations remained flat for the next quarter at 12.
Market analysts are now looking ahead to the country's Upper House elections scheduled for 21 July. If Abe secures a majority in the elections, he would be able to push his policies through more quickly.