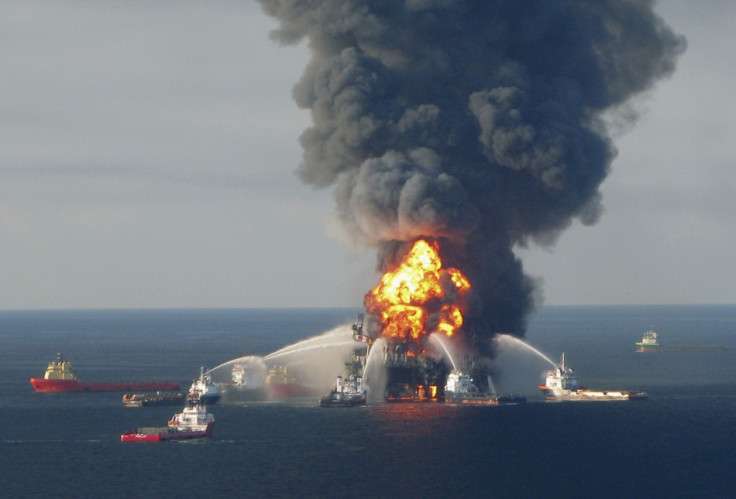 BP Plc shares are one of the top performers on the FTSE 100 Monday after reports at the weekend revealed that the UK oil giant is set to seal a deal with US authorities soon and pay less than $15bn in criminal and civil penalties following the 2010 Deepwater Horizon oil spill in the Gulf of Mexico.
According to an unnamed source cited in the Financial Times, the Department of Justice (DoJ) is seeking $25bn from BP but accelerated talks could lead to a substantially lower settlement cost, ahead of the Democratic party's convention in September.
BP's shares are currently trading at a one-month high at 2.20 percent to the upside, standing at 418.00p as of 1020 GMT.
A BP representative was not immediately available to comment when contacted by the IBTimes UK.
Critical Estimates On Oil Spill Fallout
On 20 April 2010, an explosion on BP's Deepwater Horizon rig killed 11 workers and resulted in the largest oil spills and environmental disasters in history.
While, oil immediately spewed out into the Gulf of Mexico, the estimates of how much and at what rate this was occurring was being constantly revised by BP and the US government. In January 2011, the Presidential Commission filed its final report on the BP Deepwater Horizon Oil Spill and Offshore Drilling incident.
In the final report, the National Commission found that the spill could have been prevented if operator BP, rig owner Transocean and contractor Halliburton had not made a number of mistakes in the Macondo well blowout.
According to estimates, at the time, 4 million barrels of oil was leaked into the US Gulf of Mexico and independent groups had constantly revised forecasts.
Under The US Clean Water Act, BP still faces a civil fine over the accident.
The estimates are critical because the total amount of oil that was spilled into the ocean is vital for the verdict and will determine the final penalty.
The US government's final total estimate is 4.9 million barrels, which equates to a rate of 53,000 and 62,000 barrels of oil per day.
BP Blighted By Lawsuits, Fines and Settlements
In 2010, BP set aside $37.2bn for what it estimates will be its maximum spill-related costs. In March, it reached an agreement to pay around $7.8bn to satisfy most claims from private plantiffs related to economic damage, clean-up costs and property damage.
BP faces a major fine from the Environmental Protection Agency (EPA), which sets its fines on a per-barrel basis. BP is tipped to be fined between $1100 and $4300 for every barrel that was spilled. So with the government's final estimates, this would result in a $20bn plus bill.
Since the FT report is yet to be confirmed, BP still faces a bill of $25bn from the DOJ and still faces significant legal liability for the disaster in the US even after agreeing with the US' DOJ to pay at least $7.8bn to victims of the explosion.
Analysts do warn that the new information on BP possibly settling for $15bn with the DOJ, instead of a higher number, is a timely reminder of the difficulty surrounding BP.
"This press report serves as a timely reminder of the current uncertainties investors face in valuing BP," said Citi analysts. "Even the $15bn figure was at the upper end of its $5bn to $19bn expectation."
While BP is navigating through the sea of lawsuits, the UK oil giant has recently faced some fresh charges.
Only late last month, US federal investigators slammed BP with fresh charges over claims that BP representatives lied to Congress about how much oil had leaked into the Gulf of Mexico, following the Deepwater well blowout in 2010.
The federal investigators findings could lead to additional criminal charges against current and former employees, should the investigators find evidence of wrong doing.
"Just as we worked with the government in responding to the spill, we are cooperating with its investigation," says a BP spokesperson to the IBTimes UK with no further comment on the report.
Selling off Assets and TNK-BP
At the beginning of May, BP reported a larger-than-expected drop in first quarter profit as production fell after it was forced to sell oil fields in order to pay for the Gulf of Mexico oil spill.
Despite oil prices rising over the last year, BP cited a fall in oil production and tough conditions in the refining business for its drop in profits at its downstream unit.
Bob Dudley, chief executive officer at London-based BP has tried to quell investor concerns that it the group has overcome the aftermath of the Gulf of Mexico oil spill, after selling off assets, lifting output and raising dividend.
Selling off assets has been the main course of action for buoying up the group, in light of billions of dollars it would need to pay its fine, come to a settlement and compensation to the public - not to mention legal fees.
Last month, BP raised a further £251.7m through selling some North Sea assets, bringing the group's total assets sold to $23bn. It plans to raise $38bn in total before the end of 2013.
Furthermore, on 1 June this year, BP surprised the market by revealing it is looking to sell its stake in the embattled Russia and UK joint venture TNK-BP after receiving a raft of "unsolicited approaches."
If BP does sell TNK-BP, it could cover most of its costs from the DoJ.
"We think par value of a sale would be around $25bn, but litigation from its Alfa Access Renova (AAR) partners could see that sum reduced," said Citi.
TNK-BP also represents 29 percent of BP's oil-and-gas production, 27 percent of its reserves and 10 percent of its income.
While, BP has sold many assets over the last two years, the stake sale in TNK-BP could be just what it needs in order to tackle the giant fallout costs.