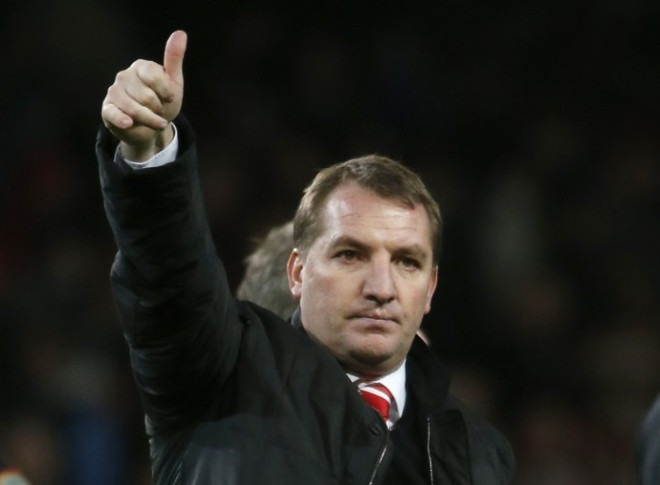 Liverpool are reportedly preparing to hand Brendan Rodgers a £60m war chest to strengthen the squad in the summer, if they finish the season in top four.
The Daily Mail reports the Reds owner John Henry is willing to make the funds available for the former Swansea manager in order to bring new faces to Anfield after the end of the season. However, Liverpool need to qualify for the Champions League.
The Merseyside club are second in the table with 59 points from 28 games and are level on points with third place Arsenal. The Reds are seven points behind league leaders Chelsea, who have played one game more. Manchester City are fourth in the table with 57 points from 26 games.
The report claims the Northern Irishman is looking to bring in six players to the club in the summer. Liverpool are considering signing a creative midfielder, a left-back, winger, two central defenders and a striker to compete in all four competitions.
Rodgers had admitted Liverpool will prepare two plans for the summer, depending on the Champions League qualification. The Reds last featured in Europe's most elite club competition in 2009 and are one of the firm favourites to finish the season in top four.
Liverpool make a trip to Old Trafford as they take on Manchester United in their next league fixture. Failing to win over David Moyes' side away from home and victory for Arsenal and City can see the Reds slip to the fourth place in the table.
The Merseyside club have a tough set of fixtures lined up in March and April. With 10 games remaining for the Reds, they face United, Tottenham Hotspur, Chelsea and City in the league.
Despite being in a better position in the league, Liverpool's fixtures in March and April could decide their fate of finishing the season in top four. Liverpool are undefeated in the league in this calendar year and Rodgers would be hoping to extend the run when his side takes on United on Sunday.
The same report also claims Liverpool owner is considering giving an improved deal to Rodgers in order to extend his contract at Anfield.