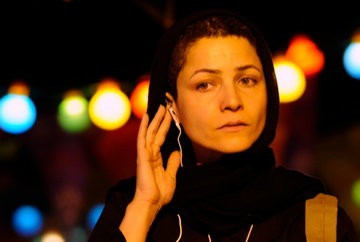 The news that Iranian actress Marzieh Vafamehr has been sentenced to a year in jail and 90 lashes for her role in a film about the limits imposed on artists in the Islamic republic speaks of a dangerous level of censorship and intolerence in the country.
Miss Vafamehr was arrested in July this year after appearing in "My Tehran for Sale" (link to trailer: http://www.youtube.com/watch?v=ZM1XJJGtP68), which tells the story of a young actress in Tehran whose theatre work is banned by the authorities. An Iranian opposition website reported on Sunday that she had been sentenced to a year in jail and 90 lashes.
Ironically, the sentence seems to make Miss Vafamehr's fate parallel that of her character in the film, and has angered opposition groups and activists campaigning for an end to censorship in Iran.
The Islamic republic monitors and controls most forms of media and art, and the country's press situation is ranked as "very serious" by Reporters Without Borders, the worst ranking on their five-point scale.
Two Iranian filmmakers were arrested last month after being accused of providing reports to the BBC. Last week news emerged that Tehran had arrested, questioned and intimidated relatives of journalists working for the London-based BBC Persian Television.
September also saw the release of two American hikers picked up in July 2009 on charges of espionage.
In 2007, Iranian Nobel peace laureate Shirin Ebadi warned that censorship in her country was getting worse and that the government doesn't like its domestic affairs and events inside the country to be reflected in the outside world".
Critics warn how new technologies are helping the regime crack down on activists and dissenters. Following the disputed 2009 elections in Tehran, the government attempted to shut down social media sites such as Facebook and Twitter, where people were posting news about the regime's brutal crackdown on protesters.
The brutal sentencing of Miss Vafamehr shows that Tehran still holds a vice-like grip over anyone brave enough to speak out against censorship and corruption in the country.