A businessman has been found guilty of the "cold-blooded" murder of four members of the same family in a revenge attack over money.
Anxiang Du has been found guilty of murdering Jifeng "Jeff"' Ding, his wife Ge "Helen" Chui and their two daughters, Xing "Nancy" 18, and Alice, 12, on 29 April 2011.
Du admitted to killing the family by stabbing them a total of 51 times at their home in Wootton, Northamptonshire, but denied murder under diminished responsibility and pushed for a manslaughter conviction.
The jury at Northampton Crown Court rejected these claims and found the 54-year-old guilty of their murders.
The court heard how Du "massacred" the family after he lost a 10-year legal battle and was told by the courts to pay £88,000 to his former business partners Mr and Mrs Ding.
Du left a farewell note to his family in Coventry and travelled up to Wootton to kill the family. He stabbed Mr Ding 23 times, Mrs Ding 13 times, Nancy 11 times, and Alice four times.
Police described the murders as a "heinous crime, committed by a man who knew what he was doing and went with a plan to kill an entire family in cold blood".
After committing the murders, Du stole the Dings' car and went looking for another business associate, but he wasn't at home.
The businessman then fled to Morocco via France and Spain before being tracked down and extradited in February to face trial.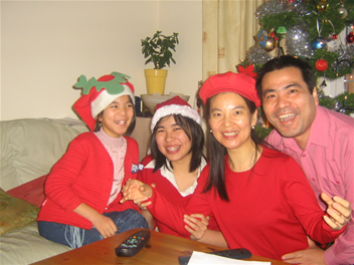 Police admitted that they "badly mishandled" the original emergency call and Du could have been caught sooner, but said it was "unlikely" the family could have been saved.
A 999 call from Nancy's mobile was traced to the wrong house. When officers eventually went to the correct house two days later, police pushed a card through the door when no one answered. The Dings' bodies still lay inside.
Det chief insp Tom Davies, from Northamptonshire Police, said: "I recognise people will look at the 'three 9s' call in particular and be critical of that. We've dealt with that, the Independent Police Complaints Commission were involved in an extensive investigation.
"The important aspect for the investigation team was to deal with the challenges we were presented with. We did have several challenges to overcome and make sure we identified where he was residing and get him back to the UK to face justice."
Steve Chappel, chief crown prosecutor for the East Midlands, described the mudrers as a "brutal, shocking crime".
He added: "The evidence was clear that this was an act of pre-meditated revenge and Du knew what he was doing.
"The Ding family were honest, hard-working and well-liked people. It is a tragedy that their lives were cut short in this way. Our thoughts and condolences are with their family and friends."
Du is expected to be sentenced on 28 November.