Cambodia: Nasa Technology Unearths 500-Year-Old Lost Art on Walls of Angkor Wat Temple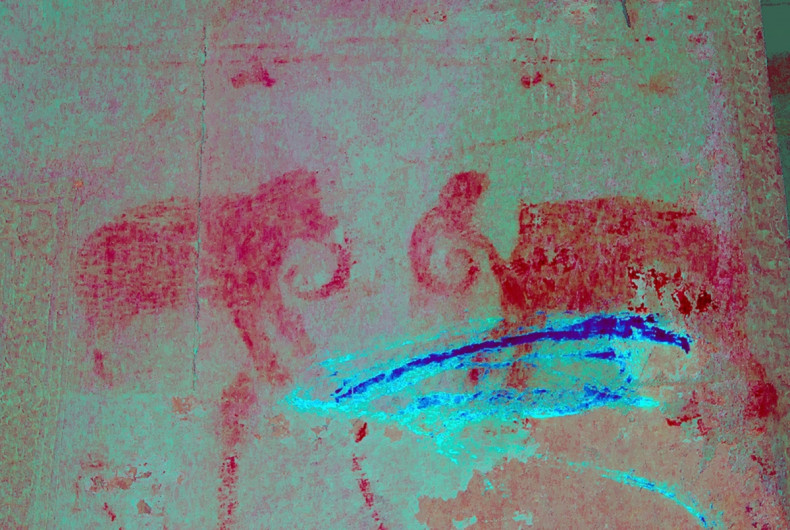 Long-lost paintings have been discovered on the walls of Cambodia's ancient 12th-century AD Angkor Wat temple, using Nasa technology.
The ancient painting dates back around 500 years, the pictures depict deities, animals, boats, musical instruments and the temple itself, giving historians a new understanding of life in a relatively unknown period of Cambodia's history.
Rock art researcher Noel Hidalgo Tan, of the Australian National University, discovered the hidden images while working as a volunteer at an archaeological excavation in Angkor Wat in 2010.
After spotting traces of paint and faint images, he took photographs with a bright flash, and later used "decorrelation stretch analysis" to enhance the images. This technique has been employed by Nasa, in particular, to examine colour difference in Martian rock in photographs taken by the Opportunity rover.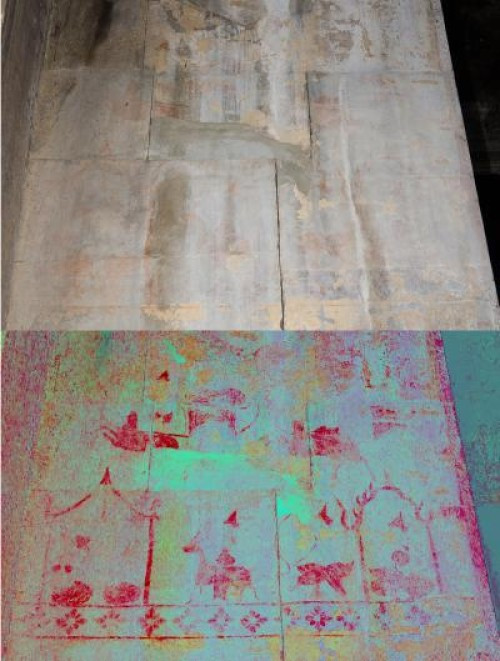 A hidden image at Angkor Wat temple showing life scenes. The enhanced image is below, and the original image is above
Noel Hidalgo Tan
"I was walking through the temple on a lunch break and I saw some pigments on the wall. I took some pictures, but didn't think they would be anything special," Tan told Science Daily.
When he enhanced the images on his computer, the long-lost art was revealed.
"It was an amazing moment," he said. "I didn't expect the images would be so elaborate and detailed."
Some of the images are believed to have been left by pilgrims after the Hindu temple was abandoned in the 15th century. Many of the paintings portrayed details of daily life, with little resemblance to other documented graffiti images.
Angkor Wat is one of the world's most famous monuments and a national symbol of Cambodia. Built in the 12th century, Angkor Wat was in the centre of the city of Angkor, which was the capital of the Khmer Empire from the 9th to the 15th centuries.
The world-heritage site attracts around two million tourists annually, but the paintings had gone unnoticed despite the large number of visitors. The images were largely faded and barely visible to the naked eye, as they were in dark areas of the temple.
''My background is in rock-art research, so I'm very used to looking at rock surfaces and seeing whether there are very faint traces of pigment under the surface,'' Mr Tan told Australia's The Age.
Tan returned to the temple in 2012 to carry out a detailed investigation in collaboration with Cambodian researchers Im Sokrithy, Heng Than and Khieu Chan.
According to the researchers, the paintings are likely to originate from the 16th century reign of King Ang Chan, who commissioned a restoration of the temple to Theravada Buddhist use from a Vishnavaite Hindy temple.
The research was published in Science.