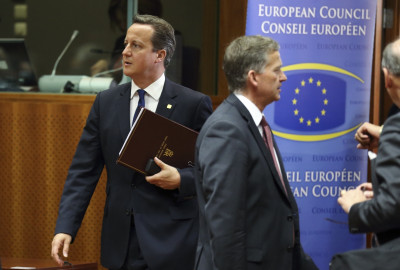 British Prime Minister David Cameron has suffered a crushing defeat in Brussels as EU leaders overwhelmingly voted Jean-Claude Juncker the next President of the European Commission.
Cameron had vehemently opposed Juncker's candidacy, claiming the former prime minister of Luxembourg embodied the old, centralised and pro-integration Union he wishes to reform.
Cameron tweeted:
The PM badly lost a vote he had forced on other EU leaders, breaking with a tradition of filling key roles by consensus.
"There are times when it's very important to stick to principles ... even if the odds are stacked against you, rather than go along with something that you believe is profoundly wrong," Cameron said before the vote. "And today is one of those days."
Juncker was backed by 26 of the 28 members of the European Council, with only Cameron and Hungarian Prime Minister Viktor Orban voting against.
He reclaimed the top-EU job as the leading candidate of the centre-right European People's Party (EPP), which won the most votes across the Union at elections in May.
Even left-leaning governments in the main bloc opposing Juncker - like Italy and France - voted for him, hoping to get top EU jobs, including the position of foreign policy chief, in return.
The confirmation of Juncker's nomination was announced by European Council president Herman Van Rompuy on Twitter:
Juncker, who led Luxembourg for almost two decades and played a crucial role in shaping the euro currency, is to be confirmed by the EU parliament before he takes over from Jose Manuel Barroso later this year.
Some EU leaders severely criticised Cameron's decision to force a vote.
"They cannot alone block the 26 or 27 others countries that agree," Belgian Prime Minister Elio di Rupo said.
Finnish Prime Minister Alexander Stubb said: "I think in the United Kingdom some people obviously need to wake up and smell the coffee: the European Union is a very good thing for the United Kingdom."
UKIP leader Nigel Farage tweeted:
The news completes a miserable week for Cameron after his former press chief Andy Coulson was found guilty of phone hacking, following a trial during which the Prime Minister was rebuked by the judge for interfering with legal process.
News of Coulson's conviction prompted Labour leader Ed Miliband to lampoon Cameron in the Commons, describing him as the first Prime Minister to bring a criminal into No10.