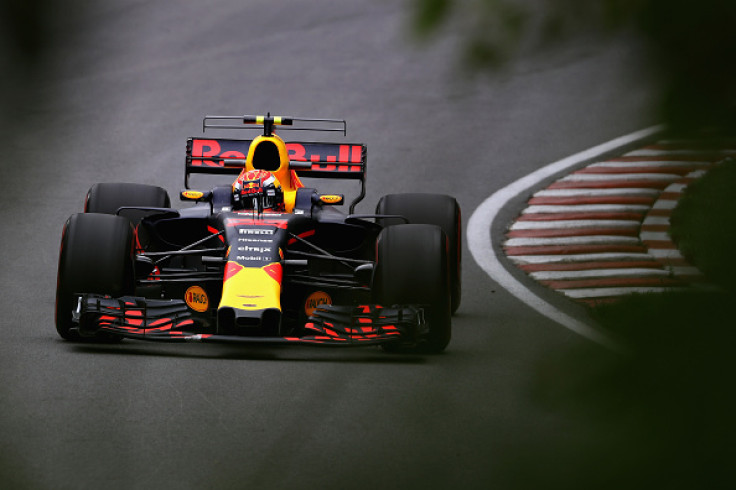 Mercedes' Lewis Hamilton pulled all stops to produce a brilliant Canadian GP Qualifying performance to edge Ferrari's Sebastian Vettel to pole position and in the process, equalled his idol Ayrton Senna's career pole total. The Briton, who made his F1 debut in this circuit, moved level with Senna's haul of 65 poles in the F1 hall of fame.
Hamilton had a wonderful time where he broke the all-time lap record twice before finishing qualifying with a stunning final lap of 1:11.459s edging Vettel to pole in what was an exciting race from the top two in the GP rankings. The championship's leaders were a step above their teammates, with third-fastest Valtteri Bottas and fourth-placed Kimi Raikkonen, finishing the race in the final two spots. Hamilton also matched Michael Schumacher's record of six Montreal poles, making it a race to remember for the Mercedes man.
With the Mercedes and Ferraris washing out the first two rows, Red Bull were at hand to lock out the third row. Max Verstappen and Daniel Ricciardo, finished fifth and sixth respectively, and were able to match Bottas and Raikkonen on pace.
Felipe Massa finished seventh for Williams, a pace ahead of Force India pair Sergio Perez and Esteban Ocon who finished the race in eighth and ninth respectively, cruising past Nico Hulkenberg of Renault, to complete the top 10 spots. Fernando Alonso finished in 12th spot on his F1 return, while his McClaren teammates both dropped out of Q1 .
Where to watch live
The race starts at 7pm BST (Sunday) with Sky Sports F1 and Sky Sports F1 HD providing live TV coverage. Real-time Internet updates are available on the Live Timing section of the sport's official website.
Drivers' reaction
Lewis Hamilton (Mercedes) – P1: "Literally as a kid I'd come home and say 'one day if I'm really lucky and I can get to Formula 1 I'd want to emulate Ayrton'. The fact that I've now reached him in that area – I just can't believe it. Honestly I can't believe it. My final lap worked perfectly – I could see my delta picking up and getting excited, but at the time I had no comprehension about the 65th – I forgot that, it was the here and now. I just want to say a big thank you to my family for supporting me all these years and giving me the opportunity to be here today. I am standing here today, but the work they put in behind me... no one could imagine. But I know.
Sebastian Vettel (Ferrari) – P2: "I'm not so happy with the last run I had," said Vettel. "I would have loved to repeat the second run and just find a little bit (more). I probably pushed a little bit too hard - lost it a bit here, in Turn 2, and then I tried a bit of catch-up. It was a good qualifying session, though. It was getting better at the end - at the beginning I was struggling to find a rhythm. But it was a great atmosphere, people cheering – they're all on it – so it's really great to be here."
Valtteri Bottas (Mercedes) – P3: "Firstly, a big congratulations to Lewis for his 65th pole position today. It's a great achievement to match Senna. I was really trying hard, but it was a tricky day for me. I struggled with the balance of the car and wasn't really happy in FP3. We made some changes and the car was much better in qualifying, but then in Q3 when it came down to getting those last hundredths and tenths, the car became unstable again. I just couldn't get that lap together. The long runs seem okay though, so once again, I'm expecting it to be very close in the race with Ferrari. It's all about tomorrow."
Kimi Raikkonen(Ferrari) – P4: "Today it was a bit tricky: for whatever reason yesterday we had been a bit more comfortable. The car felt pretty OK, but we struggled to make the tires work as we wanted. There was a lot of potential in the car, but I was not driving very well, and did not manage to put a good lap together. My last run was very poor, I made mistakes in the first and second corner and I paid the price for it. Tomorrow it should be a different story. It's going to be a long race and obviously a lot can happen; you never know here, it's one of those places where things can change very quickly. We'll try to make the best choices; we should have the speed, let's see".
Top 10 results of qualifying session from Montreal:
POS

NO
DRIVER
CAR
Q1
Q2
Q3
LAPS
1
44
Lewis Hamilton
MERCEDES
1:12.692
1:12.496
1:11.459
21
2
5
Sebastian

Vettel

FERRARI
1:13.046
1:12.749
1:11.789
21
3
77

Valtteri

Bottas

MERCEDES
1:12.685
1:12.563
1:12.177
20
4
7

Kimi

Räikkönen
FERRARI
1:13.548
1:12.580
1:12.252
23
5
33
Max

Verstappen

RED BULL RACING TAG

HEUER

1:13.177
1:12.751
1:12.403
26
6
3
Daniel

Ricciardo

RED BULL RACING TAG

HEUER

1:13.543
1:12.810
1:12.557
28
7
19
Felipe

Massa

WILLIAMS MERCEDES
1:13.435
1:13.012
1:12.858
27
8
11
Sergio Perez
FORCE INDIA MERCEDES
1:13.470
1:13.262
1:13.018
22
9
31
Esteban

Ocon

FORCE INDIA MERCEDES
1:13.520
1:13.320
1:13.135
22
10
27

Nico

Hulkenberg

RENAULT
1:13.804
1:13.406
1:13.271
24