As more devices that ever are being hooked up to the internet and each other to make our lives easier and more connected, Withings has introduced two new fitness gadgets at CES 2013 in Las Vegas.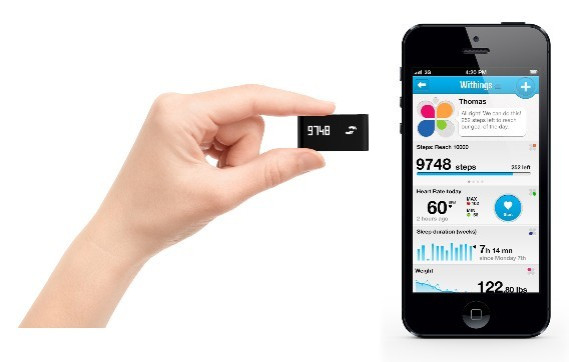 Follow all the news, reviews and rumours on our CES 2013: Live Blog
The Smart Activity Tracker is a device the size of a small USB thumb drive, with a touch screen on the front and a heart rate monitor on the back; inside there is an accelerometer, which is used to record your movement, calories burned and sleeping pattern.
Syncing to the Withings Health Mate App for Android and iOS over Bluetooth, the activity tracker has a two week battery life and can be charged via a micro USB port.
Cédric Hutchings, CEO and co-founder of Withings said: "Understanding how to analyse your fitness is the first step to improving it. The amount of technology that we've packed into this tiny sized and easy to use new-generation personal trainer will take us further into a new dimension of connected health and wellbeing where device, user and services are closely and permanently linked".
The tracker can be tucked into a pocket, or worn with the included belt clip or armband, and records the number of steps you take each day - differentiating between moderate and vigorous activity - along with stairs climbed, calories burned, duration of sleep and quality of sleep.
The integrated heart rate monitor is a new feature for the Smart Activity Tracker and works by simply pressing your finger against it - your heart rate is then logged to help paint a larger picture of your overall health by monitoring your heart rate at rest and after activity.
Smart Body Analyser
Withings also used CES this week to announce an update to its Wi-Fi and Bluetooth enabled weighing scales, the Smart Body Analyser.
The new model, which has been awarded with a CES 2013 Innovation Award, monitors the surrounding air quality, in addition to heart rate and in-depth weight analysis; as with the pocketable tracker, the scales sync data to the Withings app for Android and iOS.
Stepping on the scales shows your weight, body mass and heart rate, and these readings are then sent to your smartphone.
By monitoring the surrounding temperature and carbon dioxide, the scales can help to warn the user if there isn't enough fresh air being delivered to the room, which can cause headaches, dizziness, difficulty breathing and increased heart rate.
Hutchings added: "We've challenged ourselves to once again reinvent the smart scale, a segment we pioneered three years ago with our Wi-Fi Body Scale. We have added functionalities that have never been seen before on a home scale, which are both useful and necessary to living an overall healthy lifestyle."
The smart scales can also be used to share readings with other fitness apps, such as LoseIt!, Runkeeper, DailyBurn, and MyFitnessPal.
Withings said the new Smart Body Analyser will go on sale in the first quarter of 2013 and be priced in the US at $149.95.