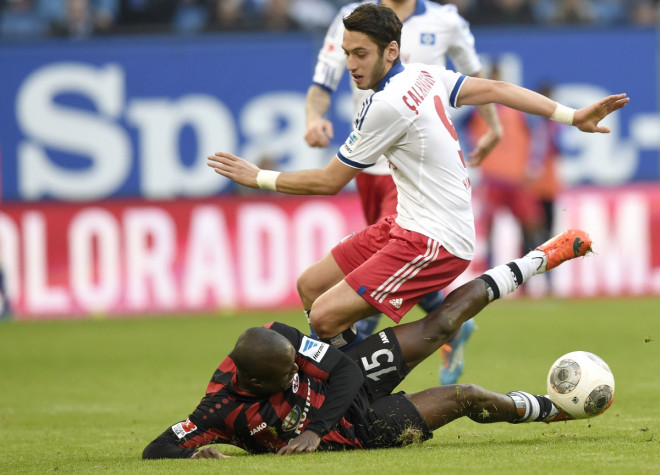 Chelsea and Arsenal are reportedly set to have a summer battle in signing Hamburg midfielder Hakan Calhanoglu, according to the Express.
The 20-year-old has been in fine form for the German side, despite their poor season as they avoided relegation by finishing 17th in the table. He scored 11 goals and managed four assists from 32 league appearances and his style of play has seen him being dubbed as the "next Frank Lampard."
Calhanoglu's brilliant run has attracted interest from top clubs from Germany and England. The Bundesliga outfits Bayern Munich and Bayer Leverkusen are believed to be keen on acquiring his services.
However, the report claims the Turkish U20 international wants to make a move to the Premier League. He can play either out on the wide or in the middle as an attacking player.
The west London club released their star player Lampard from the club as a free agent. The Blues manager Jose Mourinho wants to bring in a replacement for the England international and is believed to be making a move to sign Calhanoglu.
Meanwhile, Arsenal manager Arsene Wenger is aware of the Turkish youngster's versatile nature and wants to add him to the Gunners' squad to have more energy in the heart of his side's midfield.
Calhanoglu has already expressed his desire to leave Hamburg in the summer transfer window.
The attacking midfielder has set his sights on replicating Cristiano Ronaldo and Lionel Messi in order to become a "world star" as he wants to feature in the Champions League next season. A move to either Chelsea or Arsenal will help him fulfil his dream of playing in Europe.
"I told them [Hamburg] that I want to go - no matter whether we play in the first or second division. I would definitely leave Hamburg," the Express quoted Calhanoglu as saying.
"The fact is, I want to play in Europe and I want to make my parents happy. I want to go as far as Ronaldo and Messi. I want to be a world star."