Chelsea Dealt Double Blow in £11m South American Striker Chase
Eduardo Vargas is ready to move to Napoli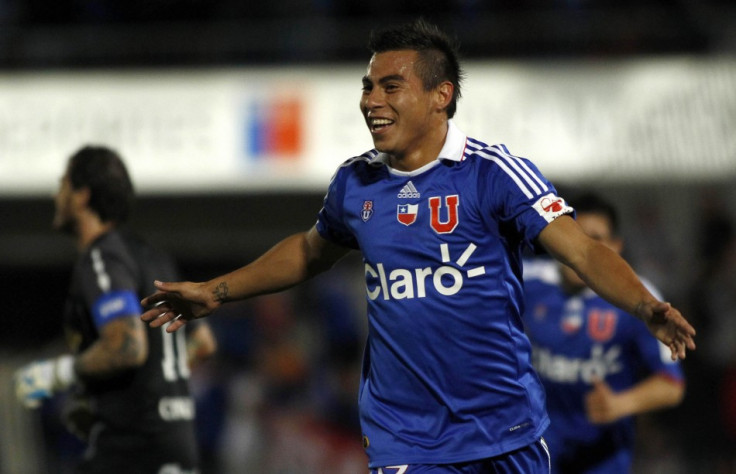 Chelsea have been dealt a blow in their pursuit of Eduardo Vargas, with the forward admitting that he has agreed to a deal with Napoli.
Vargas has starred for South American side Universidad de Chile, and at just 22 years old, he has attracted attention from numerous European clubs.
Chelsea were said to be chasing Vargas, with the club set to lose at least one striker in the January transfer window, and numerous other positions to the Africa Cup of Nations.
Andre Villas-Boas denied that the Blues were on the lookout for a front man in the next transfer window, but it would appear that if the right player came along the side would have to move, particularly if the likes of Daniel Sturridge and Romelu Lukaku became injured.
But Vargas is no longer on their list of possible transfers, with the Chile international expressing excitement over his deal with the Serie A club.
"Yes I will be joining Napoli, a large team in Italy," Vargas told Radio Cooperativa. "I'm sure I'll do very well there. I know [Edinson] Cavani and [Ezequiel] Lavezzi.
"I am very happy that everything was tied up quickly, and for me to play in Italy is a dream come true."
The news will come as a double blow to Chelsea, who will be hoping to defeat Napoli in the Champions League final 16 early next year. If the Italian outfit can find good use for Vargas early on, their attacking line up, which includes Cavani, Marek Hamsik and Lavezzi, would be even more lethal.
Universidad shareholder Carlos Heller said that while the deal for Vargas took a while to be agreed to, Diego Maradona had a hand in making the £11 million agreement happen.
"It was very late last night when an agreement was made, but we are proud to reach it with the former club of Diego Maradona in Italy," he explained.
"Eduardo joins a team with a great trophy cabinet. For him and the national team, it is outstanding."
© Copyright IBTimes 2023. All rights reserved.