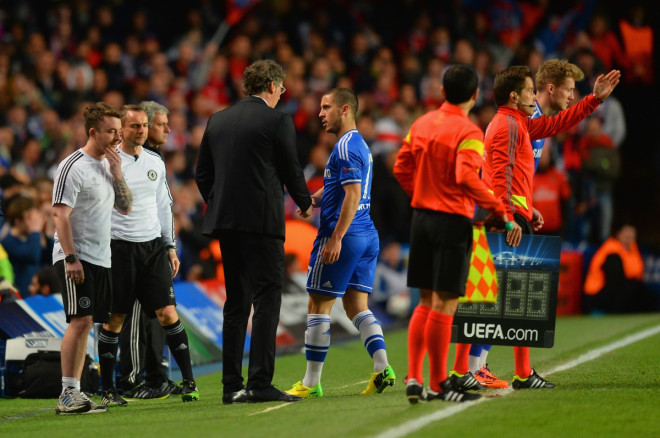 Eden Hazard could boost the remainder of Chelsea's Premier League and Champions League campaign by returning from injury sooner than expected.
After the Belgian limped out of the win over Paris Saint Germain in midweek with a calf problem, fears were rife Hazard could miss a significant portion of the final month of the season after Jose Mourinho said his star player could miss "a couple of weeks".
But Chelsea assistant coach Steve Holland said after the 1-0 win over Swansea City – the first game of Hazard's absence – that with the club having a week off before playing Sunderland this weekend the 23 year old would have time to recover.
"Every player is fit at this stage, with the exception of Eden, who should be sooner rather than later," Holland said.
"It is still a little bit too early to say for sure. Having a clear week this week is a big advantage.
"I can't stress enough the extra demand that the Champions League brings with those fixtures in the week. It is just what the doctor ordered to give the players a bit of a break this week."
Chelsea face Atletico Madrid in the semi-final of the Champions League with the first leg on 22 April while the second leg comes a week later on 30 April as Mourinho pursues a third final as a manager.
Domestically, victory over Swansea courtesy of Demba Ba's second goal in a week keeps Chelsea two points behind Liverpool, who defeated Manchester City at Anfield, but Holland says the club are still dreaming of winning the league.
"Obviously, it was a good day for Liverpool, and it looks like being an exciting conclusion to the season," he said.
"We have probably got to win all of our games, one way or another. That's the likelihood, but we have been facing that task now for a good couple of weeks, certainly on the back of our result at Crystal Palace. I think any leeway we had was eliminated after that result."