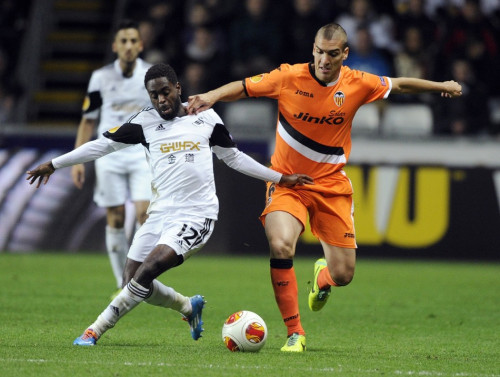 Chelsea midfielder Oriol Romeu, who is on loan at Valencia this season, suggests that he may stay in La Liga for at least one more campaign despite recent reports suggesting Jose Mourinho is keen on get him back this summer.
The Blues signed Oriol in the summer of 2011, paying Barcelona €5m for his services, but during his first two seasons at Stamford Bridge the 21-year-old defensive midfielder struggled to established himself in the squad.
With Frank Lampard, Ramires, John Obi Mikel and Michael Essien ahead of him in the pecking order Jose Mourinho decided to send him on loan to Valencia last summer to continue his development and the Spaniard is enjoying his time in his homeland. After a tough start to the season he has secured a place in the starting line-up and his importance to the team is increasing every game.
Valencia are reportedly keen on keep him in the squad next season and when asked in a press conference if he is also willing to stay in La Liga he said: "I have always said that If I am happy at Valencia I will fight to stay one more year or even more. My intention has not changed."
"I want to enjoy (my time) at Valencia, doing my best for them, play good this year and finish the season in a good shape. At the end of the campaign we will discuss about the future," Romeu added.
Reports claimed last month that Mourinho was monitoring his performances in La Liga and that he was considering getting him back but Spanish media now suggest the Portuguese's opinion may have changed after Nemanja Matic's recent return to Stamford Bridge.
Oriol was an important player for Andre Villas-Boas in his debut campaign for the Blues but he made just five appearances during Roberto di Matteo's eight-month reign in charge. Furthermore, the Spaniard suffered a long-term knee injury that ruled him out for the second part of the campaign despite former interim manager being impressed with the midfielder's exploits.