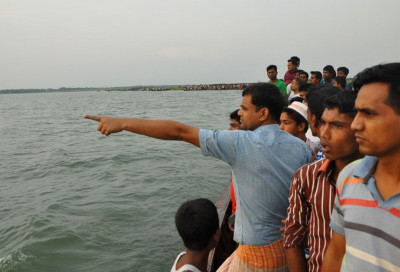 At least 12 people, including two children, have died after a ferry carrying hundreds of passengers capsized and sank during a storm in Bangladesh.
The MV Miraz-4 vessel was overturned in high winds on the Meghna river as it made its way towards Shariatpur from the capital Dhaka.
Officials said many passengers swam to safety but it is not clear how many were still missing.
"We are receiving confusing figures on how many passengers were on board when it sank, but the number could range from 200 to 350," said local government administrator Saiful Hasan.
"There was a sudden storm and we requested the bosun to anchor at the riverside but he ignored us," Abdur Rahman, a 50-year-old passenger who survived, told Reuters. "The ferry capsized within a few seconds."
Firefighters, police and coastguard were involved in rescue operations.
A women and two children were among the bodies retrieved from the water. A rescue diver said he saw more bodies trapped underwater inside the wreck.
Ferry accidents are common in the low-lying delta nation and are usually blamed on overcrowding and poor quality of the vessels.
In 2012 more than 100 people died when a ferry crashed with an oil tanker on the Meghna river.