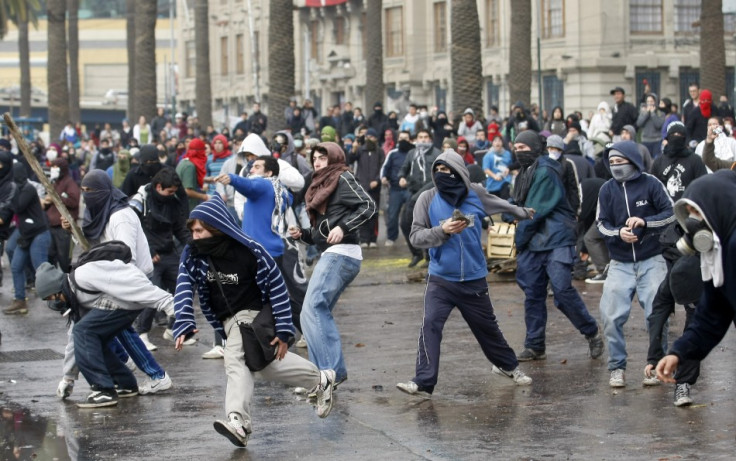 Weeks of student protests in Chile have begun turning violent despite President Sebastian Pinera's calls for calm.
On Tuesday, protestors in the capital, Santiago, burned cars and barricades, looted shops and threw projectiles at police.
Riot police fired tear gas and water cannons to disperse the crowds.
Rodrigo Ubilla, a deputy interior minister, said at least 273 protestors were detained throughout the country and 23 police officers were injured.
The demonstrations in Santiago and other cities started peacefully as both students and teachers took to the street, dancing, singing, with some protesters wearing costumes and waving signs.
Later on however, the demonstration appeared to have been hijacked by gangs of masked activists throwing rocks, paint, and furniture at the police.
The protests began Pinera announced wide-ranging education spending cuts earlier this year even though Chile has one of the fastest-growing economies in Latin America.
Protesters demanding free and equal public education point out that Chile currently dedicates 4.4 percent of its gross national product to education, far below the 7 percent recommended by UNESCO.
University of Chile student body president Camila Vallejos said 150,000 people marched in Santiago but were forced to the side streets after the government denied permission to march on a main avenue. Ubilla, however, estimated the protesters numbered only 70,000 to 80,000 in Santiago.
Vallejos said the huge showing so soon after last Thursday's confrontations "reaffirms the level of approval we have and that the people keep supporting us. It's the government that isn't capable of conceding."
Interior Minister Rodrigo Hinzpeter said the violence illustrated the student leaders' inability to control their demonstrators.
Student leaders using social networks are urging their supporters to engage in more pot-banging displays known as "cacerolazos," a frequent method of protest during the 1973-1990 Pinochet dictatorship.