The Chinese defence ministry has announced it is setting up an "air-defence identification zone" over certain regions in the East China Sea, including a disputed chain of islands that is also claimed by Japan.
The Chinese ministry has made it clear that all jets flying over the disputed region will report to Beijing or be subjected to "emergency defensive measures".
Although the nature of the "defensive measures" was not specified, a statement from the ministry said the rules on the zone are effective from 10:00 local time (02:00) on Saturday (23 November).
The chain of islands, which China calls Diaoyu and Japan Senkaku, have long been a cause of tension between Tokyo and Beijing.
Including the islands in its national defence perimeters will technically allow China to scramble fighter jets if a foreign aircraft enters the zone without permission.
"Aircraft flying in the East China Sea Air Defence Identification Zone should follow the instructions of the administrative organ of the East China Sea Air Defence Identification Zone or the unit authorised by the organ. China's armed forces will adopt defensive emergency measures to respond to aircraft that do not cooperate in the identification or refuse to follow the instructions," Beijing's defence ministry said.
A map has also been posted along with the statement elaborating on the zone, which includes contentious regions close to Japan and South Korea. Parts of the uninhabited islands have also been claimed by Taiwan and South Korea.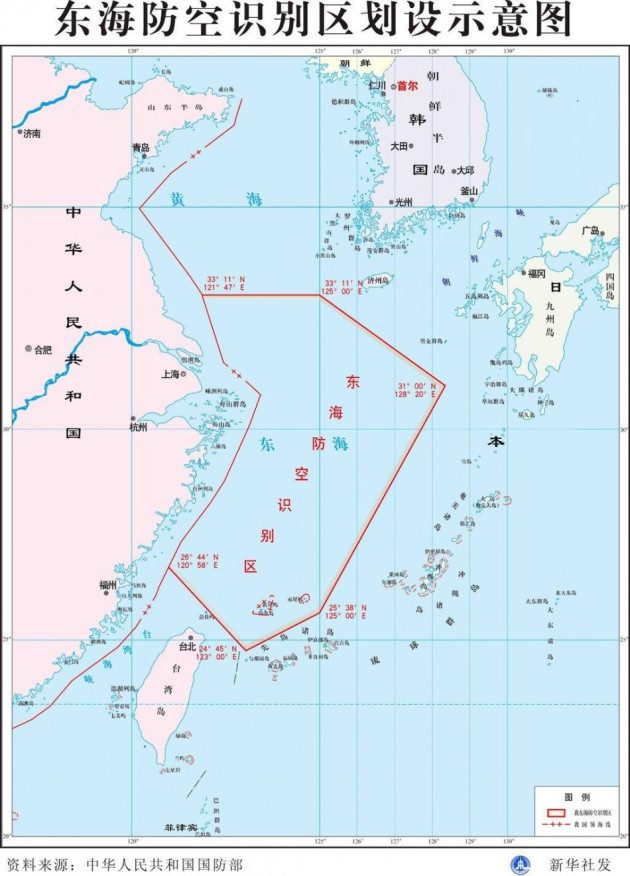 Tokyo has not yet responded to the latest move, but is likely to react strongly.
"It is not directed against any specific country or target. [China] has always respected the freedom of over-flight in accordance with international law. Normal flights by international air liners in the East China Sea Air Defence Identification Zone will not be affected in any way," said defence ministry spokesperson Yang Yujun when asked about the creation of the air-defence zone, the BBC reports.